Quick, easy and deliciously refreshing Grilled Nectarine Salad. This salad goes well with just about any main dish !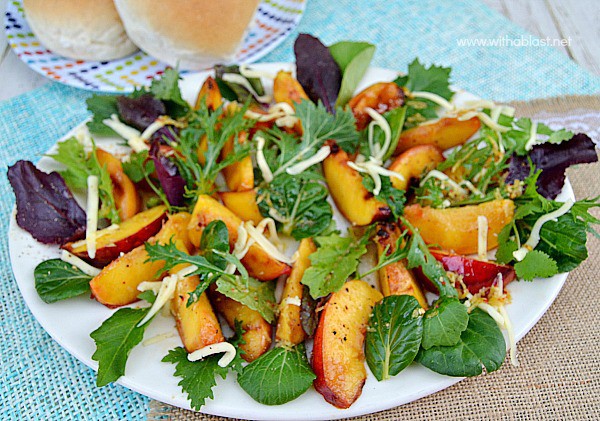 Nectarines are one of my favorite fruits and I use them in every way imaginable ! From appetizers to desserts to this Grilled Nectarine Salad, which I especially love.
This salad goes well with any dish, it is great with chicken, beef kebabs, any grilled meat and definitely with pork.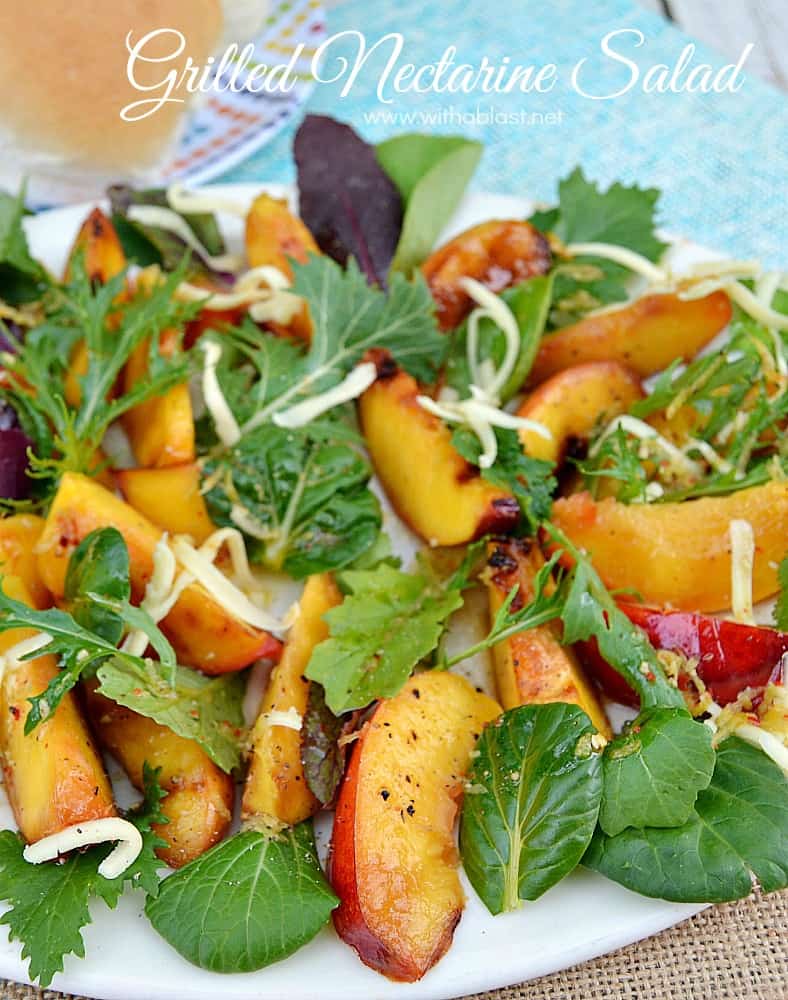 I know, lots of photos for only one salad … but, really, this is such a pretty salad and will steal the show at your salad table.
And once everyone had a taste —- well, I hope you made a double batch !
I am sure seconds will be requested and kids love this grilled Nectarine salad. Excellent way for them to get their daily fruit and also healthy salad greens.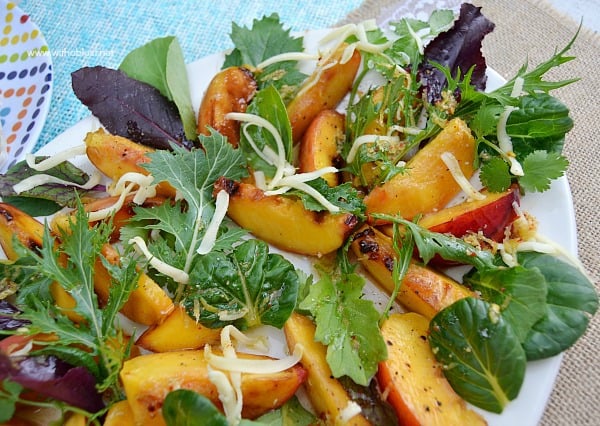 We used to be strict lettuce lovers. Just about all my salads had crispy lettuce leaves as (mostly!) the only greens, topped with whatever I thought was the main attraction.
Nowadays there are so many different varieties of Salad greens available,and much healthier than lettuce alone.
Herbs are in general good for you, so why not use micro herbal leaves in salads ? They are not only a healthier choice, but much tastier as well.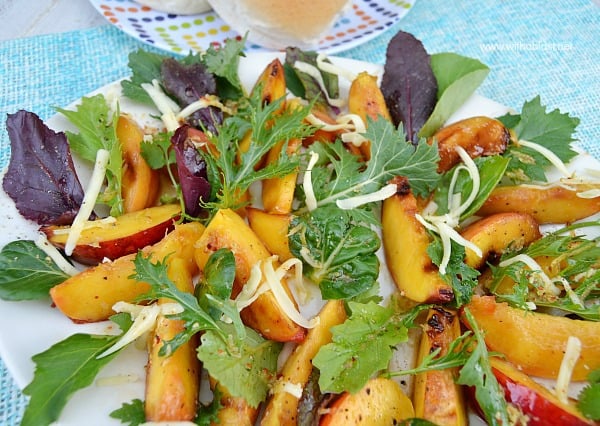 Think I am totally writing off lettuce ? No way at all – lettuce will always have a spot on my burgers and some salads just are better with lettuce, of which I like the crispy lettuce most.
How to grill nectarines (or peaches) ?
I do not grill the Nectarines in small wedges – only halves.
Two reasons, first – it is much easier working with half a Nectarine. Especially if you grill them over the coals! Just think all those delicious slices falling through the grids.
And secondly, if the slices are too small they will go mushy quickly and all you want to do is add a little bit of extra taste by grilling the Nectarines.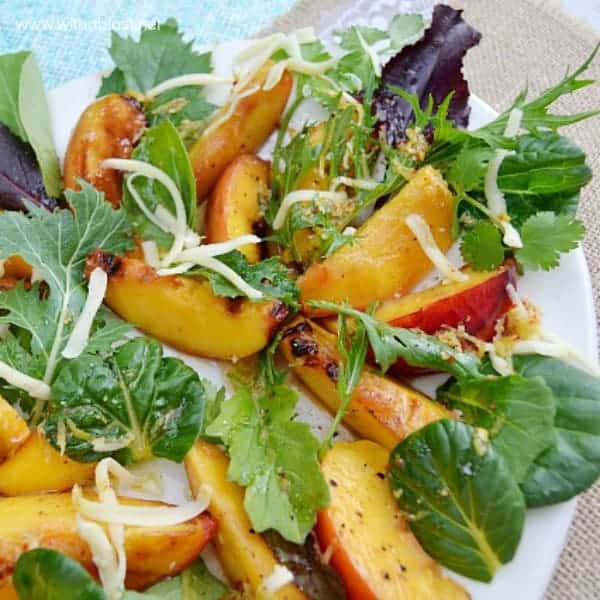 More Salad recipes you might like:
Grilled Nectarine Salad
Yield: 6 Servings
Grilled Nectarine Salad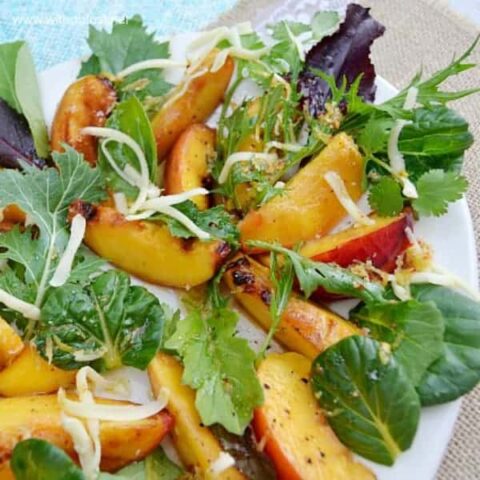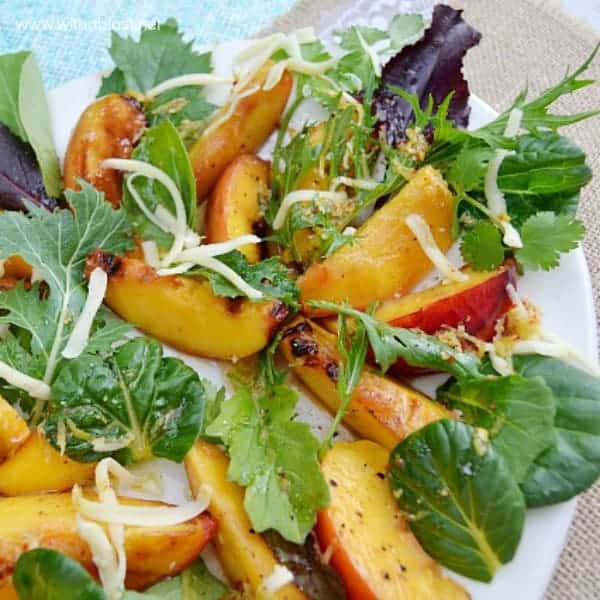 Quick, easy and deliciously refreshing Grilled Nectarine Salad. This salad goes well with just about any main dish !
Ingredients
SALAD:
3 Medium Nectarines, halved and stone removed
1 TB Olive Oil, extra-virgin
1 t Caster Sugar (Superfine Sugar)
2 cups Mixed Micro Greens, (Lettuce, Arugula, Coriander, Spinach etc)
1/2 cup Mozzarella, grated or thinly sliced
Salt and Black Pepper, to taste
DRESSING:
1/2 t Salt
1/4 t Fennel Seeds
1/4 t Chili Flakes
2 t Lemon Zest, finely grated
2 TB Olive Oil, extra-virgin
1 TB Lemon Juice, freshly squeezed
Instructions
Drizzle the Nectarines with Olive Oil and sprinkle over the Caster Sugar – grill on the BBQ, griddle pan or a George Foreman grill for 3 – 4 minutes – remove and let stand for 5 minutes before slicing into smaller slices (you can also leave the Nectarines in the original halves)
Arrange the Micro Greens on a Salad platter – add the Nectarines and sprinkle over the Mozzarella Cheese – season to taste with Salt and Pepper
DRESSING: Use a mortar and pestle to grind the Salt, Fennel and Chili Flakes finely – add the Zest, Olive Oil and Lemon Juice – mix well and drizzle over the Salad
Nutrition Information
Yield
6 Servings
Amount Per Serving
Calories

145
Total Fat

10g
Saturated Fat

2g
Trans Fat

0g
Unsaturated Fat

7g
Cholesterol

7mg
Sodium

360mg
Carbohydrates

13g
Fiber

4g
Sugar

7g
Protein

5g
Nutrition value is not always accurate
Serve immediately or keep chilled until ready to serve. If serving more than 30 minutes later, drizzle the dressing over just before serving to prevent sogginess.