Not Your Usual Lasagna is exactly that ! Easier and more filling (with BACON too!) than the traditional lasagnas ~ Layers of deliciousness !
The recipe, Not Your Usual Lasagna, is a recipe originally shared by one of our star rugby players, Bryan Habana in the cookbook Springbok Kitchen for his version of a quick Lasagna.
I have made it dozens of times, differently each time. This is by far the tastiest of my experiments.
The Lasagna is very filling, but somehow we manage to really over-stuff ourselves. Each and every time !
You know, it's one of those recipes where you just can not stop ! Same as starting with caramel peanuts or popcorn .. you start and don't stop until the whole packet is gone!
I had planned to make a quick dessert afterwards. But halfway through dinner, we all decided against having a dessert as well. Now this does not happen very often at our house !
You will notice that I do not add any salt and pepper to the white sauce. This is due to the Beef being salty enough and the white sauce gives a delicious balance.
Feel free to add salt/pepper to the white sauce if you prefer.
More Pasta recipes you might like:
Not Your Usual Lasagna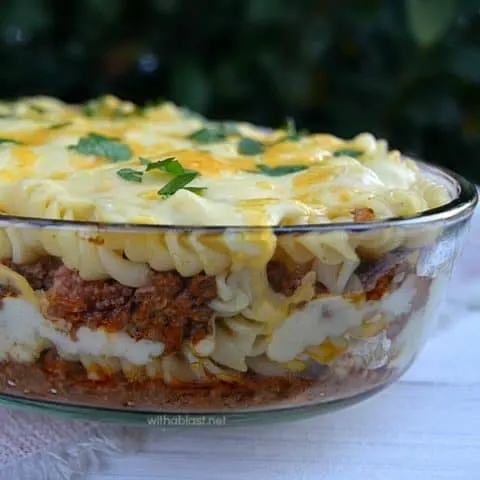 Not Your Usual Lasagna
Cook/Bake Time:
40 minutes
Not Your Usual Lasagna is exactly that ! Easier and more filling (with BACON too!) than the traditional lasagnas ~ Layers of deliciousness !
Ingredients
1 large Onion chopped
2 TB Olive Oil
250 g Bacon Bits ( 8 oz )
675 g Lean Ground Beef ( 1 1/2 pounds will do )
1 cup Beef Stock
2 TB Tomato Paste
1 1/2 t Paprika
1 t Meat Spice (your favorite)
1 large Tomato peeled and chopped
Salt and Black Pepper to taste
500 g Rotini (Spiral) Pasta ( 16 oz )
2 1/2 cups Cheddar Cheese grated
6 TB Salted Butter
6 TB Flour
3 cups Milk
Instructions
Saute the Onion in the Oil until light brown and soft – add the Bacon Bits and fry 2 – 3 minutes – add the Ground Beef and fry until loose and light brown

Mix the Beef Stock, Tomato Paste, Paprika and Meat Spice – add this mixture together with the chopped Tomato to the meat – stir well, turn down the heat and let simmer until most of the liquid has evaporated. (15 – 20 minutes). When done, season with Salt and Black Pepper to taste

Meanwhile cook the Pasta according to the instructions on the packet, pre-heat the oven to 180 deg C (350 deg F) and spray a large oven dish with cooking oil

Melt the Butter in a microwavable dish (at least 4 cups capacity), stir in the Flour to form a paste – add the Milk little at a time to the paste, scraping the sides and bottom whilst mixing the Paste with the Milk

Microwave the Milk mixture at full power for 6 – 8 minutes, stirring every 1 1/2 minutes to break up any clumps, until the sauce has thickened

Once the pasta is cooked, drain and keep aside
TO LAYER:
Place half of the Meat mixture on the bottom of the oven dish, followed by half of the pasta, one cup Cheddar cheese and half the White sauce (Layer each addition evenly on top of the other)



Repeat the layers and end with the remaining 1/2 cup of Cheddar cheese – Bake for 20 – 30 minutes until nicely browned
Notes
Slightly adapted from the recipe in the cook book: Springbok Kitchen
Nutrition Information
Yield

6
Amount Per Serving
Calories

1083.6
Carbohydrates

73.1g
Protein

56.1g
Serve with a crunchy salad on the side.
LINDA
Don't forget to PIN !