Serve these Greek salad filled Lettuce leaves as an appetizer or a side – kids love salad served this way !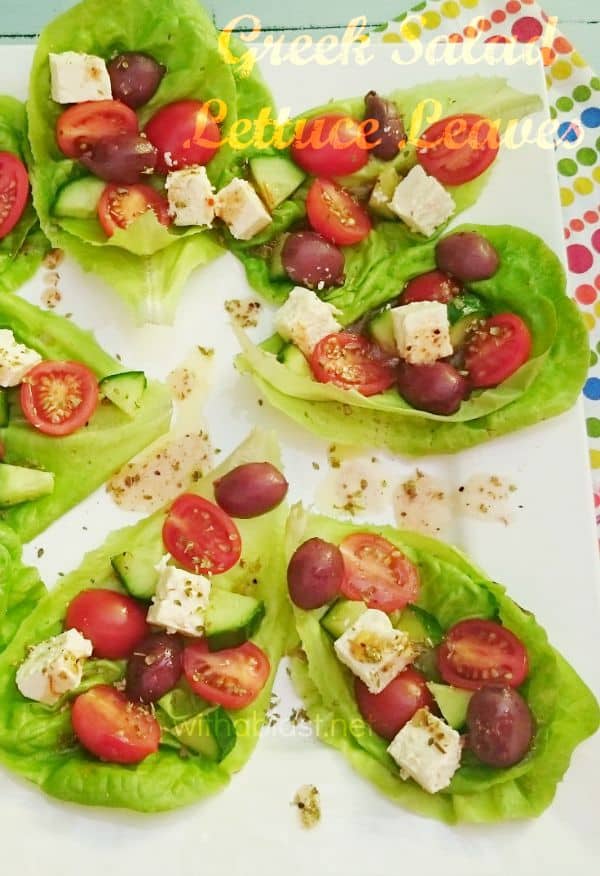 I love these Greek salad Lettuce Leaves not only because it looks so great on a serving platter, but by using a sturdy type of lettuce, like Butter lettuce, you can grab one of these on the go too.

Some years ago, I had to lose a lot of weight quickly. Doctors orders, as my health was getting worse and worse at that stage and salads and I really became good friends. Don't get me wrong, I have always, and will always, love a good salad, which is just about any kind of salad.
Back then, trying to shake of the weight, having a salad for breakfast would have been normal for me. Plain served salads can look boring and not very appetizing. Especially when you are dreaming about finishing off a large slab of chocolate instead.
Serve something a little different, and voila ! It is like a whole new menu which has opened up for you, meaning me, at that stage. These Greek salad filled salad leaves became one of my favorites.
And as the kids were still at school then, I had some very busy days, so grabbing a lettuce leave on my way out, was a great idea.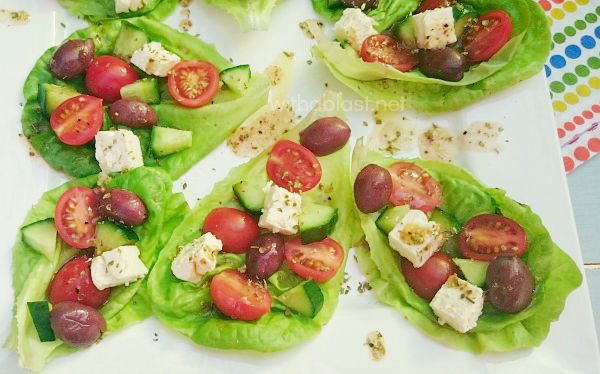 Now that the weight thing is (more or less ! ) under control, I still like to serve salads this way, and not only Greek salad, basically any kind of salad will do.
People most definitely eat with their eyes first, as I have seen kids push aside a plain mixed through Greek salad, but will jump with joy when served in a boat. Give something a kid friendly name and look, and you can almost be certain they will enjoy it.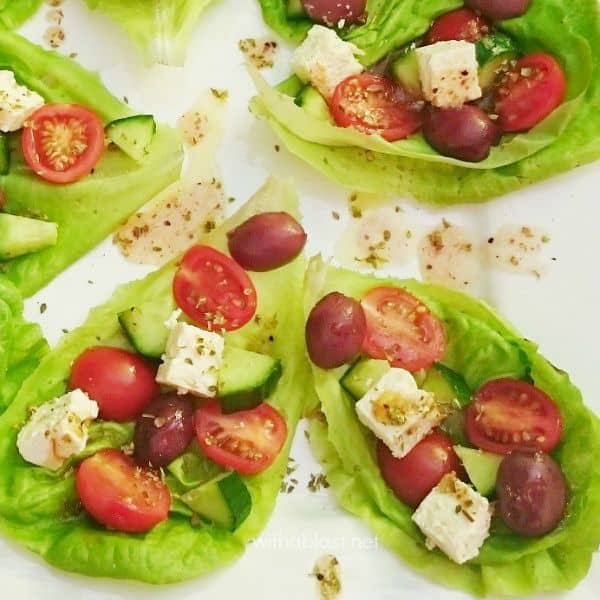 Nowadays I make these only when I feel like fancy-ing things up a bit, or when I serve the Greek salad as an appetizer. We do love our appetizers and during Summer, a small bowl of salad is a huge hit to start off any meal.
Greek Salad Lettuce Leaves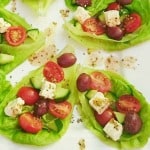 Greek Salad Lettuce Leaves
Serve these Greek salad filled Lettuce leaves as an appetizer or a side
Ingredients
8

medium

Lettuce Leaves

2/3

cups

Cherry Tomatoes

halved

2/3

cup

English Cucumber

diced

1/2

cup

Low-Fat Feta Cheese

cubed

16

Black Olives

pitted

2

TB

Greek Salad Dressing

(homemade or store-bought)

1

t

Dried Oregano
Instructions
Arrange the Salad Leaves on a large serving plate

Divide the Tomatoes, Cucumber, Feta and Olives between the 8 Leaves

Drizzle with Dressing and sprinkle over the Oregano
Keep refrigerated until serving.
LINDA