Layers of delight in these Millionaires DESSERT Bars – Shortbread, gooey Caramel and smooth, creamy White Chocolate Mousse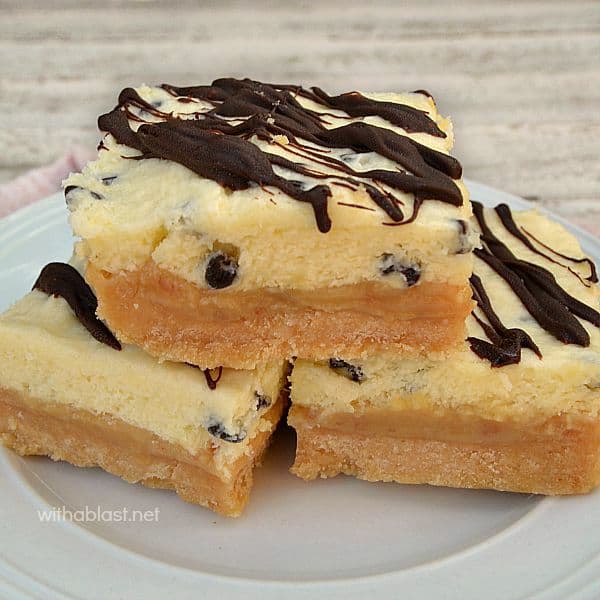 The other weekend hubby and I found ourselves all on our lonesome all weekend. We decided the kitchen would not see us at all, except when totally necessary !
We haven't been to a restaurant in ,,, oh, it must be years. Whilst waiting for our appetizers to arrive I looked through the dessert menu and my eye caught a Millionaires Dessert.
But, wow, the price for one was over the top, and secondly, we just about never have dessert at a restaurant. Seems our appetites are bigger at home, as here we will have an appetizer, dinner and dessert and would still be snacking later on.

Anyhow, the dessert at the restaurant looked really amazing and of course I, the foodie lover, read the whole description (and made notes on my phone!).
These Millionaires Dessert Bars are layers of pure delight, very much similar to the Millionaires Bars we see all over the web, but with an added layer of White Chocolate Mousse.
I have to be honest, mine does not look exactly the same as were pictured in the menu, but oh my, these bars are heavenly !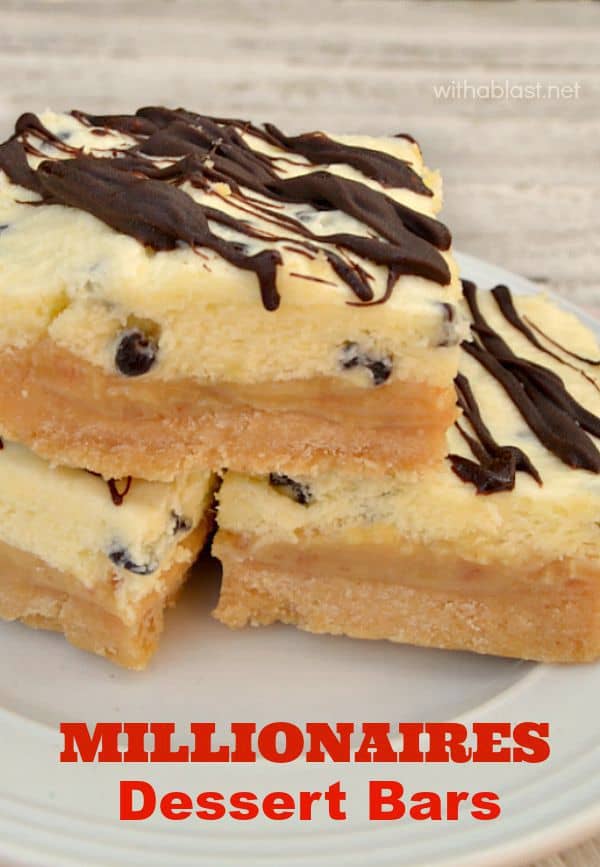 There is a layer of Shortbread crust, which was easy as I used store-bought biscuits (cookies) and I used my never-ever-fail Caramel recipe for the next layer. I kept the Mousse top layer simple with only some Chocolate chips mixed in. All this ended off with a drizzle of Dark Chocolate.
Everyone loved these Dessert Bars, but I now need to go back to the restaurant and taste the real thing, pricey or not ! Purely curiosity …
Millionaires Dessert Bars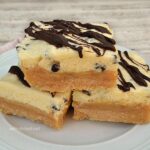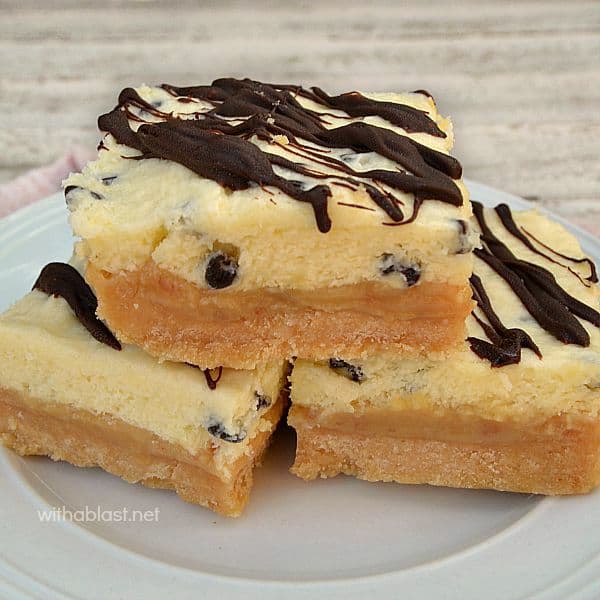 Millionaires Dessert Bars
Layers of delight in these Millionaires DESSERT Bars - Shortbread, gooey Caramel and smooth, creamy White Chocolate Mousse
Ingredients
400

g

Shortbread Biscuits (cookies)

crushed ( 14 oz )

1/2

cup

Unsalted Butter

melted
CARAMEL LAYER:
1

can (397g)

Sweetened Condensed Milk

2

TB

Butter

1/3

cup

Golden Syrup

(or Treacle Syrup)
CHOCOLATE MOUSSE:
1

cup

Fresh Cream

(double cream/whipping cream)

2

TB

Caster Sugar

160

g

White Chocolate

melted and cooled to room temperature ( 6 oz )

2

Egg Whites

beaten stiff

1/3

cup

Chocolate Chips
TO DRIZZLE:
1/4

cup

Dark Chocolate

melted, for drizzling
Instructions
Combine the crushed Biscuits and melted Butter – press into the bottom of a baking paper lined, 20 x 30cm ( 8 x 12 inch ) pie dish – chill until needed

Place the Condensed Milk, Butter and Syrup in a medium saucepan – bring to the boil and turn down the heat to medium – cook, whilst stirring continuously, for about 5 minutes, until the mixture turns a light golden caramel color – remove from heat and let cool 10 – 15 minutes

Once the Caramel has cool, spoon over the Shortbread crust and return to the refrigerator for at least 30 minutes

Whip the Fresh Cream until stiff peaks form – add in the Caster Sugar – whisk another few seconds

Fold in the melted White Chocolate and the beaten Egg Whites to the whipped Cream – stir in the Chocolate Chips and spoon the Mousse over the Caramel layer

Drizzle with Dark Chocolate once the Mousse has set
Slice into bars and serve. Keep leftovers in the refrigerator in a sealed container.
LINDA
You Might Also Like: