Easy Pumpkin Donuts are the perfect Fall sweet treats and unbelievably easy to make too (Recipe for Homemade Pumpkin Spice included).
These easy Pumpkin Donuts are dense and slightly chewy. The perfect light Fall dessert, snack or tea time treat, and any leftovers keep well in a sealed container for around 3 days.
Might be longer, but my family munches through a batch in no time at all.
This is one of the quickest throw together donut recipes I have ever tried, and now make them regularly.
The mini donuts look so pretty on a sweet party platter too, therefore I try to include them whenever I am in the mood for a Pumpkin sweet treat.
It takes me about 10 minutes to whip up these oh, so, pie-spicy, mini donuts. Since I bought the mini Donut Maker, I use it so often, it has a permanent counter space.
The Donut Maker has seven holes and I bake (or is it cook?) 6 batches, which gives us 42 treats to enjoy.
Every now and then when we have family and friends over, I would simply double the recipe, which is more than enough for about 20 people.
As part of a platter, a single batch would do just fine for 20 people.
This same recipe, if making larger Donuts, in the oven, would take much longer, I would guess another 30 minutes plus.
We like small bite size treats, anyway, so I hardly ever bother to bake Donuts in the oven.
Pumpkin Spice :
I am not sure whether Pumpkin Pie Spice is available at our local supermarkets – maybe specialized baking stores, though.
Recently I browsed around on the internet and found lots of recipes for homemade Pumpkin Pie Spice Mixes, which were all more or less the same.
I am sharing something similar after the Donut recipe for any of you who also have a problem finding the spice, or had simply run out.
Just look at that bite ! Loaded with Pumpkin and of course Pumpkin spice – a heavenly Fall treat, either for dessert, tea time or pop a couple into the kids' lunch boxes.
More Pumpkin Treat recipes you might like:
Easy Pumpkin Donuts
Yield: 42 Servings
Easy Pumpkin Donuts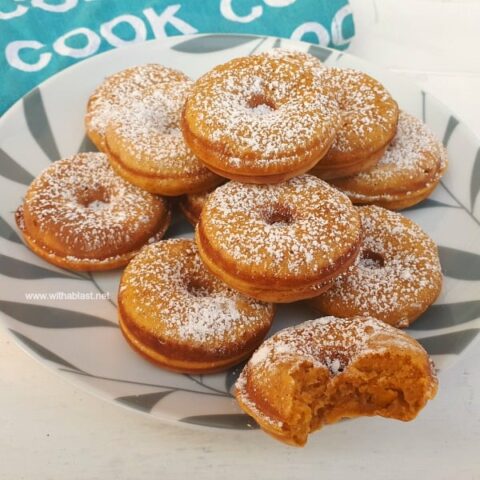 Easy Pumpkin Donuts are the perfect Fall sweet treats and unbelievably easy to make too (Recipe for Homemade Pumpkin Spice included)
Ingredients
1 1/2 cups Pumpkin Puree
1/2 cup Vegetable Oil
3 large Eggs
1 1/2 cups Caster Sugar (Superfine Sugar)
2 t Pumpkin Pie Spice (see note below for homemade)
1/8 t Salt
2 cups Self-Raising Flour
Icing Sugar, to dust
Instructions
) Beat together all the ingredients except the Flour, until well combined
) Add the Flour by the cup, beating on slow until just mixed
) Pre-heat the Donut Maker – Scoop a tablespoonful into each donut hole and cook as per the instructions of the maker – mine took under 3 minutes per batch ( 6 batches )
) Transfer to a cooling rack and dust with Icing Sugar
Notes
Homemade Pumpkin Pie Spice :
Recipe Yields: +/- 1/4 cup
8 t Ground Cinnamon
2 t Nutmeg
2 t Ground Ginger
1 t Ground Cloves
1.) Mix all the spices well and keep airtight as you would your other spices
Nutrition Information
Yield
42
Amount Per Serving
Calories

80.3
Total Fat

3.1g
Saturated Fat

2g
Unsaturated Fat

0.2g
Cholesterol

13.3mg
Sodium

12.5mg
Carbohydrates

12.3g
Fiber

0.3g
Sugar

7.5g
Protein

1.1g
LINDA