Cranberry Rock Cakes have a super soft center, with a hard, textured outer – ideal with your morning coffee, mid morning treat or a lunchbox treat.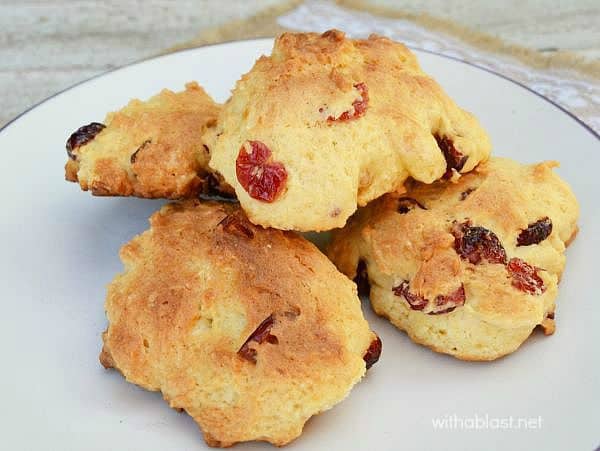 I love Rock Cakes, any kind, with any fruit, nut or whatever else one can add to them. Just love these rock look-alike little sweet treats, but especially Cranberry Rock Cakes.

My granny used to make them all the time when I was little. And I remember clearly when one of the neighbors phoned telling her she's coming over for a cup of coffee, into the oven went the Rock Cakes !
And they chatted over a coffee, dipping the Cakes or enjoyed them with a spread of butter.
Of course I did not know, or take notice then, of the name when granny and her friends had them, I was only too happy to be joining in, eating two or three.
What is a Rock Cake ?
The Cakes are actually a cross between a cookie and a scone but with a much fluffier, softer center, which I suppose is where the "cake" part comes in.
Rock is fairly obvious, because of the shape, as well as the hard outside.
I would almost say crisp, but that won't be right, the Rock Cakes are hard. Until you bite into one and taste the softness of the center – pure bliss, and these are perfect to dip into your cup of coffee or tea.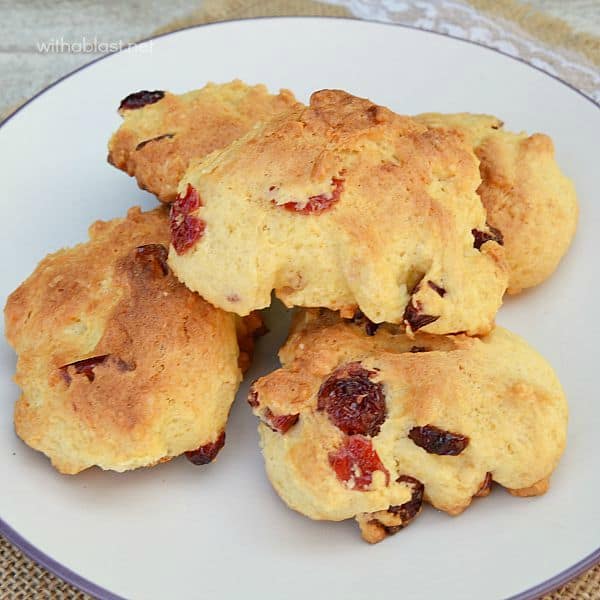 There is not much spreading when in the oven, but do leave a bit of room in between the bundles of dough.
Except for the bottoms, the tops look almost the same as when you first scoop the dough onto the baking sheet. Of course that's also always a bonus for me, not sure about you, but I like to dump and bake.
Without worrying about rolling out or how the cookies would look like – these are meant to look rough, rough like a rock !
More Cranberry recipes you might like:
Cranberry Rock Cakes
Yield: 20 Servings
Cranberry Rock Cakes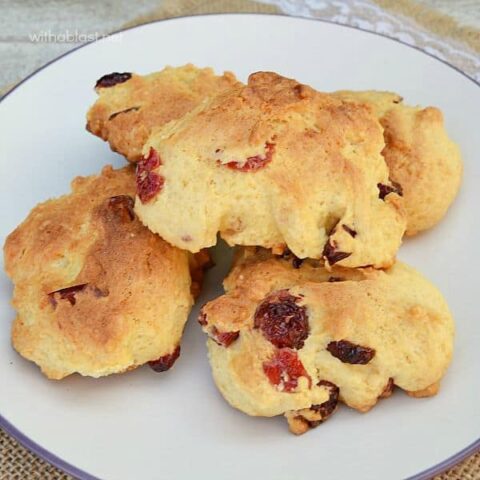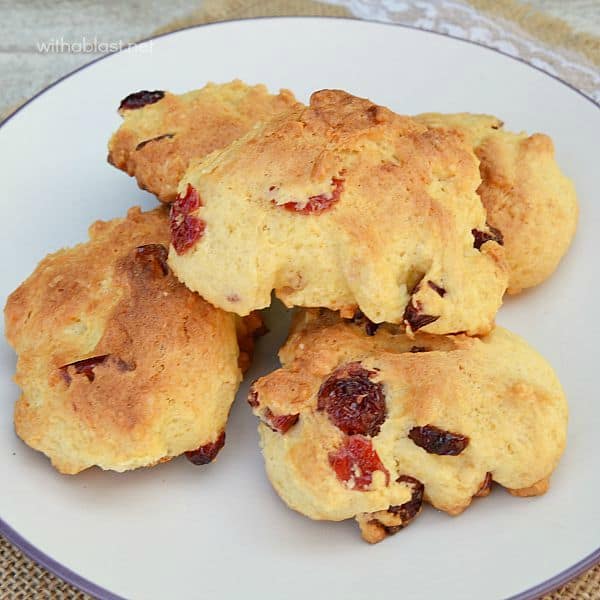 Cranberry Rock Cakes have a super soft center, with a hard, textured outer - ideal with your morning coffee, mid morning treat or a lunchbox treat
Ingredients
2 cups Self-Raising Flour
1/2 cup Butter, cubed
1/2 cup Caster Sugar
1/2 cup Dried Cranberries
1 TB Nuts, the sprinkling type
1/2 t Ground Ginger
1 Egg
1/4 cup Milk
Instructions
Pre-heat the oven to 200 deg C (400 deg F) – line a baking sheet with baking paper

Place the Flour in a mixing bowl – add the Butter and rub in with your fingers until the mixture resembles breadcrumbs

Mix in the Caster Sugar, Cranberries, Nuts and Ginger

Whisk together the Egg and the Milk – add to the dry mixture – mix to a stiff dough

Place mixture in small, rough heaps on the prepared baking sheet, leaving a bit of space for spreading in between each heap – bake 12 – 15 minutes or until golden brown
Notes
Caster Sugar = Superfine Sugar (not powdered sugar)
Nutrition Information
Yield
20
Amount Per Serving
Calories

123.2
Total Fat

5.3g
Saturated Fat

3.1g
Trans Fat

0g
Unsaturated Fat

2.2g
Cholesterol

22mg
Sodium

202.9mg
Carbohydrates

17.2g
Fiber

0.6g
Sugar

7.2g
Protein

1.8g
Transfer to a cooling rack and serve with butter or without as a dipper with your coffee or tea.
LINDA