Coffee Jellos is a must have recipe for all Coffee lovers ! Refreshing sweet treats made with only 4 ingredients (including the Water)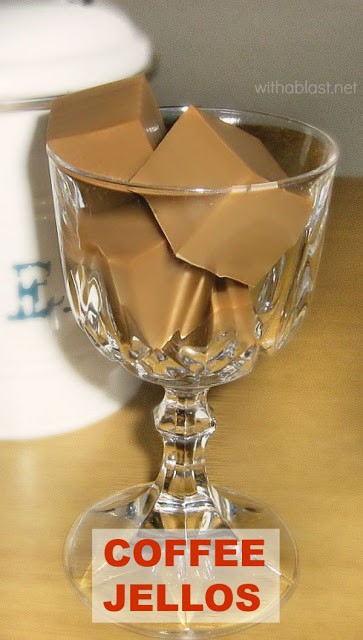 First recipe post .. right, most people (as I understand it) start their mornings with a cup or five of coffee. Therefore my first post is about Coffee.
Me, not really a coffee lover – maybe a cup once a month with some rusks or a bag couple of cookies. However, I can indulge in these Coffee Jellos every single day !

This is a recipe I found on Pinterest, I did find it interesting immediately, as the only jelly I ever made came out of a little box mixed with hot/cold water.
Right, so we had all the fruit flavors and that was that for me. Until a whole wide world of recipes opened up on Pinterest! This is also the best place to connect with Bloggers, food, DIY and more.
I like to get the actual posts from the blogs and not to just pin/re-pin a recipe. The fun part in this is to read the whole post which can be hilarious, sometimes a bit sad or little titbits (is that a word?) about their daily lives, or how the specific recipe came to be.
Pinterest Inspiration !
One of my main aims is to try out as many, of my pinned, Pinterest recipes/ideas and share them with you. Of course there will be some of my own creations whether it be a recipe or something else.
Back to the Coffee Jellos … loved it, it is quick and easy to make, only one hang-up – you have to wait for it to set (..duh). That's why I made it just before going to sleep.
Next morning, I could not believe how nicely it has set, and it was a breeze cutting them into little cubes. Easy to remove from the glass dish I used and no breaking.
More Coffee dessert recipes:
Coffee Jellos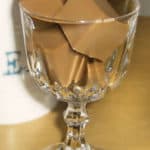 Coffee Jellos
Coffee Jellos is a must have recipe for all Coffee lovers ! Refreshing sweet treats made with only 4 ingredients (including the Water)
Ingredients
1/2

cup

Cold Water

2

TB

Gelatin

plain

2

cups

Strong Coffee

(I used 500ml Boiling water and 6 TB Coffee)

1

can (397g)

Sweetened Condensed Milk
Instructions
Sprinkle the unflavored gelatin over the cold water in a large enough bowl for all the ingredients and set aside until the gelatin blossomed ( 3 – 5 minutes)

In the meantime, make your coffee (if you want it stronger – add another TB or 2 of instant coffee to the 2 cups Hot water, totally up to you)

Once the gelatin blossomed, stir in the hot coffee and mix well. Make sure all the gelatin is dissolved

Add the condensed milk and mix until all ingredients are well incorporated

Pour mixture into a 20 x 20cm dish – 8 x 8 inch (I used a glass dish, no need to spray with Cooking Oil)

Place in the refrigerator until well set – 3-4 hours will do

Cut into bite size cubes to your preference, I cut mine into 2cm square cubes ( a little smaller than one inch )

Keep in airtight container in the refrigerator until ready to serve
Recipe Notes
Total Time does not include chilling time
Original Source : That Win Some Girl
I did not make mine for a special do or guests – just wanted a treat ready to nibble on when I felt like it. These jellos kept well in the fridge for a week.
LINDA