Cinnamon Cheesecake Brownies have a Gooey Brownie layer with a creamy Cinnamon Cheesecake layer. What a perfect dessert combination !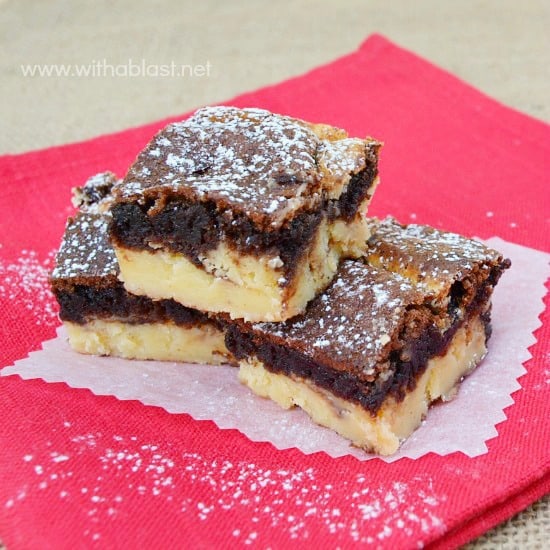 These Cinnamon Cheesecake Brownies are seriously one of the most delicious combinations ever.
The Brownie layer is gooey and very chocolatey ! And the Cheesecake layer has just a hint of Cinnamon to it, but enough to make your taste glands go .. aah,,,yum !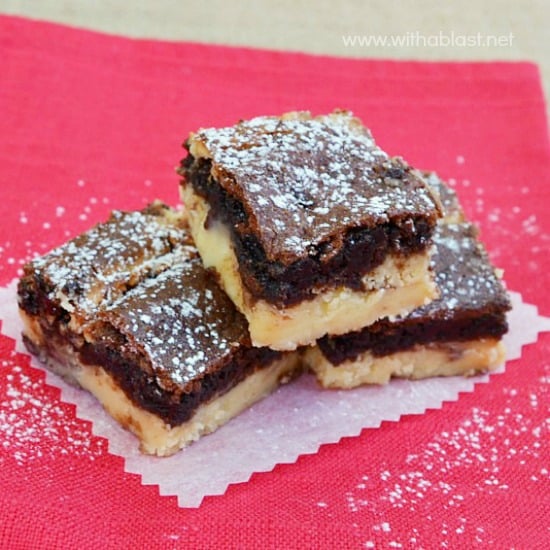 This sweet treat actually starts off the upside down way – almost like an upside down Brownie, if you know what I mean?
The Brownie layer is made first, baked just a few minutes to firm it up very slightly.
Then topped with the Cheesecake layer and baked again. The end result is this delicious, upside down dessert.
My favorite part is anywhere between the very top, which is a little crusty, and the creamy Cinnamon Cheesecake layer on the bottom.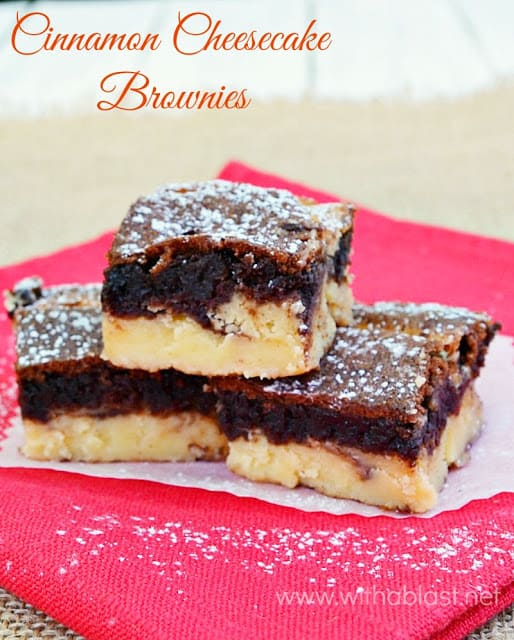 Not to say the Brownie layer is not as delicious ! It certainly is,,, I am merely trying to describe the different textures and degree of gooey-ness mixed in with the creamy Cheesecake.
The two layers do however run a little through each other, but not much. You might think the baked end result is a total failure (as I did the first time), but it does sort of push up on the sides of the oven dish, with a sunken center.
The top is also not even (see the different photos) – all this is normal. Let it cool, chill, slice and you won't even worry about how it looked when it first came out of the oven.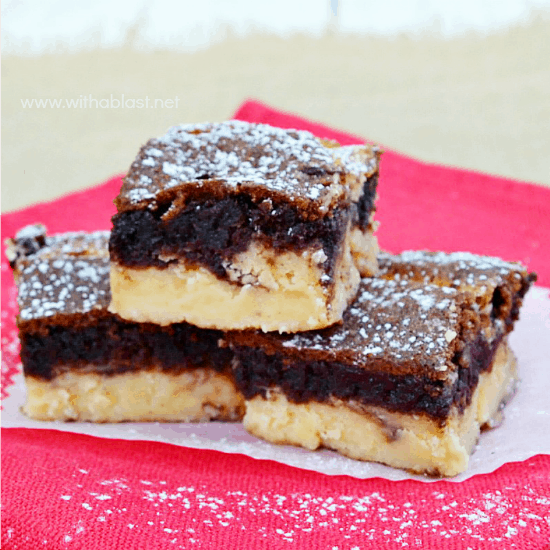 I can only offer my opinion as to why the Brownie rises to the top. And that is because it is not a heavy (as in a lots of Flour) Brownie mixture.
By running a knife a couple of times through the Cream Cheese and slightly through the Brownie batter, it opens up and the lighter batter rises through and up.
More Sweet Treat recipes you might like:
Cinnamon Cheesecake Brownies
Yield: 18 Servings
Cinnamon Cheesecake Brownies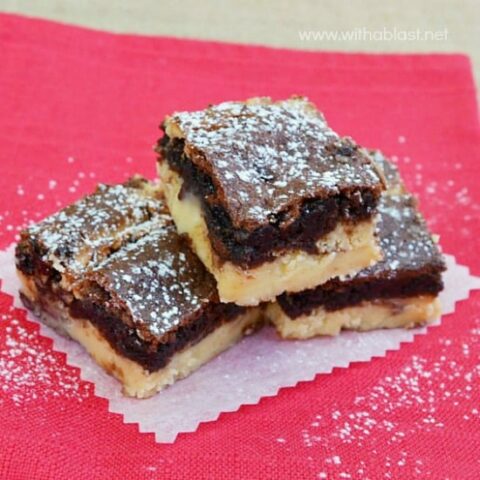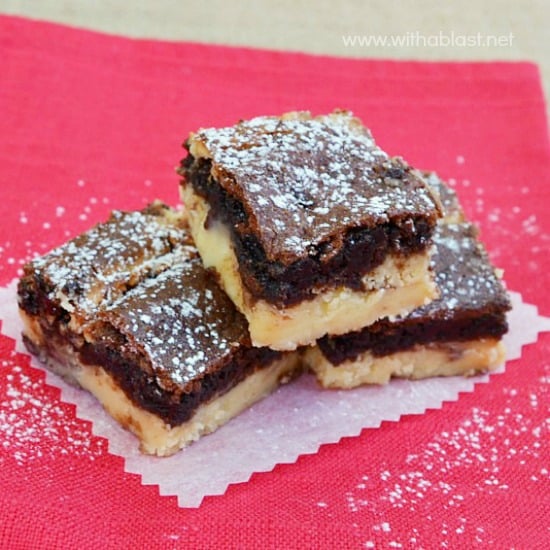 Cinnamon Cheesecake Brownies have a Gooey Brownie layer with a creamy Cinnamon Cheesecake layer. What a perfect dessert combination !
Chilling Time after Cooling
30 minutes
Total Time
1 hour
38 minutes
Ingredients
BROWNIE LAYER:
1 cup Sugar
1/3 cup Cocoa Powder
1/2 cup Flour
1/4 t Salt
1/2 t Baking Powder
1/2 cup Vegetable Oil
2 Large Eggs
1 t Vanilla Essence
CHEESECAKE LAYER:
250 g Cream Cheese, softened ( 8 oz )
2 TB Unsalted Butter, softened
1 TB Cornflour (Cornstarch)
3/4 t Ground Cinnamon, divided
1 can (397g) Sweetened Condensed Milk
1 Large Egg
1 t Vanilla Essence
Icing Sugar, to dust (optional)
Instructions
Pre-heat the oven to 170 deg C (325 deg F) – spray a 20 x 30cm ( 9 x 12 inch ) oven dish with cooking oil
BROWNIE LAYER: Mix the Sugar, Cocoa, Flour, Salt and Baking Powder in a medium mixing bowl
In a separate small mixing bowl beat together the Oil, Eggs and Vanilla – add to the dry ingredients and mix until well combined – pour batter into the prepared oven dish – bake 8 minutes
CHEESECAKE LAYER: Meanwhile, beat together the Cream Cheese, Butter, Cornflour and 1/4 teaspoon of the Cinnamon, until fluffy
Add the Condensed Milk, Egg and Vanilla to the Cream Cheese mixture – beat until smooth
Remove the (still raw) Brownie batter from the oven – pour over the Cream Cheese mixture
Run a knife gentle over the top, breaking slightly into the Brownie batter, a few times (not too much, or you will end up with a totally marbled look)
Sprinkle the remaining Cinnamon over the Cream Cheese – bake 45 – 50 minutes until filling is set and the Brownie Layer is now on top of the Cheesecake Layer

Cool completely in oven dish, then transfer to the refrigerator for at least 30 minutes to fully set
Nutrition Information
Yield
18
Serving Size
1 Brownie
Amount Per Serving
Calories

217
Total Fat

13g
Saturated Fat

4g
Trans Fat

0g
Unsaturated Fat

8g
Cholesterol

48mg
Sodium

100mg
Carbohydrates

23g
Fiber

0g
Sugar

19g
Protein

3g
Nutrition value is not always accurate
Dust with Icing Sugar (if using), slice into squares and serve. Keep any leftovers in a sealed container in the refrigerator.