Chocolate Meringue Pie has a smooth, silky, almost ganache-like filling with a bit of an unusual, divine Meringue topping – so easy to make!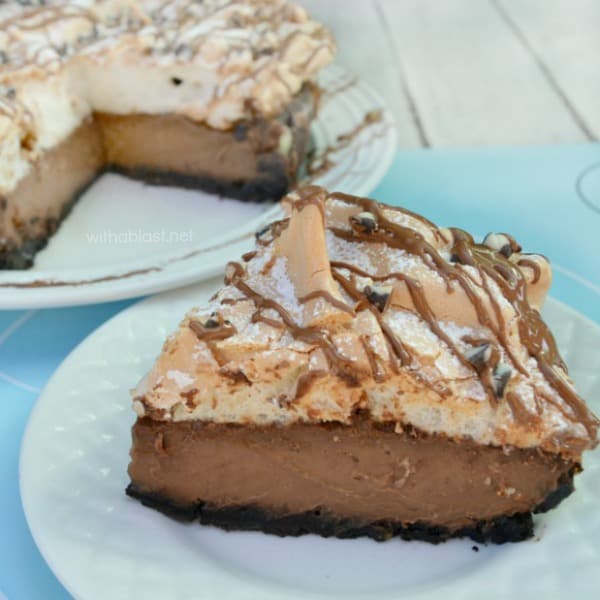 Chocolate, chocolate ! What would we do without any chocolate ??
Right, maybe have a thinner waistline … One bite of this Chocolate Meringue Pie and you will forget about your waistline instantly – promise !
This is definitely not a Pie you want to make in a hurry.
The pie needs time to bake, cool off in the oven and then be chilled for at least 4 – 6 hours. (or overnight, which I prefer)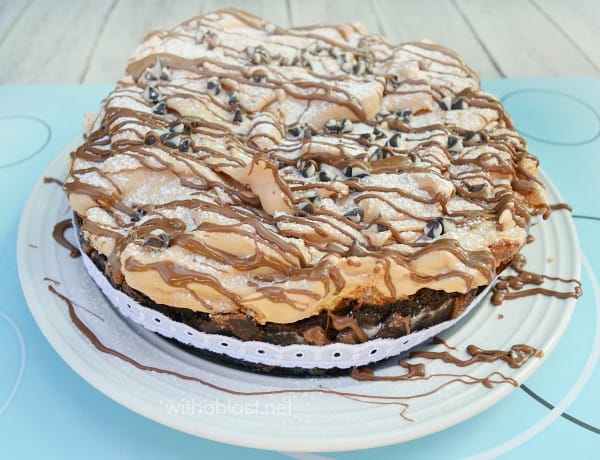 The Meringue topping is also a bit unusual and not the same as when you bake a Lemon Meringue, which has a somewhat chewiness to the meringue bit.
This topping is more dried out and also have a feather light cake texture, which is wonderful, by the way.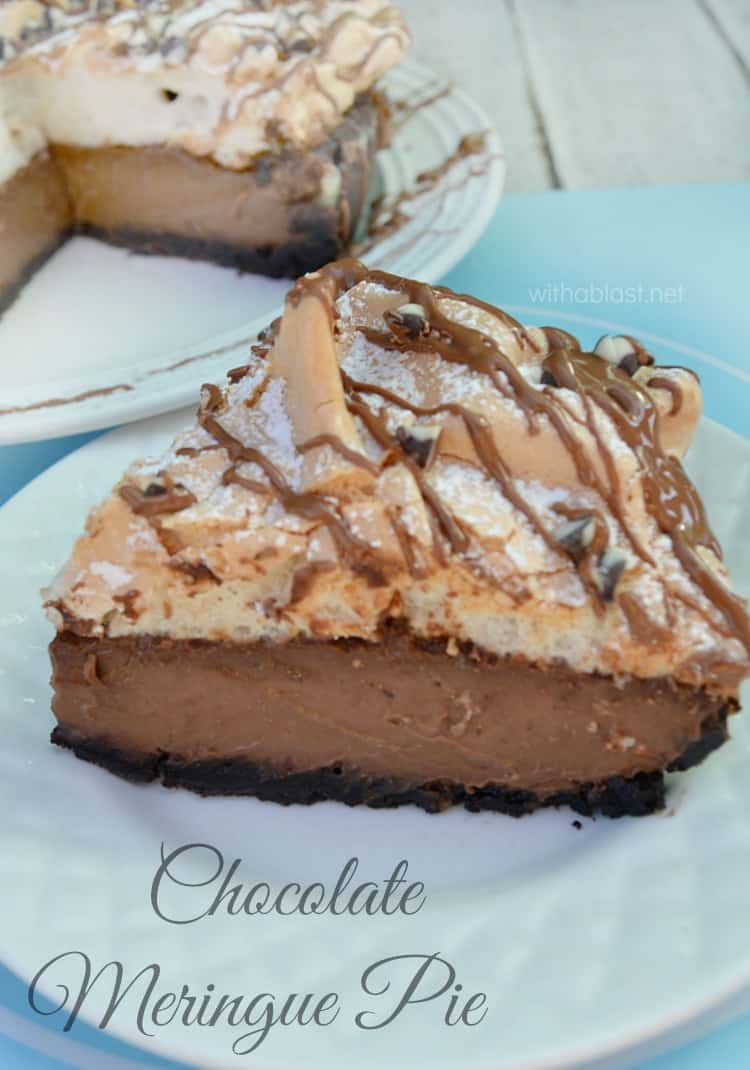 To describe the filling, I would say it is an ultra creamy, melt-in-the-mouth Cream filling and so very, very chocolaty !
Every bite is like a small piece of silky, chocolate heaven and the crust rounds everything off very nicely.
So, if you want this pie tomorrow night, you better make it tonight !
Patience and you will taste the Chocolate Meringue Pie as it is meant to be enjoyed. Think of it as a smooth, silky and a bit lighter chocolate ganache.
More Chocolate treat recipes you might like:
Chocolate Meringue Pie
Yield: 8 Servings
Chocolate Meringue Pie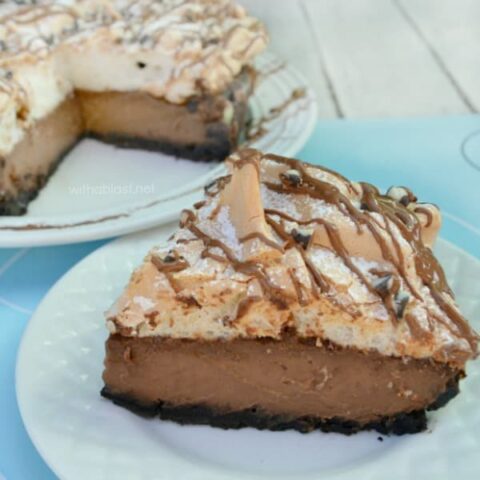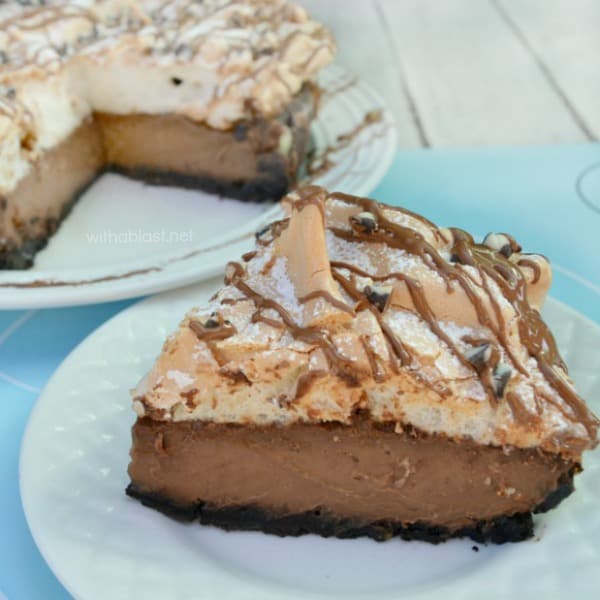 Chocolate Meringue Pie has a smooth, silky, almost ganache-like filling with a bit of an unusual, divine Meringue topping - so easy to make!
Bake Time
1 hour
15 minutes
Total Time
5 hours
30 minutes
Ingredients
CRUST:
16 Oreo Cookies, original, crushed
1/4 cup Unsalted Butter, melted
FILLING:
1 1/4 cup Fresh Cream (whipping cream)
250 g (8 oz) Dark Chocolate, good eating quality, chopped roughly
2 large Eggs
1 t Vanilla Essence
MERINGUE:
4 Egg Whites
1 cup Caster Sugar (Superfine Sugar)
1 TB Cornstarch (Corn Flour)
1 TB Vinegar
1 TB Vanilla Essence
TO DECORATE (optional):
Icing Sugar, to dust (Powdered Sugar)
1/4 cup Chocolate Chips
1/4 cup Melted Chocolate, to drizzle over
Instructions
Pre-heat the oven to 120 deg C (250 deg F) – line a standard cake pan with baking paper – let the paper hang over the edges

CRUST:

Combine the Oreo Cookies and the Butter – press into the lined cake pan – bottom and up the sides

FILLING:

Heat the Cream until just before boiling point – remove from heat – place the Chocolate in a mixing bowl and pour over the hot Cream – stir until the Chocolate has melted and is smooth

Beat together the Eggs and the Vanilla for the

Filling

– stir into the Chocolate mixture – beat 1 – 2 minutes – pour the Filling into the prepared crust and bake for 15 minutes

MERINGUE:

Meanwhile prepare the

Meringue

: Beat the Egg Whites until stiff peaks form – add the Caster Sugar, Corn Starch, Vinegar and Vanilla – beat until well combined

After 15 minutes, remove the Pie from the oven – scoop over the

Meringue

topping and bake a further 60 minutes – switch off the oven and let the Chocolate Meringue Pie cool completely in the oven

Place in the refrigerator for at least 4 – 6 hours (overnight is preferable)

TO DECORATE (optional):

A few minutes before serving – dust with Icing Sugar, sprinkle over the Chocolate Chips and drizzle the melted Chocolate over the Pie – chill a few minutes for the drizzled Chocolate to set
Notes
Ingredients for decorations not included in Nutritional values
Nutrition Information
Yield
8
Amount Per Serving
Calories

574.1
Total Fat

34.3g
Saturated Fat

19.9g
Unsaturated Fat

10.7g
Carbohydrates

65.5g
Fiber

2.9g
Sugar

53.4g
Protein

6.3g
LINDA
Don't forget to PIN !