This pasta based Philly Cheese Steak Casserole can easily be doubled – pressed for time ? you can have the dish on the table in LESS than 30 minutes !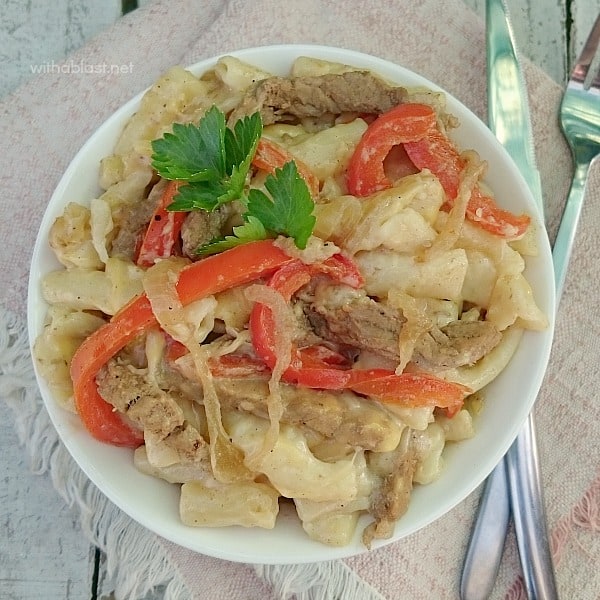 We love Philly Cheese Steak Sandwiches, but it is a lot of sandwiches to make when you have a crowd to feed.
This Philly Cheese Steak Casserole is perfect for larger family. Or when you have lots of mouths to feed in a hurry.
Yes, I say..in a hurry ! Because I never really know who will be home for dinner and whether any extras are joining us.
I am sharing the basic recipe for 4 servings (adult size), but mostly I double and even triple the recipe, depending on who is home for dinner.
This is a quick and easy last minute recipe and I usually have all the ingredients.
Can I double or even triple the recipe ?
The Steak also does not have to be doubled or tripled as I use more than is really necessary.
Therefore, double everything else, but leave the Steak at 450 g (one pound) if you only have that much on hand. You might want to add a little more when tripling the recipe though.
When I am really pressed for time, I do not even bake the casserole as all the ingredients are already cooked before going into the oven.
Baking the Philly Cheese Steak Casserole only firms up the dish a bit and heat through.
Without baking you can have a wonderful, and very tasty meal on the table in less than 30 minutes.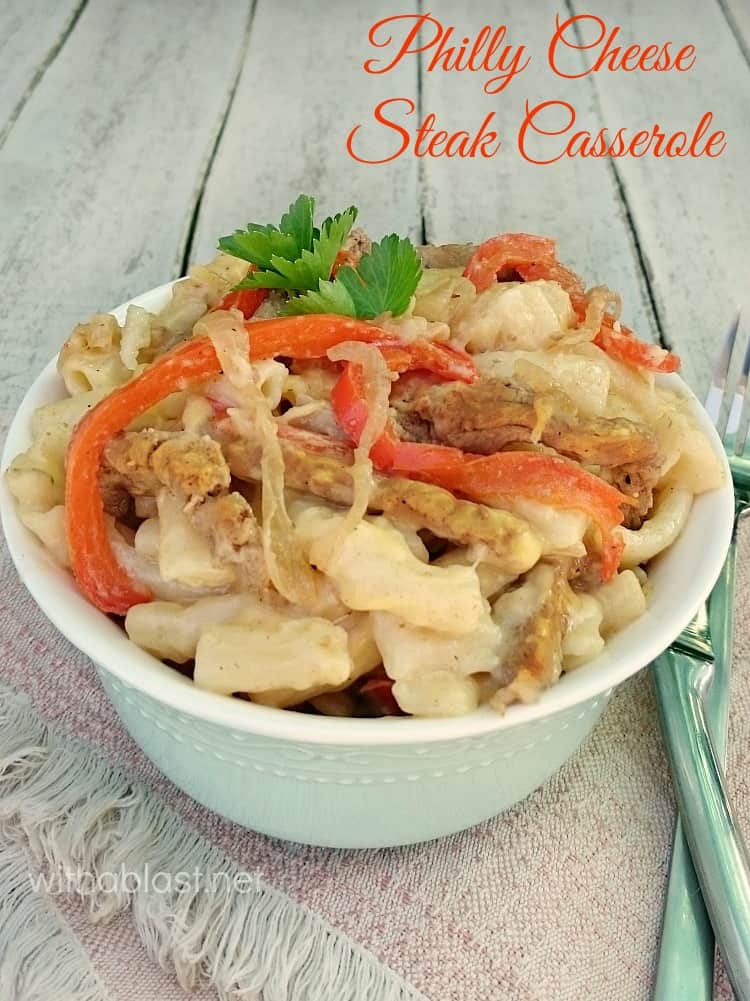 Start the Pepper/Steak mixture at the same time as your pasta starts to boil. Heat the Cheese Sauce (if not making your own at the time) and everything will be hot when you mix it all up.
Serve immediately after mixing if you plan on not baking the casserole.
The dish will be saucier, as the sauce thickens whilst baking, but that is no biggie – it all boils down to your preferences and time you have available.
More Casserole recipes you might like:
Philly Cheese Steak Casserole
Yield: 4 Servings
Philly Cheese Steak Casserole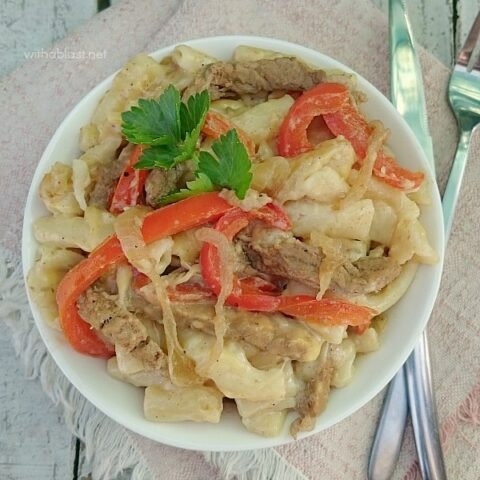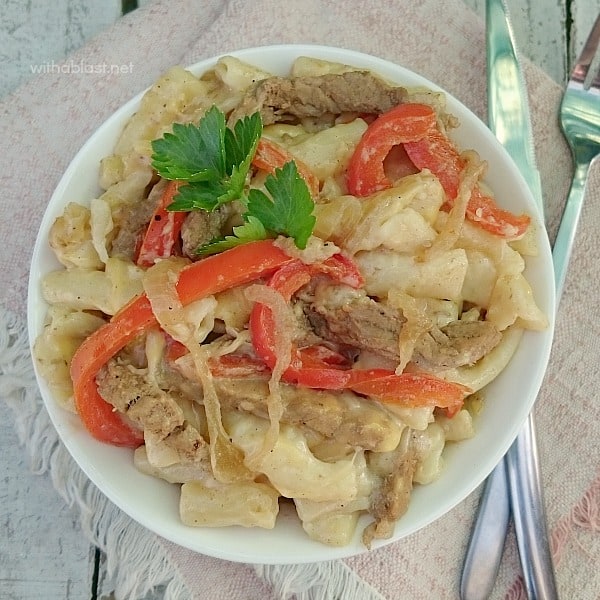 This pasta based Philly Cheese Steak Casserole can easily be doubled - pressed for time ? you can have the dish on the table in LESS than 30 minutes !
Ingredients
500 g (raw weight) Macaroni, cooked (16 oz)
1 TB Vegetable Oil
2 Red Bell Peppers, sliced
1 Onion, sliced
450 g Beef Steak, cut into strips ( 1 pound )
Salt and Black Pepper, to taste
2 cups Cheese Sauce (homemade or store-bought)
Instructions
Pre-heat the oven to 180 deg C (350 deg F) – spray a 20 x 30 cm ( 9 x 13 inch ) oven dish with cooking oil

Heat the Oil in a large pan – saute the Peppers and the Onion until just soft – add the Steak and stir-fry until the meat is done – season to taste with the Salt and Pepper



Combine the cooked Macaroni, Steak mixture and the Cheese Sauce in a large mixing bowl – transfer to the prepared oven dish, cover with aluminum foil and bake 25 – 30 minutes or until heated through
Nutrition Information
Yield
4
Amount Per Serving
Calories

615.8
Total Fat

26.9g
Saturated Fat

13.9g
Unsaturated Fat

9.8g
Carbohydrates

47.6g
Fiber

3.1g
Sugar

1g
Protein

44.9g
Nutrition value is not always accurate
Serve with a crunchy salad on the side.
LINDA