No-bake, creamy AND gooey Chocolate Caramel Cream pie all in one ! So simple to make with everyday ingredients, but with a taste out of this world !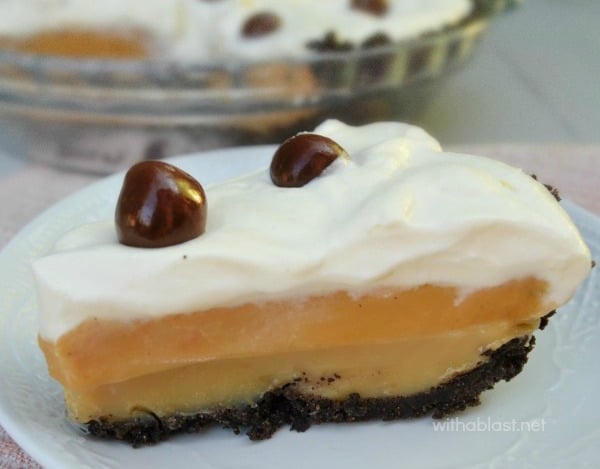 I have been meaning to make this Chocolate Caramel Cream Pie weeks ago already. But every day, either I plain forgot about it and made something else for dessert.
Or soon as I started getting the ingredients ready … bam ! No milk or cream. Well, I finally made it, otherwise it might have been months until I next have a chance and I will tell you why.

Not sure whether I shared this little tidbit on the blog yet, but I am on my way to Australia soon – depending on my visa ! To visit my brother and his family in Brisbane for a few months.
Yep, a whole three months and I am getting quite excited as I have not seen my brother (younger than me and only sibling) in 7 years. My sister-in-law and one niece not since around the early 2000's and get this !! I am to meet my other niece for the very first time !
I am really looking forward sooo much to spend time with all of them, do some catching up, and most of all, getting to know my only two blood related nieces.
Oh, and I am planning on meeting up with some Australian blogging friends as well, which I think will be just awesome.
I have known some of them since I started blogging in 2012, become friends with, that is online friends, and will now get the chance to meet them in real life ! (lots of exclamation marks in this post, but I am sure you understand, right ?! )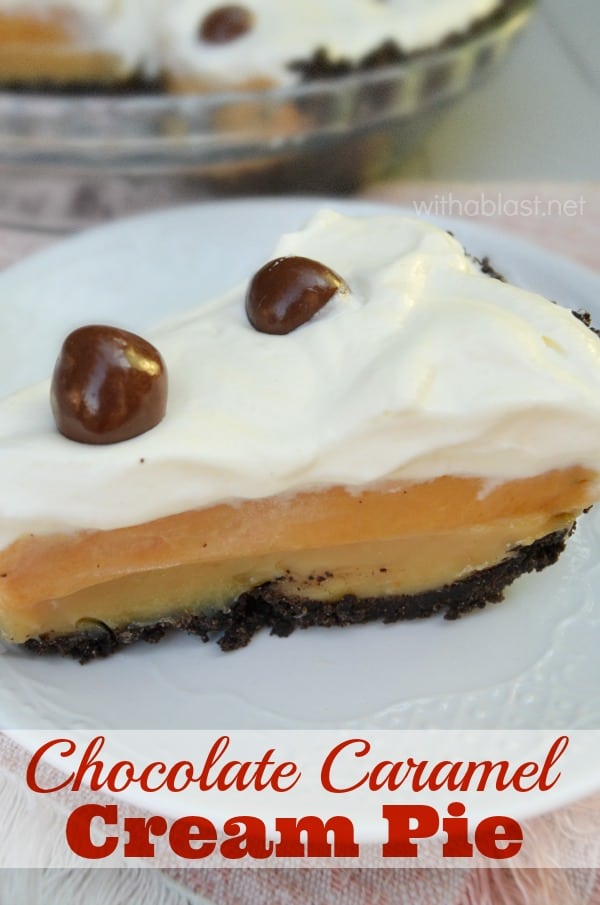 Getting back to the recipe for today, the Caramel layer is a recipe with only three ingredients. And I must have used it dozens of times already in other desserts I have shared on the blog. I will leave you some links to check out at the end of this post.
The crust is a simple, yet always welcome and very popular, Oreo cookie crust, topped with the Caramel layer, followed by a Pudding layer. I had Butterscotch pudding in the pantry nearing it's expiry date and used that (you can use Chocolate, Vanilla or whatever will go well with the Caramel).
And to top it all, a lightly sweetened whipped cream with a handful of Chocolate covered Toffees – again, you can decorate the Caramel Pie as you wish.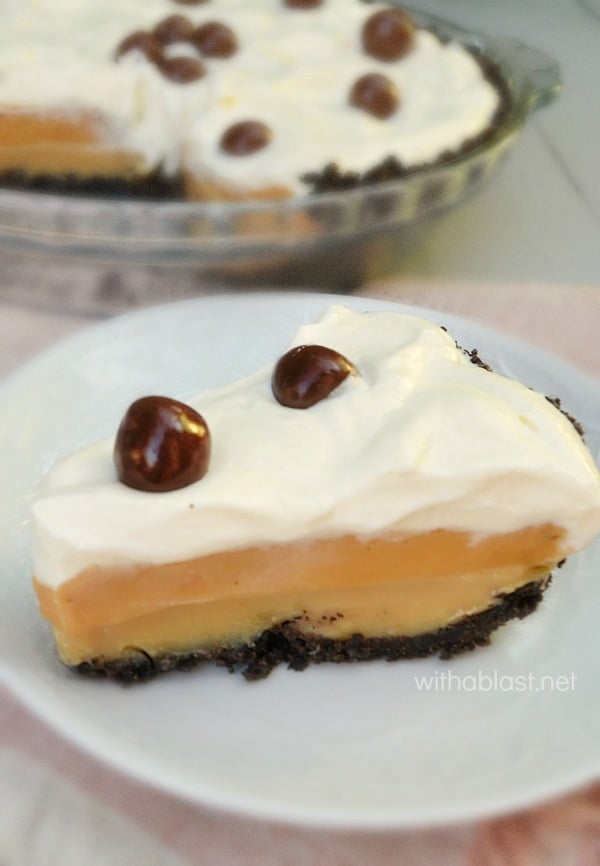 Using less Milk than the quantity stated on the Pudding box, gives you not only a firmer, better to slice layer, but also a little stronger flavor. I used a four serving sized box with just over half the Milk stipulated on the box.
Chocolate Caramel Cream Pie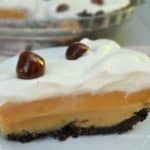 Chocolate Caramel Cream Pie
No-bake, creamy AND gooey Chocolate Caramel Cream pie all in one ! So simple to make with everyday ingredients, but with a taste out of this world !
Ingredients
16

Oreo Cookies

finely crushed

1/3

cup

Unsalted Butter

melted
CARAMEL:
1

can (397g)

Sweetened Condensed Milk

2

TB

Butter

1/3

cup

Golden Syrup

or Treacle
PUDDING LAYER:
1

box

Butterscotch Instant Pudding

or flavor of your choice ( 4 serving size box )

1 1/2

cups

Milk
CREAM TOPPING:
1

cup

Fresh Cream

(whipping cream)

1/4

cup

Icing Sugar
OPTIONAL:
Chocolate coated Toffee Balls

to decorate
Instructions
Combine the crushed Oreos and the melted Butter – press onto the bottom and the sides of a 20cm ( 8 inch ) pie dish – chill until needed
CARAMEL:
Bring to the boil in a medium saucepan – the Condensed Milk, Butter and Syrup – stir over medium heat until the mixture has changed to a light caramel color – remove from heat and let cool

Once the Caramel has cooled, spoon into the Oreo crust and refrigerate at least one hour
PUDDING LAYER:
Combine the Instant Pudding with the Milk – pour over the Caramel – chill until set
CREAM TOPPING:
Beat the Cream until stiff peaks form – add the Icing Sugar and beat another minute – scoop over the Pudding

decorate with Chocolate coated Toffee Balls (if using)
Recipe Notes
Total time does not include chilling time
Slice into servings using a sharp knife.
LINDA
MORE RECIPES WITH CARAMEL YOU MIGHT LIKE :