This Salsa is amazing ! And the extra bit of Nachos IN the Tex-Mex Hotdogs add a surprising, delicious crunch – Make-Ahead Salsa which is perfect for picnics or other gatherings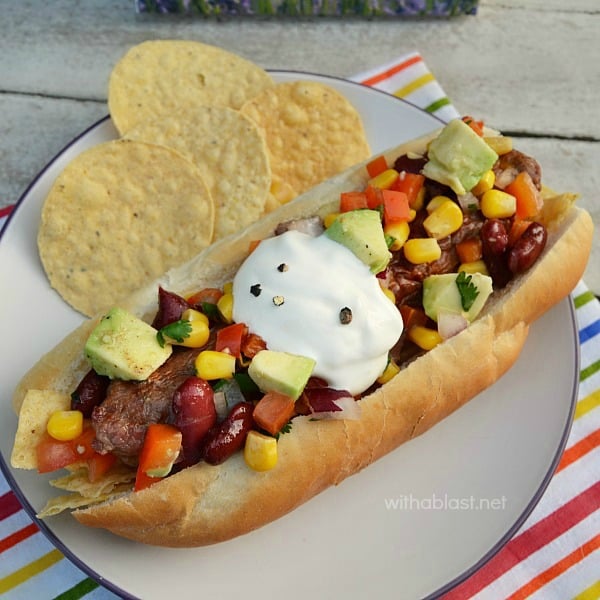 These Tex-Mex Hotdogs would soon become a favorite with your family, whether they like hot, spicy or plain salsa.

By removing the seeds of the Chilies most of the heat will be gone, and kids can still enjoy the spicy taste of Tex-Mex which has become my latest obsession these days.
Little kiddos ? Scoop out their salsa and place into a separate bowl before you add the Chilies to the main bowl of salsa.
We are the in between type – chilies, but seeds removed, all of us, therefore I only make one bowl, plop it up on the serving table and everyone scoops their own salsa over their Hotdogs.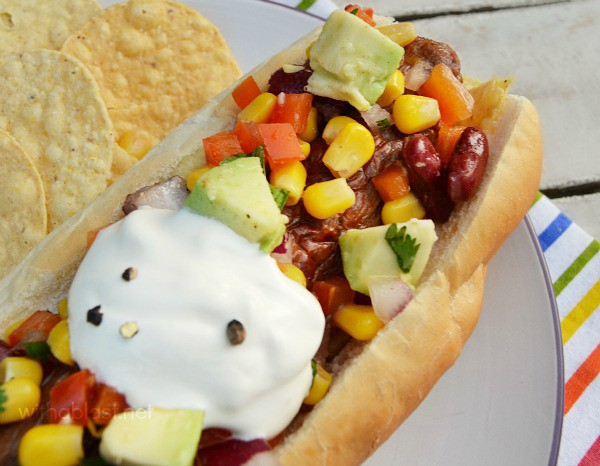 It is a fairly simple recipe, but I have never used this exact combination, and to be honest, I can eat the salsa by itself straight from the bowl !
Which is what I did anyway with the leftovers – pity there were only about half a cup of leftover salsa though ..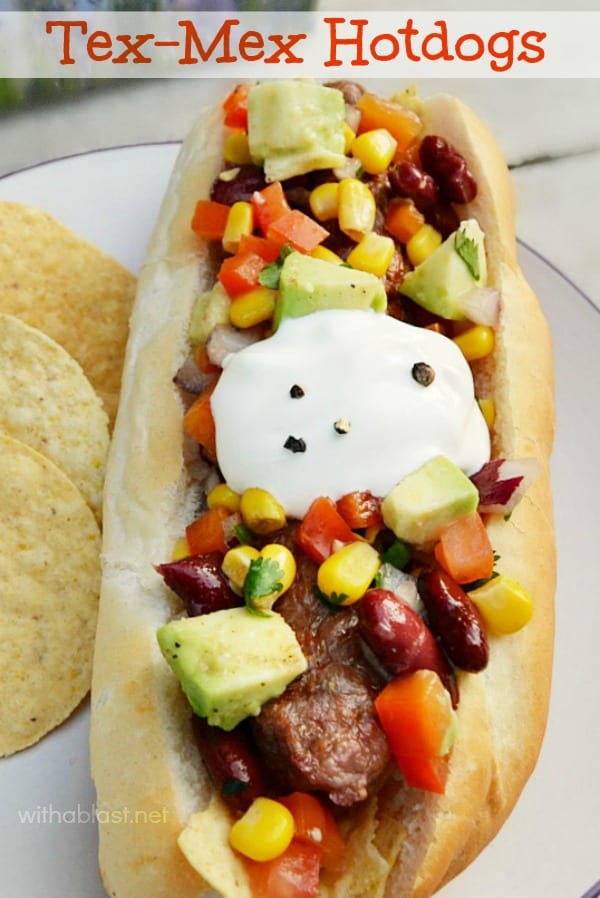 Everyone was surprised to find crunchy, crushed Nachos at the bottom of the Hotdogs, and it turned out more delicious than I thought it would.
The heat and some Sausage juice – I used traditional SA Boerewors this time round – softened the Nachos a little, without taking away too much of the crunch.
My family drizzle the Sour Cream all over the Hotdogs, whereas I like a dollop in the center and use a fork to add some to every second or third bite.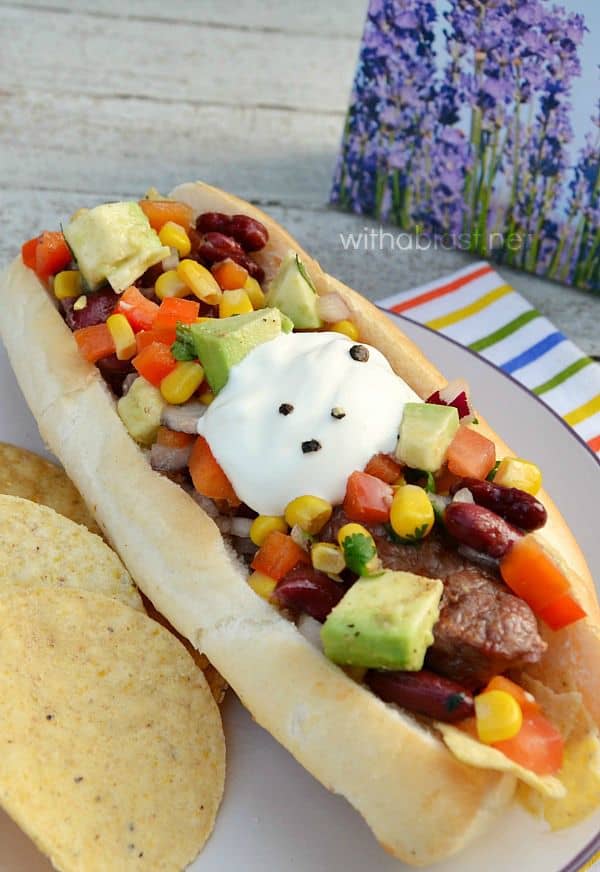 The salsa only takes minutes to throw together but you can also make it ahead of time, keep the salsa in a sealed container in the refrigerator and it will be good for 2 days, maybe even longer.
This makes it the perfect salsa to take with on a picnic, all prepped and ready to use.
Do remember to drizzle the Avocado with Lemon juice though. Doing this would prevent the Avocado from discoloration. I pour a little juice in a small bowl, quickly dunk the Avocado cubes into the bowl and remove immediately shaking off any excess juice.
The salsa makes around 4 cups, which is way more than you really need on 8 Hotdogs, but we had some on the side as well. You can always half the ingredients or use leftovers as a small side salad/salsa the following night.
Tex-Mex Hotdogs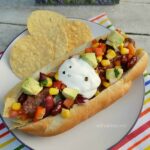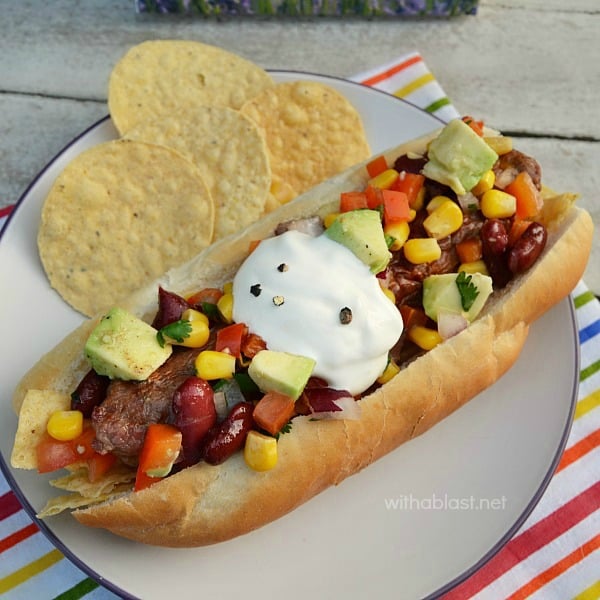 Tex-Mex Hotdogs
The extra bit of Nachos IN the Tex-Mex Hotdogs add a surprising, delicious crunch - Make-Ahead Salsa which is perfect for picnics or other gatherings
Ingredients
8

Hotdog Sausages

cooked (your favorite)

8

Hotdog Rolls

halved, but not all the way through (toasted or not)

2

cups

Nachos

coarsely crushed

1/2

cup

Sour Cream
SALSA:
1

can (410g)

Corn Kernels

drained, rinsed

1

large

Tomato

chopped

1

Red Bell Pepper

finely cubed

1

Avocado

cubed

1/2

Red Onion

finely chopped

1/2

cup

Cilantro Leaves

chopped

2

Green Chilies

finely chopped (discard seeds if you prefer milder)

1

can (410g)

Red Kidney Beans

drained, rinsed
Instructions
Combine all the Salsa ingredients and keep aside

Sprinkle some crushed Nachos in the fold of the Rolls – top with a cooked, warm Sausage

Scoop a generous amount of Salsa over the Sausage and top with a dollop (or drizzle) of Sour Cream
Serve immediately with Black Pepper (if prefer)
LINDA
You Might Also Like: