Hot or not – you gotta love these spicy Chicken Chorizo & Cilantro Empanadas – perfect for tailgating, home snacks or for entertaining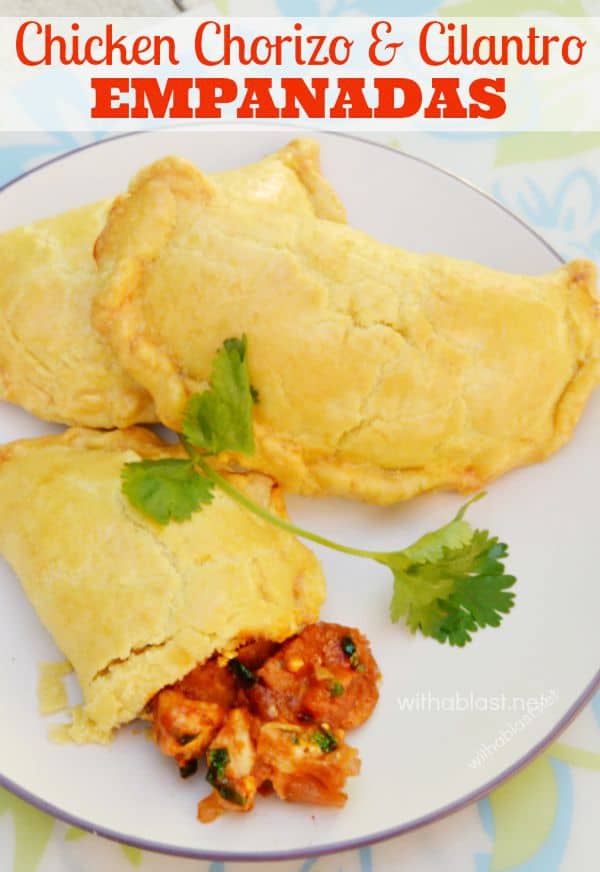 Empanadas are always a huge hit as a savory snack. Especially when you are watching your favorite game on the television ! Or you can take a dozen or so with you to the game if you are lucky enough to get hold of a ticket and live close by.
These Chicken Chorizo and Cilantro Empanadas are spicy, yet not too hot (although the option of adding more chilies is always open to you!) and are enjoyed by all ages.

I am not fond of making my own dough or pastry from scratch, call it laziness or blame it on all the ready made brands out there.
However, for these Empanadas I always make the dough myself, absolutely amazing. So buttery and crumbly, just the way it should be. I also think it is the only dough I can make which comes out perfect – with that tiny bit of crack in it once fully baked.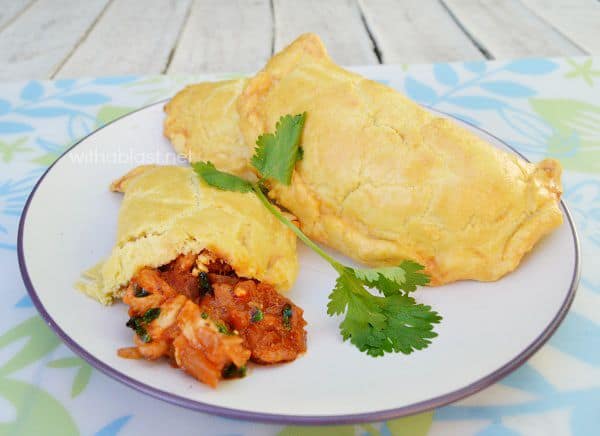 Chicken and Chorizo might be two totally different kinds of meats, but I am sure they are meant to be used together. Always a delicious combination of which the two meats compliments each other in no other way two other kinds of meat can.
I have mentioned before that my family is not very fond of hot foods, meaning hot chilies, stews and that kind of thing. We are more in the middle, mild, spicy, yes, burning hot, definitely not.
One Chili is therefore more than enough for our preference as to adding heat and spiciness. But if you are a Chili lover, go ahead and add more. OR leave the Chili completely especially if you have little kids with an aversion to Chilies.
Next time you prepare snacks for tailgating, home snacks or entertaining guests, I hope you will try this delicious combination and add it to your platter.
On the bonus side, both the filling and the dough can be made way ahead of time. Leaving you only to fill the rolled out dough and pop into the oven when you need the snacks.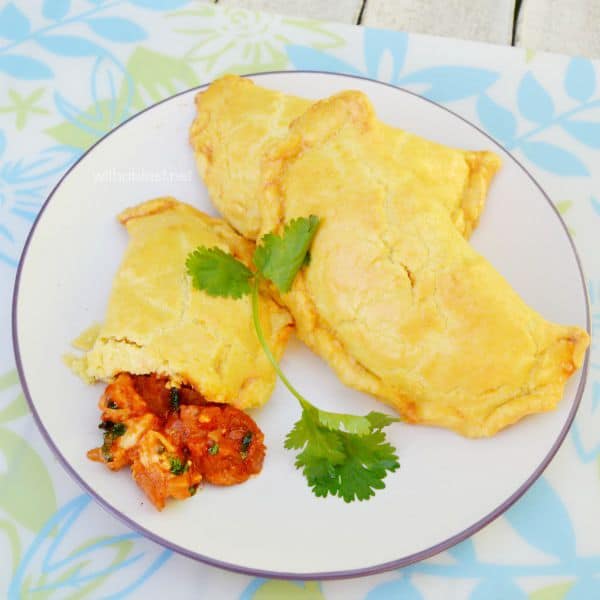 Chicken Chorizo and Cilantro Empanadas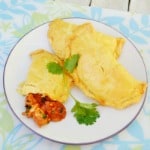 Chicken Chorizo & Cilantro Empanadas
Hot or not - you gotta love these spicy Chicken Chorizo & Cilantro Empanadas - perfect for tailgating, home snacks or for entertaining
Course:
Appetizer, Lunch, Snack
Ingredients
3 1/4

cups

Flour

1

t

Salt

250

g

Cold Butter

( 8 oz )

1/4

cup

Ice-Cold Water
FILLING:
3

TB

Olive Oil

1

Onion

finely chopped

1

TB

Fresh Garlic

crushed

450

g

Chicken Fillets

cubed small ( 1 pound )

200

g

Chorizo Sausage

sliced thinly ( 7 oz )

1

Red Chili

chopped

1

t

Paprika

1

can (410g)

Chopped Tomatoes

1

Lime

zest and juice

Salt and Black Pepper

to taste

1/2

cup

Cilantro

chopped

1

Egg

lightly beaten
Instructions
Place the Flour, Salt and Butter in a blender – blitz until it resembles fine breadcrumbs – add little by little Water whilst blitzing until mixture forms a ball – remove from blender, cover in plastic wrap and chill until needed
FILLING:
Heat the Oil in a large pan – saute the Onion until soft – add the Garlic and fry another minute – remove from pan and keep aside

Add the Chicken to the same pan – fry until golden brown and done – add the Chorizo and cook another 3 minutes – add back the Onion mixture, together with the Chili, Paprika, Tomatoes, Lime zest and juice – season to taste with Salt and Black Pepper (not much needed, if any at all) – simmer 15 minutes or until sauce thickens – remove from heat and leave to cool completely – stir in the Cilantro

As soon as the filling has cooled, roll out the dough to a 5mm thickness – use a ramekin or something similar to cut out large rounds of dough

Pre-heat the oven to 180 deg C (350 deg F) – line two baking sheets with baking paper

Spoon about 2 TB of the filling onto each half of the dough rounds – fold over the other half and pinch the edges to seal (use a little Water on your fingertips)

Place the Empanadas in a single layer on the baking sheets – brush with the beaten Egg and bake 20 – 25 minutes until golden
LINDA