7-Layer Caramel Chocolate Bars with not only caramel and chocolate but also coconut – perfect dessert or as part of a sweet party platter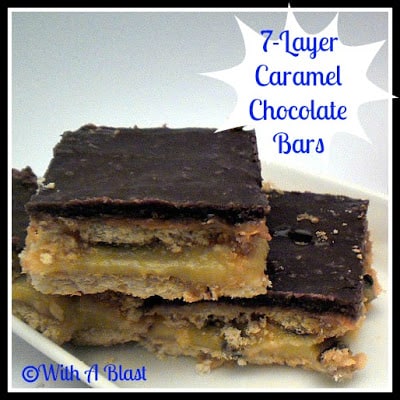 Seven layers of pure delight! I had no idea what to call these bars … 7 layers?? Yep, that will do, with the added Caramel and Chocolate …
But first : as I mentioned in a previous post I have an adorable new 10 week old, Jack Russel puppy. Uhm, and yes, I do think he has a bit of something else in his genes.
He is as cute and lovable as can be and already has the whole family wrapped around his .. well, paw !
MEET JOE, EVERYONE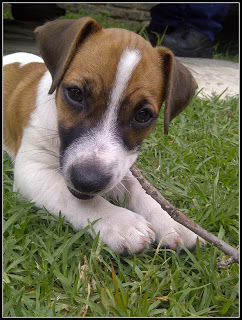 I wanted something sweet and gooey and thought I will find something on Pinterest. For once, I could not find a single thing on any of my boards which I really craved for.
After spending another hour or so, looking at the new stuff rolling in on the Pinterest site, I knew I will not find something there.
Have you ever had a craving for a specific, shall we say .. ingredients musts, but no recipe and never had something quite like it at the candy bars?
More Caramel recipes you might like:
Right, so I thought this up :
7-Layer Caramel Chocolate Bars
Yield: 18 Servings
7-Layer Caramel Chocolate Bars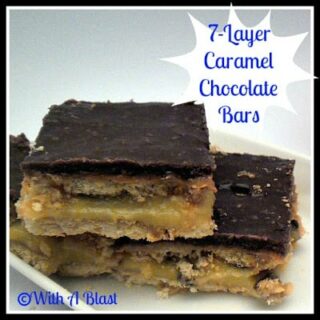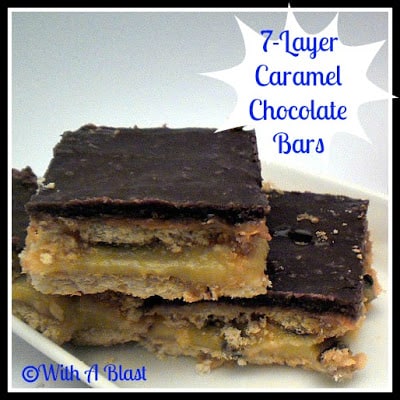 7-Layer Caramel Chocolate Bars with not only caramel and chocolate but also coconut - perfect dessert or as part of a sweet party platter
Total Time
4 hours
15 minutes
Ingredients
LAYER 1 and 4:
1 packet (200 g) Tennis Biscuits (or 7 oz Graham Crackers)
LAYER 2:
1 1/2 cups Light Brown Sugar
1/4 cup Corn Flour (Cornstarch)
3 TB Flour
2 cups Milk
2 Egg Yolks, lightly beaten
2 TB Unsalted Butter
1 t Vanilla Essence
LAYER 3:
LAYER 5:
1 can (397g) Caramel Condensed Milk
1/4 cup Milk
1 TB Corn Flour (Cornstarch)
LAYER 6:
LAYER 7:
1 1/2 cup Chocolate Chips
3 TB Fresh Cream (whipping cream/double cream)
Instructions
LAYER 1:

Place a single layer of Tennis Biscuits on the bottom of a 20 x 30cm (9 x 13 inch) dish

LAYER 2:

Heat the Sugar, Corn Flour, Flour and Milk in a medium pot until the Sugar has dissolved – add a little of the warm mixture to the Egg Yolk and mix – add it back to the pot and stir continuously until thick – remove from the heat and add the Butter and Vanilla, stir until the Butter has melted and spoon over the layer of Biscuits in the dish

LAYER 3:

Sprinkle the 1 cup of Chocolate Chips evenly over the warm mixture

LAYER 4:

Place another single layer of Biscuits over the Chocolate Chips

LAYER 5:

Heat the Caramel Condensed Milk over medium heat (careful, it burns quickly) – mix the Milk and Corn Flour and add to the Caramel – simmer 1 – 2 minutes until slightly thicker – remove from heat and spoon over the layer of Biscuits

LAYER 6:

Sprinkle over the Coconut

LAYER 7:

Melt the remaining Chocolate Chips – stir in the Fresh Cream – Spread over the Coconut layer

Chill at least 4 hours or overnight
Recommended Products
As an Amazon Associate and member of other affiliate programs, I earn from qualifying purchases.
Nutrition Information
Yield
18
Amount Per Serving
Calories

432.6
Slice and serve! My family immediately loved it and everyone had at least a second piece.
No need to mention who had more or who had a piece hidden for breakfast !
LINDA