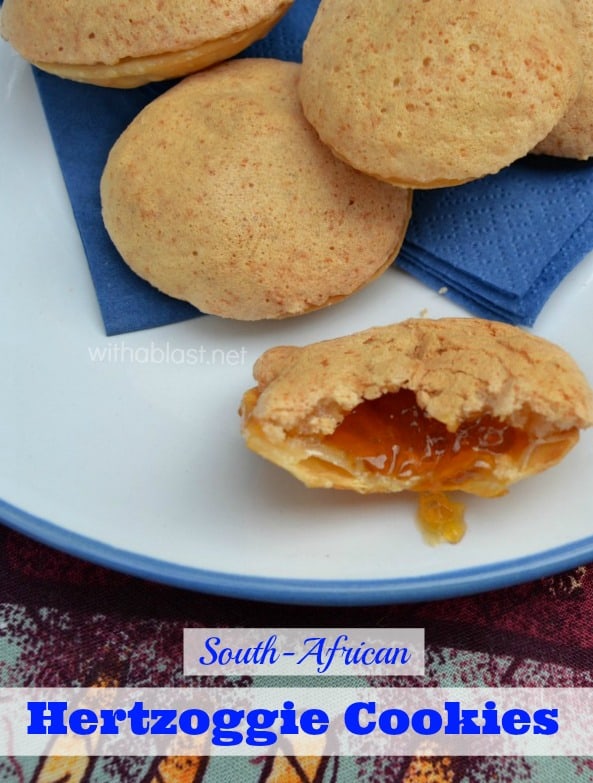 This is another South-African favorite! Crust, jam filling and a coconut topping make these Hertzoggie Cookies a very popular and widely baked sweet treat all over the country.
I have to admit – I hate baking cookies… muffins are fine, cupcakes again, ugh, I am no good with icing, the decorating part, whatever method/recipe I try, it always looks off – at least the cupcakes with the icing tastes alright…mostly…
But I like Hertzoggies and the ones at the supermarkets are really becoming a joke. The other day I found three, out of a packet of twelve, with no filling.
The only other place to get them is at a good Home Industry store – but that can be expensive.
I have baked some before, made a complete mess – I used too much jam in the filling.., not once but three times. Some of the recipes read that the egg-white must be beaten stiff – almost like making meringue, this also did not work out.
Today, I looked through my Springbok Kitchen cookbook again and found this recipe, which is GREAT! I made the Hertzoggies exactly as per the recipe and I am happy with the results. Next time I might just add a tiny bit more of the egg-white mixture on top to give a bit more of a rise as well as extra coconutty delight.
However tempting it might be – DO NOT overdo it with the jam! One teaspoon is more than enough.
Hertzoggie Cookies
48 Cookies
INGREDIENTS:
2 cups Cake Flour
2 t Baking Powder
1/2 t Salt
2 TB Sugar
1/2 cup Butter, cut into small blocks
3 Extra-Large Eggs, separated
2 TB Ice Cold Water
Smooth/Fine Apricot Jam (Jelly)
3/4 cup Fine Coconut
3/4 cup Caster Sugar
DIRECTIONS:
1.) Sift the Cake Flour, Baking Powder, Salt and Sugar together into a medium mixing bowl – Add the Butter and rub it into the Flour with you fingertips.
2.) Mix the Egg Yellow and Water and add to the Flour mixture – mix until a dough has formed – place in the refrigerator for 30 minutes.
3.) Meanwhile, pre-heat the oven to 180 deg C (350 deg F) – spray 2 x 12 hole patty pans with Spray 'N Cook.
4.) Roll out the dough and cut into circles, slightly larger than the patty pan holes, fit the rounds into each hole – place a teaspoon full of the Apricot Jam in the center of the cut-out dough.
5.) Beat the Egg whites until just foamy – do not over beat – add the Coconut and the Caster Sugar – mix well by hand.
6.) Use approximately 1 tablespoon full of the Egg/Coconut mixture and spoon over the Apricot Jam – bake for 12 – 15 minutes.
Remove from the oven and let the cookies cool in the pans – transfer to a wire rack to cool completely. Keep leftovers in a sealed container.