DIY Gel Candles are so easy to make at home and you can create just about any look or work the candle into your color scheme [ scented or plain ]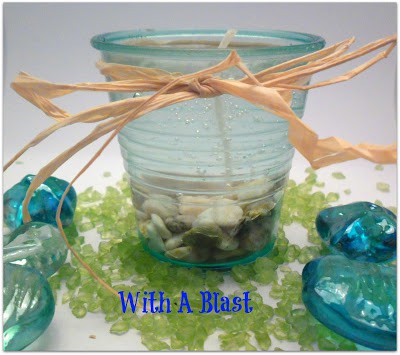 DIY Gel Candles can be so different and kids seem to love them, especially if you make some with something inside. I am thinking, perhaps little fish ?
It would seem like they are swimming in water, or a small clear plastic ball or two to look like bubbles.

In the above photo I have made my candle exactly the same way as HERE but using clear gel and not wax. I have found that working with gel is actually much quicker (to melt) and easier to work with than wax.
I have used a plastic shot glass (the hard-plastic kind) as a container. And I did not color the gel as the container is a see-through blue color already.
I started all the prepping as in the tutorial (shown in the link above), then placed some small pebbles – available from most craft stores – at the bottom – poured in my melted gel and waited for it to set.
After that, just a piece of decoration around the top!
If you do decide to make gel candles with something, as mentioned above, in the center, remember to pour in a little gel, wait for it to set. Then place the fish or whatever you will be using, on top and pour in some more gel.
I have made some like this, layering the small fishes etc and it looked great. Unfortunately, I gave those away long before I thought I will blog about it!
As long as it is not something too heavy it will be okay, also, place whatever you will be using more to the side of the container than close to the wick.
Gel candles can also be scented and colored – same as with wax.
Our next home project is our main bedroom (so far we ripped out the carpet – we will replace it with laminated wood as Roy have already installed this in our lounge, passage and dining room).
The bedroom is beach themed (well, halfway..). Even though we live hundreds of kilometers from the ocean ! And I will be making nice big, beachy type gel and wax candles for decorating the top of our entertainment center.
But, we might only finish the bedroom, entirely, in a few months as we must first sort out some safety issues in and around the house.
A tip if you will be using these DIY Gel Candles purely for decoration:
Cut a piece of plastic-wrap the same size as the top of the candle, with a little hole for the wick, and place it on top. This way, no dust will be forming on the gel, but on the plastic and you can dust it lightly when needed
LINDA