Have leftover Puff-Pastry? Here is 2 Ideas for Leftover Puff-Pastry – one sweet and one savory recipe. Stop wasting the leftover Puff-Pastry !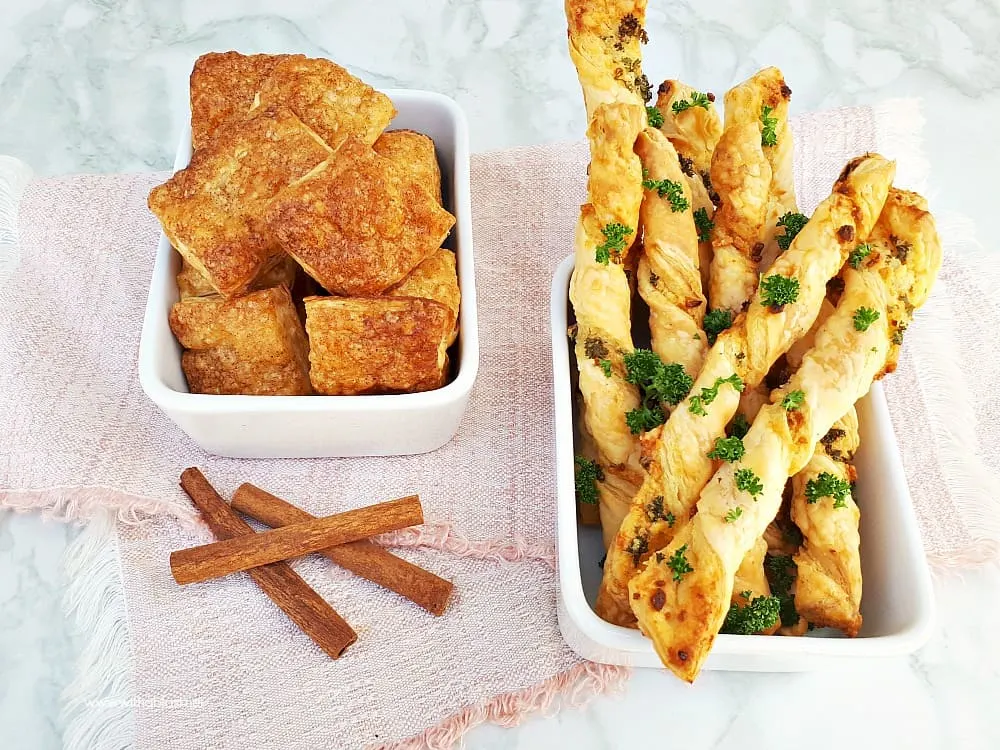 Have you ever had leftover puff-pastry and weren't sure how to use it up ? I have 2 ideas for leftover puff-pastry which you can try.
One savory and one sweet. Obviously you can also use these recipes using full rolls of puff pastry. (the recipe cards' nutritional value is based on a full roll)
During the week, I usually make a daily list of groceries we need for that particular day and sometimes for the next day.
I, myself, only go to the supermarket on Friday afternoons. Therefore, either hubby or one of the kids will get my daily ingredients, which is usually fresh produce and meat.
Parmesan and Garlic Straws

The other day, I had a roll of Puff Pastry on the list. Normally, one standard roll is just enough for whatever I am making.
This particular day, hubby had come back with a double sized Puff-Pastry pack as there were no standard sizes in store and the double size was on special, anyway.
It would have been okay, if the pastry had come in two separate rolls, because then you can remove and defrost one and keep the other frozen. But this one was one huge roll and I had to defrost the whole thing.
Cinnamon Sugar Bites

I hate wasting, really I do, there are so many people going hungry and for me to throw away any food is just a sin. And I am not sure about you, but even when I only buy a roll (for a specific recipe), I usually have some leftover.
No matter how small a piece I have left, I always use it up in some or other way. And your main dish (which used the bulk of the puff-pastry), has to be baked anyhow – so just stick the extra pieces into the oven as well (separate baking sheet).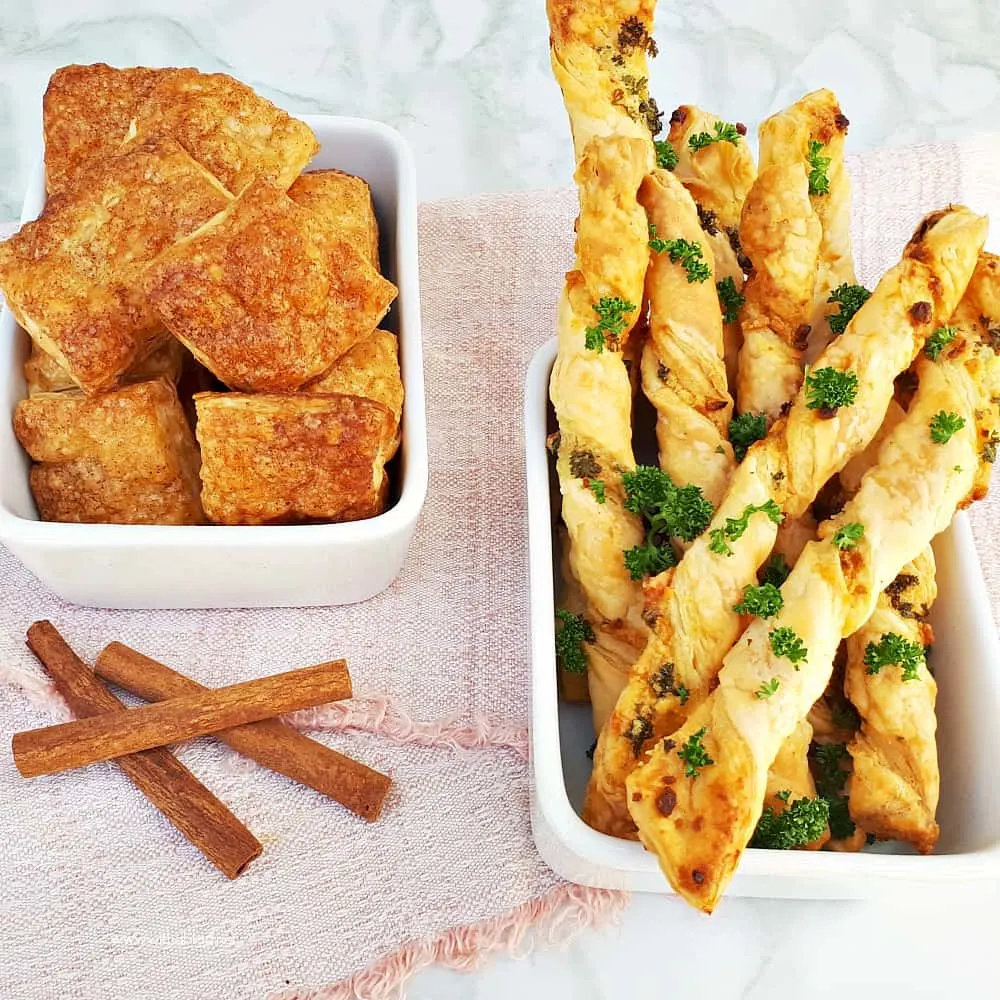 Just look at this flaky, sweet bite ! Delicious, even if it is only you having a small snack batch 😉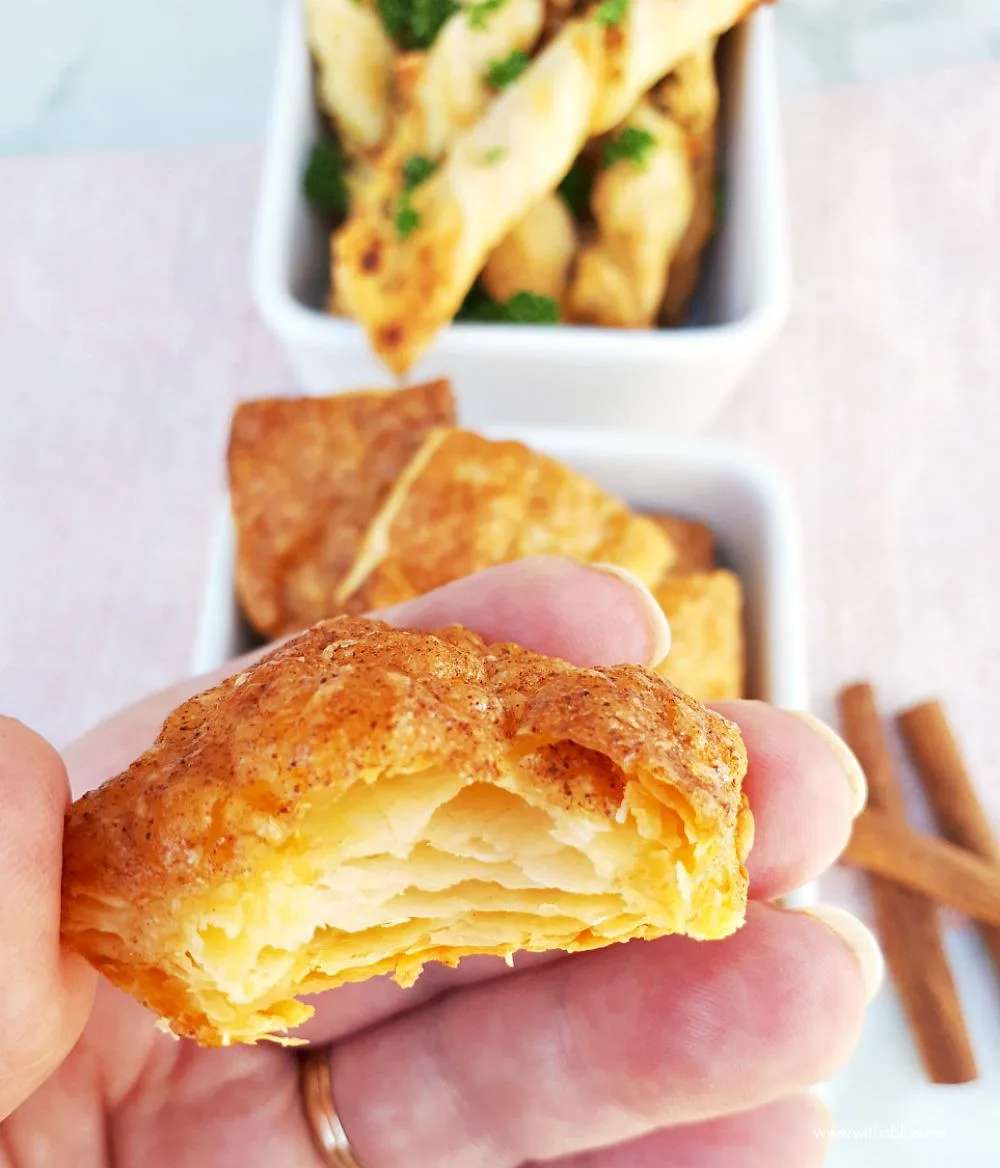 In the recipe cards below (note: two separate cards), you will notice that I mention a full roll of puff-pastry in each.
Simply adjust your ingredients to the size puff-pastry you have left. Although the quantities given are only a recommendation.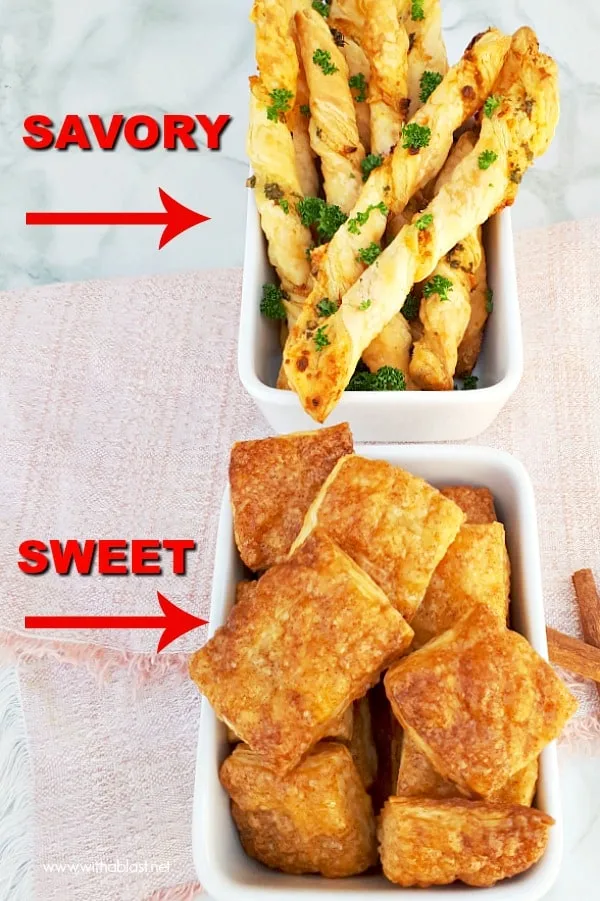 Connect with us :
PINTEREST TWITTER FACEBOOK INSTAGRAM
More Snack recipes you might like:
2 Ideas For Leftover Puff-Pastry
1.) Parmesan and Garlic Straws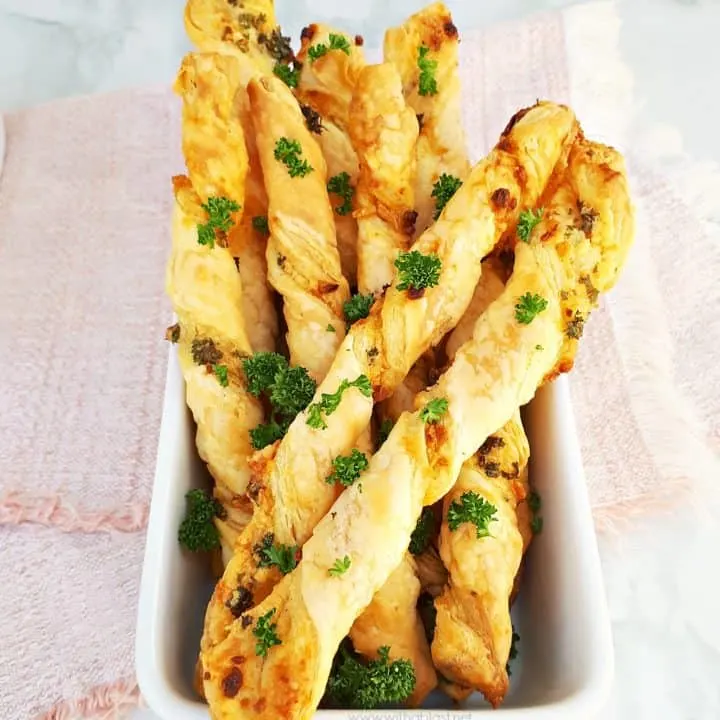 Parmesan And Garlic Straws
Have leftover Puff-Pastry? Here is a Idea for Leftover Puff-Pastry - Parmesan and Garlic Straws !
Ingredients
1 Frozen-Puff Pastry, defrosted
1/4 cup Unsalted Butter, melted
1/3 cup Parmesan Cheese, the almost powdered type
2 TB Garlic, crushed or minced
1 TB Parsley, chopped finely
Instructions
Pre-heat the oven to 200 deg c ( 400 deg F ) - line a baking sheet
Unroll the defrosted Puff-Pastry and brush with the melted Butter
Sprinkle over the Parmesan, Garlic and Parsley
Slice into 2 cm (just under an inch) strips - 12 long or 24 short strips
Twist and turn each strip into a spiral and place on the prepared baking sheet
Bake 30 minutes or until golden and done
Notes
Nutritional values based on a full roll of puff-pastry
Quantities (cheese, garlic, parsley) can easily be increased or decreased as per your preference as well as actual leftover size of puff-pastry
Nutrition Information
Yield

24
Serving Size

1 short Straw
Amount Per Serving
Calories

122.6
Total Fat

9.1g
Saturated Fat

3.3g
Unsaturated Fat

5.3g
Carbohydrates

7.9g
Fiber

0.3g
Sugar

0.1g
Protein

2.4g
2.) Cinnamon Sugar Bites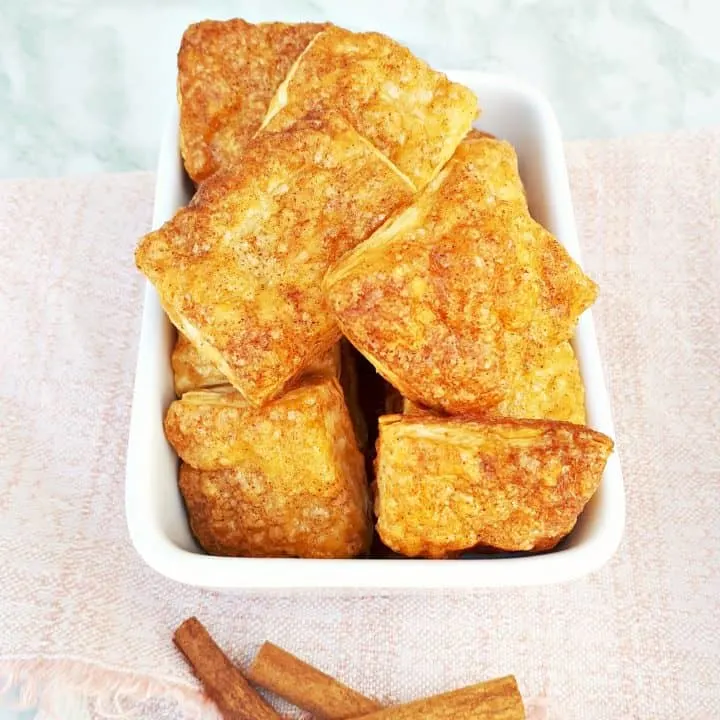 Cinnamon Sugar Bites
Have leftover Puff-Pastry? Here is an Ideas for Leftover Puff-Pastry - Cinnamon Sugar Bites !
Ingredients
1 Frozen Puff-Pastry, defrosted
1/4 cup Unsalted Butter
1/3 cup Cinnamon Sugar (made with brown sugar)
Instructions
Pre-heat the oven to 200 deg C (400 deg F ) - line a baking sheet with baking paper
Brush the unrolled Puff-Pastry with the melted Butter
Sprinkle over the Cinnamon Sugar
Cut into small 5 cm ( 2 inch ) pieces or into fingers
Arrange on the prepared baking sheet and bake 30 minutes until golden and puffed
Transfer to a cooling rack (ca be served warm or cold)
Notes
TIP: a drizzle of honey is heavenly on these bites !
Nutritional values based on a full roll of puff-pastry
Nutrition Information
Yield

32
Amount Per Serving
Calories

97.7
Total Fat

6.2g
Saturated Fat

2.1g
Unsaturated Fat

3.8g
Carbohydrates

11.3g
Fiber

0.3g
Sugar

4.1g
Protein

0.9g
LINDA