Sweet and Sour Pork is quick and easy to make at home – on the dinner table in 30 minutes and kid-friendly dish too!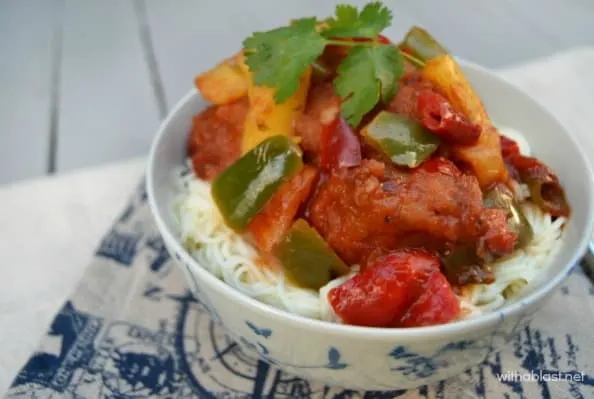 You should know by now that I absolutely love quick and easy recipes and this Sweet and Sour Pork dish is one of them.
From start to finish, you can have a wonderful, delicious meal on the dinner table in under 30 minutes.
There is no trick here, even though it looks like a lot of ingredients, just clever planning.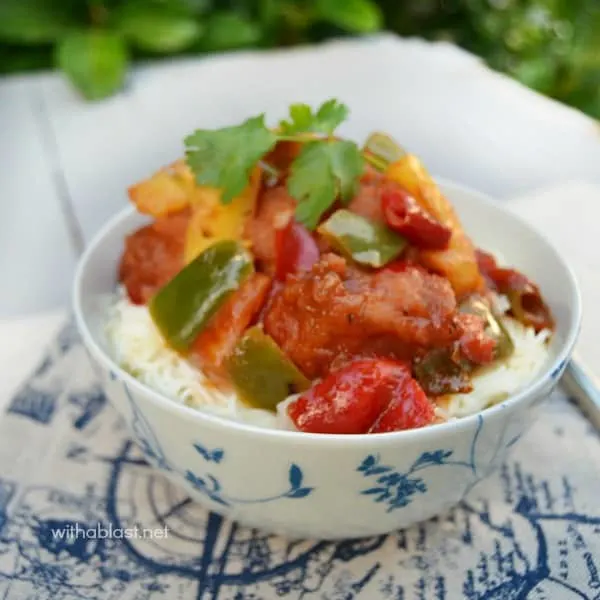 Don't cook one thing at a time, start with whatever will cook the longest and work from there. I make the batter for the Pork cubes first, because that can stand a while.
The sauce ingredients goes into a saucepan and I leave it there till the very end, before I actually heat it through.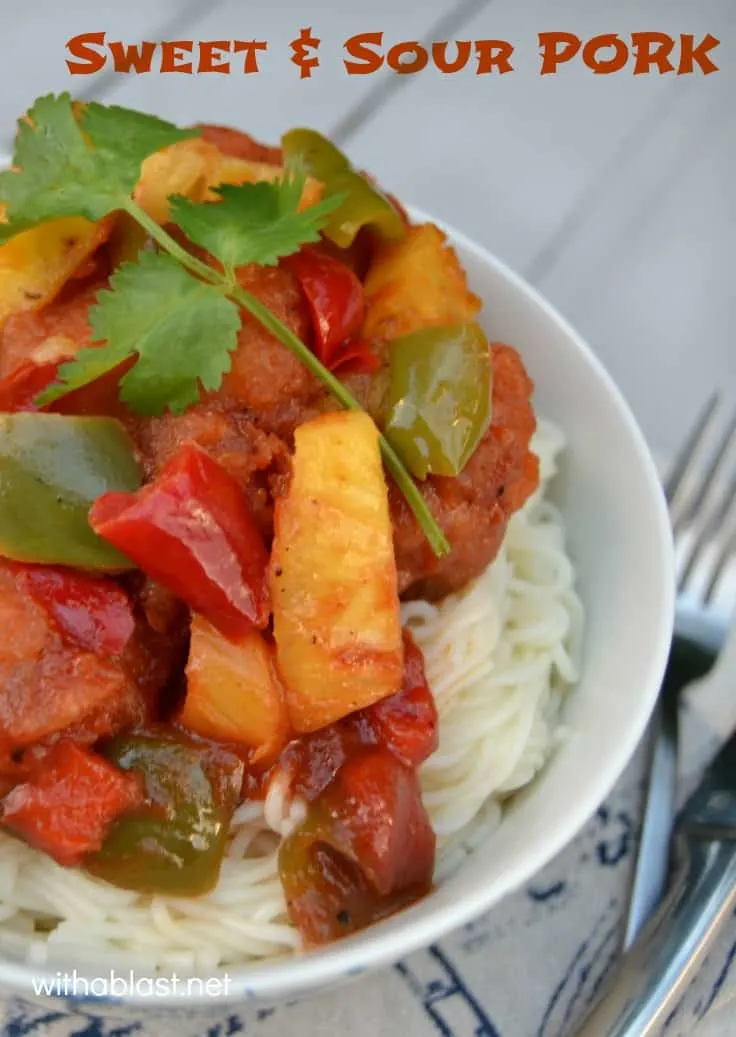 I do the dipping and deep-frying of the Pork in between getting the Pasta on the stove and all the ingredients for the sauce in a saucepan.
As soon as I put the Pasta on the stove, I switch on my electric Wok and start stir-frying the Bell Peppers and Pineapple.
This way, everything is done round about the same time and no time is wasted.
This Sweet and Sour Pork is very kid-friendly and not as sour, as one usually gets from a take out, which we have of course stopped.
Meaning no more Chinese, Japanese or any other Asian take outs, simply because we do not have those types of restaurants close to us any more.
Fresher, better, cheaper !
Anyhow, I think homemade is still better, and most definitely a lot cheaper. We have also cut back on most other take outs and the reason for that is simple.
We live in South-Africa and unfortunately have a lot of problems right now. Problems which include major chain restaurants whose workers are messing with the food, and it does not seem as if the restaurant owners etc are giving one iota !
Well, we are one family who said, no more, and therefore you will start seeing a lot of my recipes will be based on the usual take outs.
My spin on it, not really copy-cat recipes, just a homemade version of some dishes we used to order.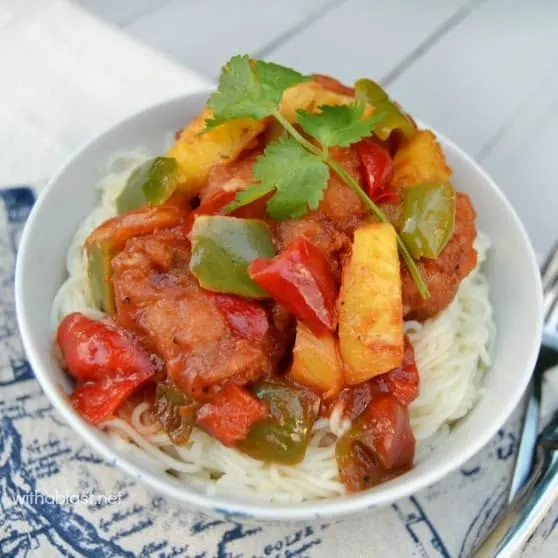 More Sweet and Sour recipes you might like:
Sweet and Sour Pork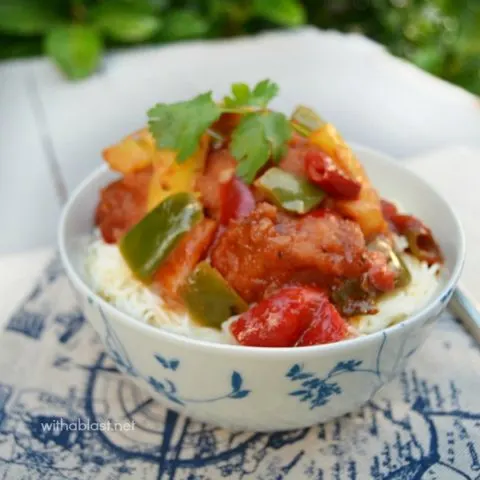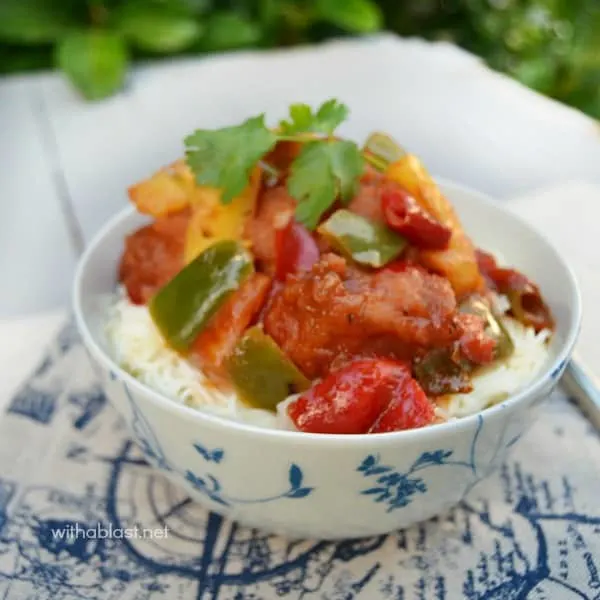 Sweet and Sour Pork
Sweet and Sour Pork is quick and easy to make at home - on the dinner table in 30 minutes and kid-friendly dish too!
Ingredients
PORK:
1 cup Flour
1 cup Cornflour (Cornstarch)
1/2 t Baking Powder
1 cup Ginger Beer
Extra Cornflour, for dusting
450 g Pork Tenderloin, cubed ( 1 pound )
Salt and Black Pepper, to taste
Oil, for deep-fry
SAUCE:
1 1/2 cups Tomato Sauce (thick ketch up)
2 TB Soy Sauce
1 TB Vinegar
1 cup Pineapple Juice
VEGETABLES:
1 1/2 TB Peanut Oil
2 cups Red/Green and Yellow Bell Pepper, cubed
1 Pineapple, peeled and sliced into strips
Fresh Cilantro, to serve
Instructions
PORK:

Combine the Flour, Cornflour and Baking Powder – season to taste with Salt and Pepper – add the Ginger Beer slowly and stir until a thick batter forms (add a little more Ginger Beer if too stiff) – set aside

Season the Pork cubes with Salt and Pepper – dust with Cornflour

Heat the Oil for deep-frying

Dip each Pork cube in the Batter and deep-fry 2 – 3 minutes or until cooked through – place on a paper towel to drain

SAUCE:

Place all the sauce ingredients in a small saucepan – bring to the boil, then lower heat and let simmer for 5 minutes

VEGETABLES:

Using a large wok or pan – heat the Peanut Oil and stir-fry the Bell Peppers and Pineapple 3 – 5 minutes – add the cooked Pork cubes, stir through – pour over the Sauce and gently stir to cover all the Pork and Vegetables – heat through if necessary
Recommended Products
As an Amazon Associate and member of other affiliate programs, I earn from qualifying purchases.
Nutrition Information
Yield

4
Amount Per Serving
Calories

762.1
Total Fat

18.3g
Saturated Fat

5.8g
Unsaturated Fat

7.7g
Protein

37.8g
Serve immediately on Angel Hair Pasta and top with Fresh Cilantro.
LINDA