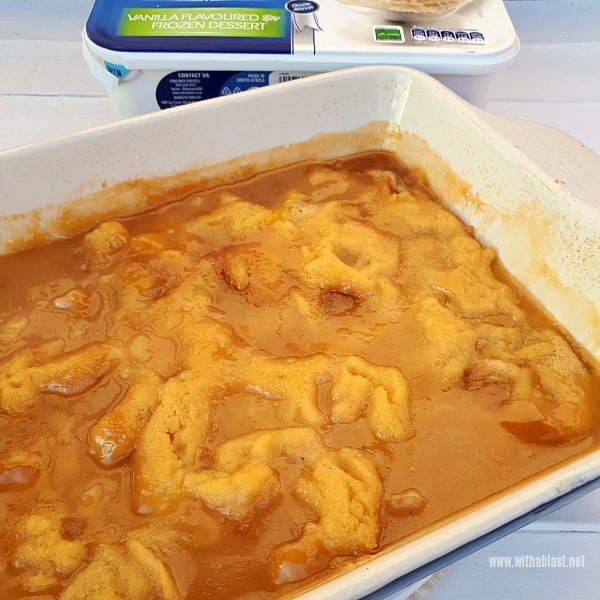 Sweet and oh so gooey ! This Sticky Toffee Pudding is delicious served hot or cold and a new family favorite.
It looks messy, but those are usually the most delicious of all desserts. The Caramel/Toffee taste is very strong and definitely added the chewiness in this dish.
After the Pudding is baked, you cut and mix up everything into a cake / toffee / sauce deliciousness ! Spoon into serving bowls and serve.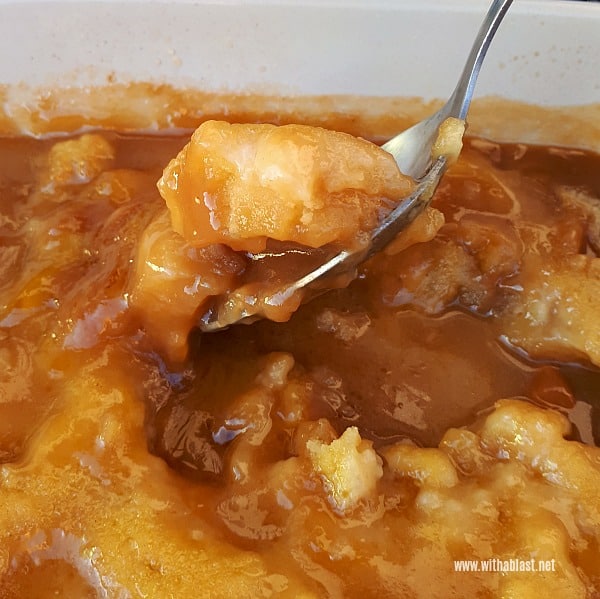 Serve hot with Ice-cream during the Winter and cold with whipped Cream during Summer. Both ways are a winner.
Sticky Toffee Pudding
6 Servings
INGREDIENTS:
1/2 cup Brown Sugar
1 1/3 cup Self-Raising Flour
Pinch Salt
1/2 cup Milk
1 Egg
1 t Vanilla
3 TB Butter, melted
150g Caramel Fudge Squares, halved ( 5 oz )
Sauce:
1 cup Brown Sugar
2 TB Butter
2 cups Boiling Water
DIRECTIONS:
1.) Pre-heat the oven to 190 deg C (375 deg F) – spray a 20 x 30cm (8 x 13 inch) oven dish with cooking spray.
2.) Mix the Brown Sugar, Flour and Salt in a medium mixing bowl
3.) Beat together the Milk, Egg, Vanilla and melted Butter – add this to the Flour mixture – stir well to combine – fold in the Caramel Fudge halves.
4.) Pour the batter into the prepared baking dish – Sauce – sprinkle the Brown Sugar over – dot with the Butter and carefully pour over the Boiling Water – bake 40 – 45 minutes.
5.) As soon as the dessert is baked and out of the oven, roughly cut and mix everything up together (mixing well, but leaving chunks of cake in between)
Serve with Ice-cream, Custard or Whipped Cream.