Tender, crisp-skin Spanish-Style Potatoes in a delicious, thick Tomato Sauce to serve as a side dish to just about any main meal
Potatoes are another staple in our house and we love potatoes just about any way it can be prepared, from mashed potatoes to baked to side dishes like these Spanish-Style Potatoes, which is so flavorful and saucy.
Not any kind of sauce, a thick, very rich tomato sauce, which you can also drizzle over any other side vegetables.
Prepping should take you less than 15 minutes and whilst the Potatoes are cooking, you can get the sauce going and have it all ready, and still hot, at the same time.
All that is left is some layering and a sprinkling of Spring Onions which adds not only a delicious flavor, but makes the dish very colorful as well.
I would take a short-cut every once in a while when I am pressed for time, by cooking the Potatoes, whole – but pricked several times with a fork – in my pressure cooker. Most of the time the Potatoes are ready before the sauce.
But, I would only recommend boiling (pressure-cooker or saucepan) if you have no other choice. Baking the Potatoes are so much better and crispy, which you would not get from plain old boiling.
The fresher and younger the Baby Potatoes the better. My family have only fallen in love with Potatoes skin on, a couple of years ago, but if you like serving them peeled, it would be just as great.
Spanish-Style Potatoes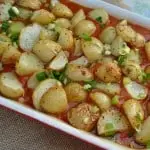 Spanish-Style Potatoes
Tender, crisp-skin Potatoes in a delicious, thick Tomato Sauce to serve as a side dish to just about any main meal
Ingredients
900

g

Baby Potatoes

scrubbed and halved ( 2 pounds )

1/4

cup

Olive Oil

Salt and Black Pepper

to taste

1

TB

Vegetable Oil

1

Onion

chopped

2

t

Garlic

fresh, crushed

1

t

Paprika

2

cans

Chopped Tomatoes

1

can ( 70g )

Tomato Puree

2

t

Sugar

1/2

cup

Spring Onions

chopped
Instructions
Pre-heat the oven to 200 deg C (400 deg F) – spray an oven dish with cooking oil.

Toss the Potatoes in the Olive Oil – season to taste with Salt and Pepper – bake about 1 hour or until the Potatoes are crispy outside and fully cooked.

Heat the Vegetable Oil and saute the Onion until soft – add the Garlic and fry another minute – stir in the Paprika.

Add the Tomatoes, Puree and Sugar – bring to the boil, then lower the heat and simmer the sauce for 15 – 20 minutes or until thickened.

Pour half the sauce into a serving dish, followed by half the Potatoes – repeat the layers.

Sprinkle over the Spring Onions.
LINDA
You Might Also Like: