Spaghetti Bolognaise Pie – The popular pasta dish now in a Pie ! An easy everyday dinner or slice into blocks when cold and take on a picnic !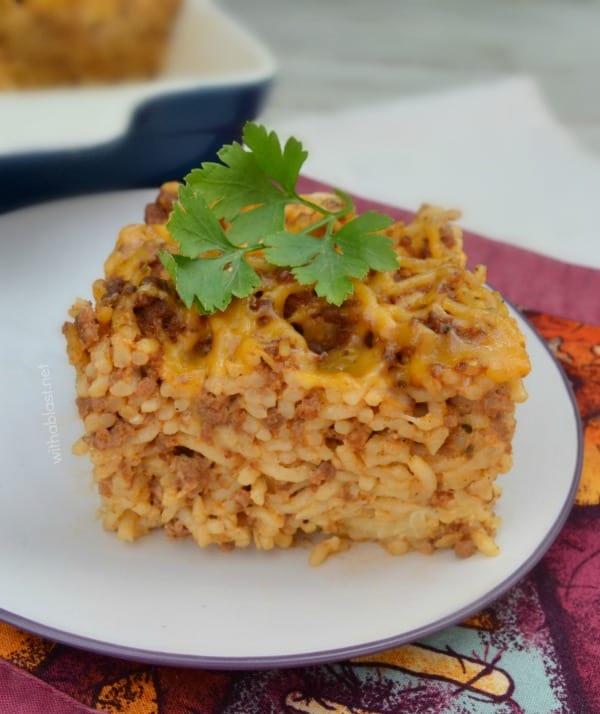 Seems everything I make these days, are some or other kind of pie and today I am sharing a scrumptious Spaghetti Bolognaise Pie – same delicious taste, little less saucy.

This is a great dish ! Hubby and I had it twice before and I made it for the kids tonight as well.
My son did seem a bit confused when I told him it's not Spaghetti Bolognaise as he knows, and loves this popular pasta dish, but a pie.
Again, no complaints and all plates were emptied, and absolutely no leftovers as just about everyone had seconds!
A Family friend who was here for dinner did however, smother his portion in tomato sauce, but then again – he loves his tomato sauce…
I used a packet of Knorr-Cook-In-Sauce with water. But it will taste just as good if the Knorr and Water is substituted with a bottle of store-bought Bolognaise sauce or even better a homemade sauce.
It should not be too saucy as it might be difficult to cut into portions, unless you do not mind.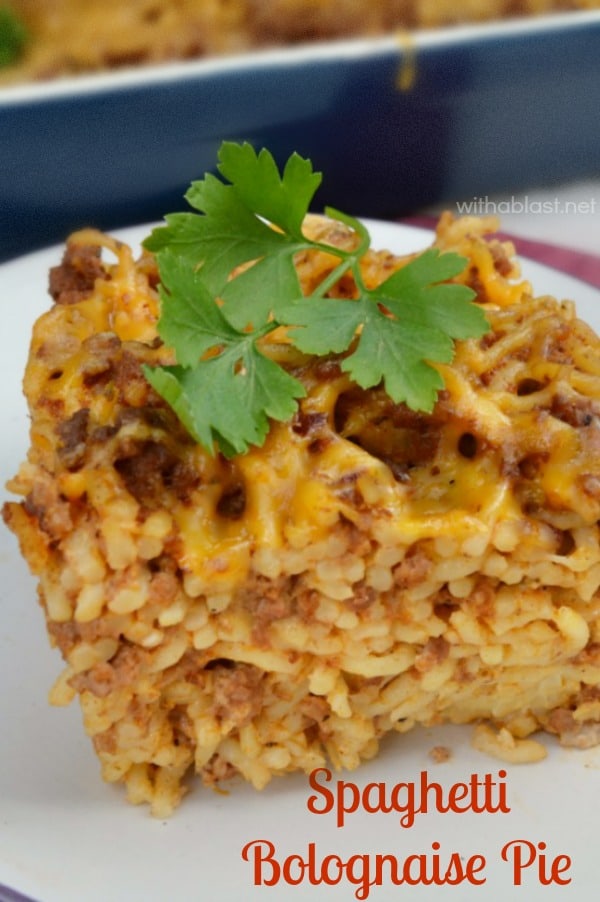 This Bolognaise Pie is also so convenient to bake the previous day and sliced into large cubes to take on a picnic as it is delicious served cold as well.
But for me, it is a lifesaver when I need a dinner to feed a crowd and also a dish which does not take too long to put together.
More Pasta dishes you might like:
Spaghetti Bolognaise Pie
Yield: 6 Servings
Spaghetti Bolognaise Pie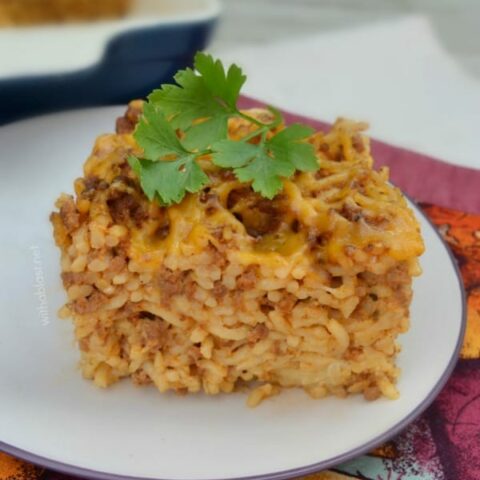 Spaghetti Bolognaise Pie - The popular pasta dish now in a Pie ! An easy everyday dinner or slice into blocks when cold and take on a picnic !
Ingredients
500 g Spaghetti ( 16 oz )
675 g Lean Ground Beef ( 1 1/2 pounds )
1 TB Olive Oil
1 packet Knorr-Cook-In-Sauce Bolognaise
1 1/2 cups Cold Water
1 1/2 t Dried Italian Herbs
1 1/2 t Fresh Garlic crushed
250 g Cream Cheese plain, softened and cubed ( 8 oz )
1 cup Cheddar Cheese grated
Instructions
Pre-heat oven to 180 deg C (350 deg F). Spray a 20 x 30cm ( 9 x 13 inch ) rectangular oven dish with cooking oil
Meanwhile, boil the Spaghetti as per the instructions on the bag, in a very large saucepan – I used a 3 liter ( 18 cups ) capacity
While the Spaghetti is cooking, brown the Ground Beef in the Oil until just done. Add the Knorr Sauce mixture, mix through, add the Water and simmer for 15 – 20 minutes
Once the Spaghetti is done, drain and transfer back to the pot. Add the Cream Cheese, Italian Herbs and the Garlic to the spaghetti. Stir well until the Cream Cheese is melted
Add the cooked Bolognaise meat to the Spaghetti mixture and stir to combine
Transfer to prepared oven dish, top with the grated Cheddar and bake 30 minutes
Remove from oven and let the dish sit for 5 minutes before serving. (Use a steak knife to slice into portions, then lift out)
Nutrition Information
Yield
6
Amount Per Serving
Calories

825
Serve with a crunchy salad or two on the side.
LINDA