Potato and Chicken Croquettes with Sweet Chili Cheese Dip – easy-to-make appetizers or snacks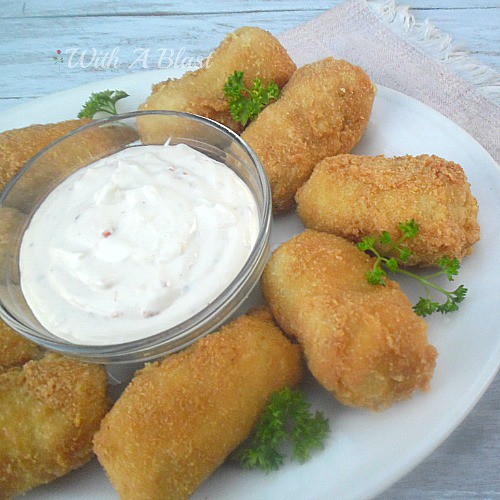 My family loves snacks, both sweet and savory. I like to make snack platters now and then to surprise them with as a kind of Saturday afternoon/early dinner or if there is a lot of sport watching on the television for the day.
I also used to make (smaller) platters for them as an after school lunch treat, but would then only have used healthy snacks i.e. fresh fruit skewers, these Potato and Chicken Croquettes with Sweet Chili Cheese Sauce and maybe some fish sticks.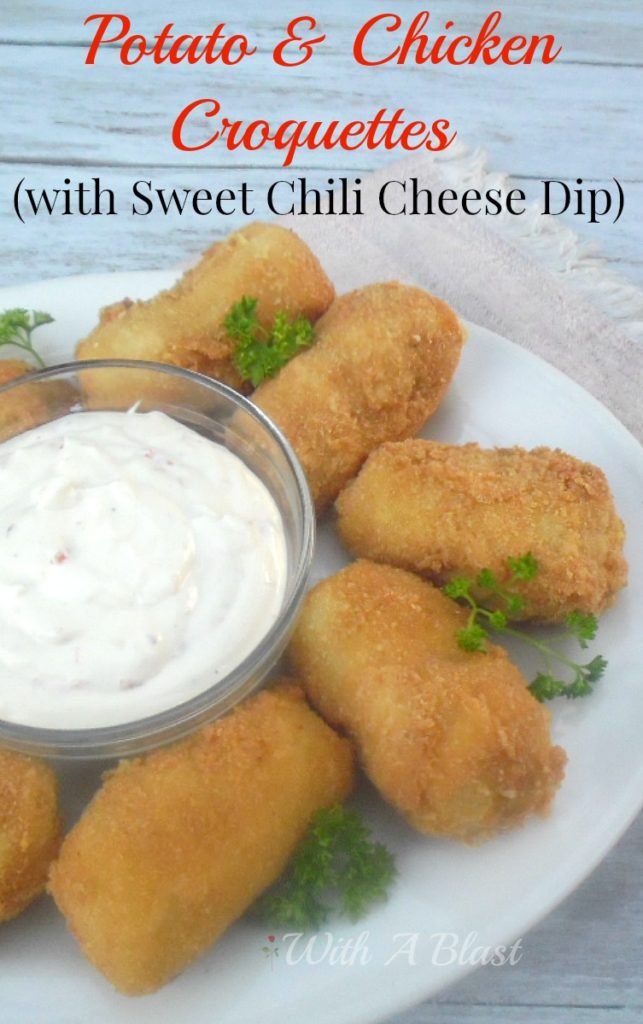 Cooked potatoes keep well in a sealed container in the refrigerator and I usually make some extra than I need a couple of days before I plan on making these Croquettes. I still dry-cook the potatoes as much as I can (see **Note below), but chilling the cooked potatoes does help a lot already.
You can add more Chicken if you prefer, but not too much or the mashed Potatoes would not hold firm and it will be a lot harder to deep-fry the Croquettes.
**Note : Cook your potatoes as usual for mashed potatoes – add only 2 TB Butter and 2 TB Milk – mash and season to taste – return to stove plate – dry-cook the mashed potatoes as much as possible, stirring all the time – let cool completely and chill for 2 – 3 hours before use.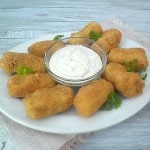 Potato And Chicken Croquettes With sweet Chili Cheese Dip
Potato and Chicken Croquettes with Sweet Chili Cheese Dip - easy-to-make appetizers or snacks
Ingredients
900

g

Mashed Potatoes

*See NOTE above recipe ( 2 pounds )

1

200g

Chicken Fillet

cooked and shredded ( 7 oz )

3

Eggs

separated

1

cup

Flour

2

cups

Dry Breadcrumbs

Oil

for deep-fry
SWEET CHILI CHEESE DIP:
1/4

cup

Creamed Cottage Cheese

plain

1/3

cup

Sweet Chili Sauce

(your favorite brand)

2

TB

Greek Yogurt
Instructions
Add Chicken and Egg Yolks to Mashed Potatoes – mix well – roll into oval shapes – chill 1 – 2 hours to firm up a little

Beat the Egg Whites in a medium bowl

Place the Flour in a second bowl and the Breadcrumbs in a third bowl

Heat the Oil to medium – dip each Croquette in Flour then into the Egg White and roll into the Breadcrumbs – deep fry 5 – 6 Croquettes at a time until golden
SWEET CHILI CHEESE DIP:
Combine all 3 ingredients in a small bowl – transfer to a serving bowl and chill until needed
Recipe Notes
Serve the Croquettes hot or cold with the Sweet Chili Cheese Dip
LINDA
Love croquettes or dips ? Here is another delicious combo !