Moist Peanut Butter Oreo Blondies are a quick and easy sweet treat to make, loaded with peanut butter and stuffed with Oreo cookies !

Post and images updated November 2018
Every now and then I get a craving for Peanut Butter. I don't mean as on a sandwich, more like in a cookie or dessert type of thing.
These Peanut Butter Oreo Blondies are just perfect to stop any craving for a sweet, peanut butter treat !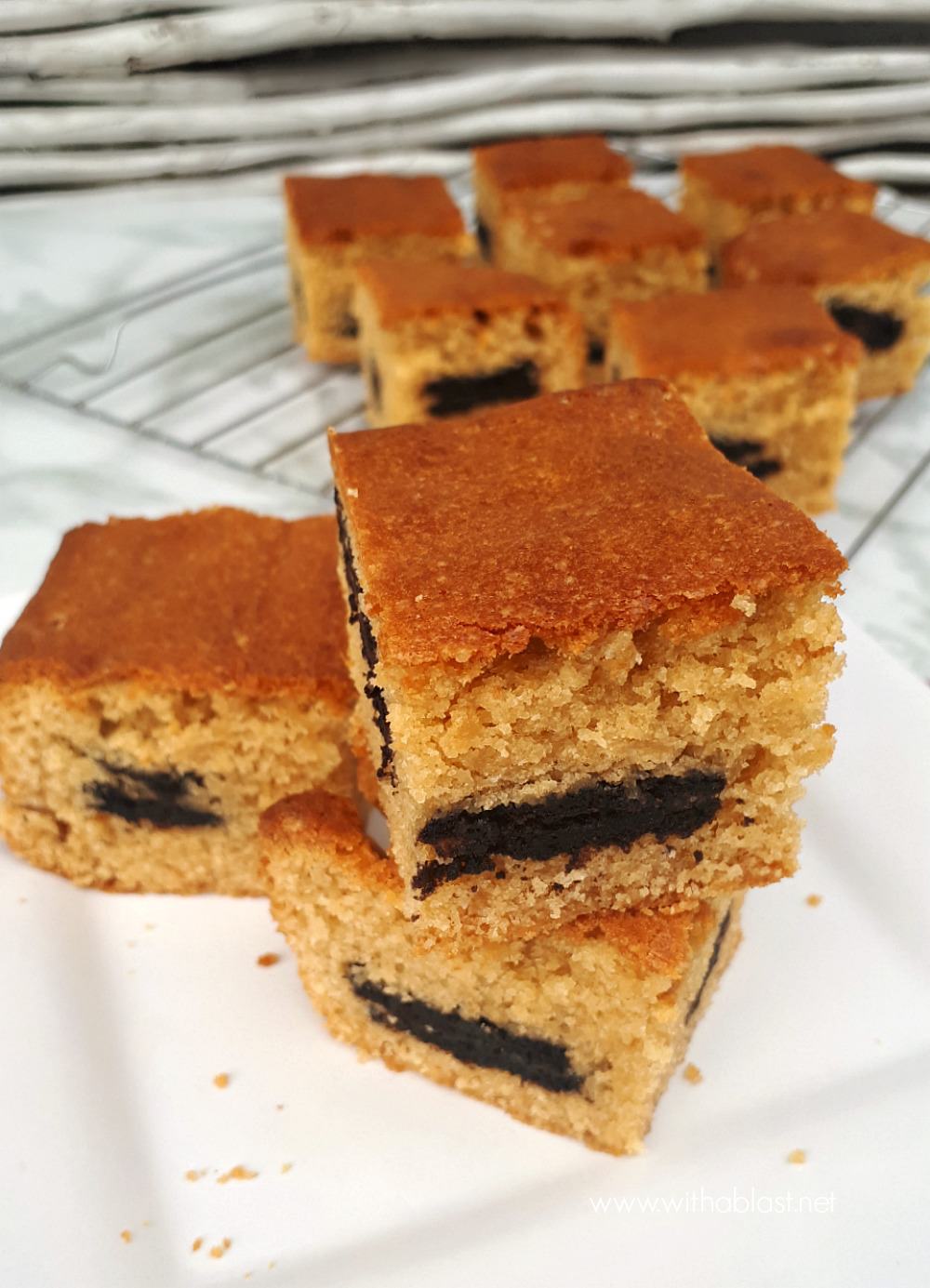 However, you will not see many recipes with Peanut Butter on my blog – why? Because I have a very picky eater in the house !
My son believes strongly that Peanut Butter ONLY belongs spread on a slice of bread .. that's it !
But on this specific day, I really wanted a baked Peanut Butter something, anything!
And as I never keep (or even look twice) at peanut butter recipes, I had gone in search for something on Pinterest.
Anything you want, crave, make, craft and whatever else – Pinterest has it all.
Anyhow, I found this recipe and am so glad I did. These Blondies are just perfect.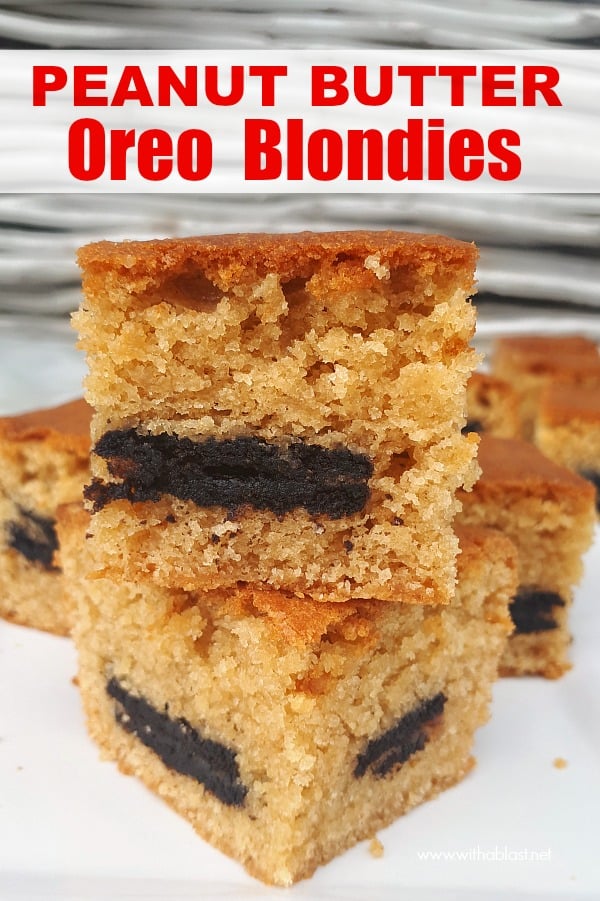 Loaded with peanut butter and stuffed with Oreo cookies, this is now my always go-to recipe for whenever I feel like making something with a strong peanut butter flavor.
The peanut butter also adds additional moistness and you can really go for any kind, smooth, creamy or even the nutty kind.
I prefer the creamy, but also use smooth peanut butter – all depending on which one I have on hand.
The Oreo Cookies shift slightly, but only here and there. Mostly the cookies stay in place where you arrange them in the batter.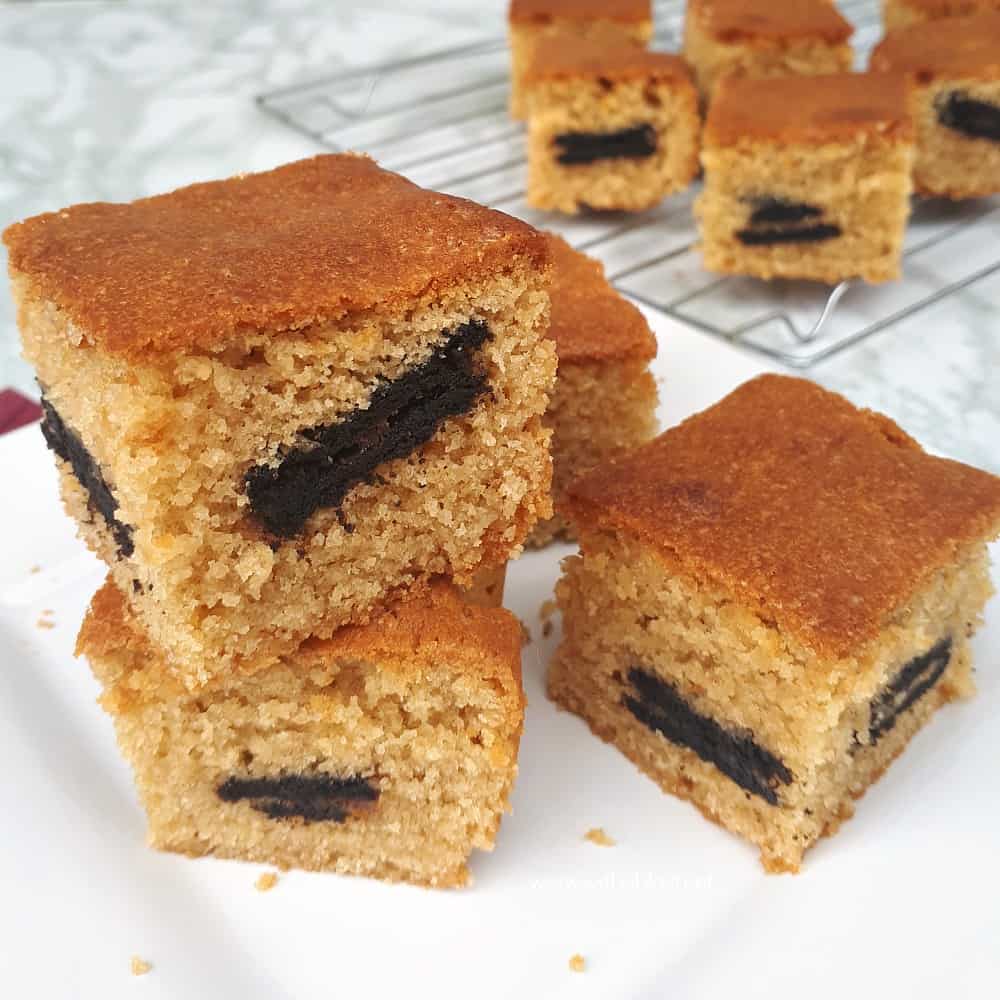 I use a 20 x 20 cm ( 8 inch square ) baking pan as I like a thick Blondie bar. You can also use a larger pan ( 2 x 30 cm / 8 x 12 inch ), but this results in a much thinner bar.
The baking is a few minutes less. However, not only do you get a thinner bar, but the Oreo Cookies also do not look right when baked. (I only used the larger pan once).
You can also use either the plain (white center), or the chocolate center Oreo cookies. I use which ever box I grab from the pantry.
More Sweet Treat recipes you might like:
Connect with us :
PINTEREST TWITTER FACEBOOK INSTAGRAM
Peanut Butter Oreo Blondies
Yield: 16 Servings
Peanut Butter Oreo Blondies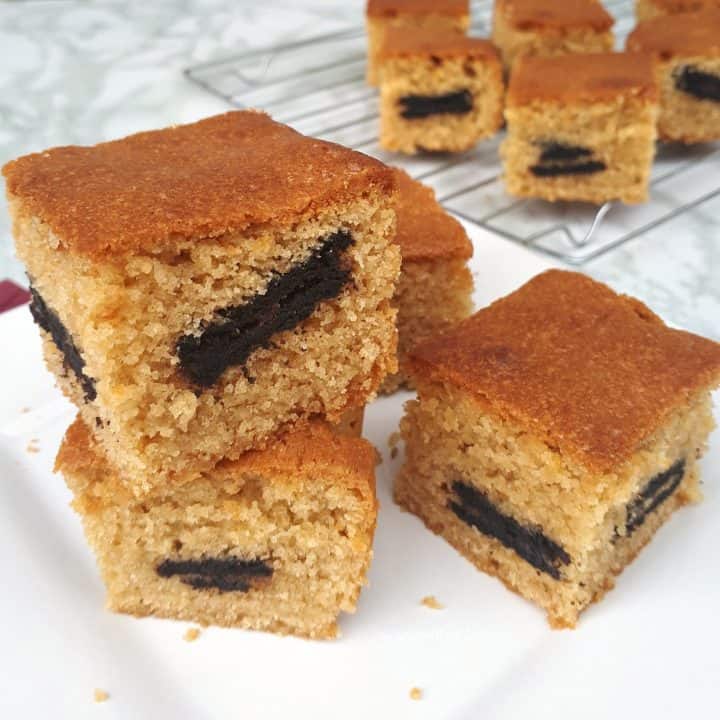 Moist Peanut Butter Oreo Blondies are a quick and easy sweet treat to make, loaded with peanut butter and stuffed with Oreo cookies !
Ingredients
2/3 cup Butter, softened
1 cup Brown Sugar
1/2 cup Caster Sugar (Superfine Sugar)
3/4 cup Peanut Butter
1 t Vanilla Essence
2 large Eggs
1 3/4 cups Flour
1 t Baking Powder
1/3 cup Fresh Cream (whipping cream/double cream)
16 Oreo Cookies
Instructions
Pre-heat oven to 180 deg C ( 350 deg F ) – line a 20 x 20 cm ( 8 inch ) baking pan with baking paper - I line the dish both ways and leave an overhang for easy removal after baking

Beat together the Butter, Brown Sugar, Caster Sugar, Peanut Butter and Vanilla

Add the Eggs one by one – beating well after each addition – add the Flour and Baking Powder whilst mixing on medium

Finally add in the Fresh Cream – beat until just combined

Spoon half of the batter into the baking pan – top with a layer of Oreo cookies – spoon the remaining batter over the Oreo cookies

Bake 40 – 50 minutes or until a tester comes out clean

Remove from the oven – leave to cool slightly and transfer to a wire rack to cool completely
Nutrition Information
Yield
16
Amount Per Serving
Calories

318.5
Total Fat

18.4g
Saturated Fat

8g
Unsaturated Fat

9g
Carbohydrates

38.4g
Fiber

1.5g
Sugar

20.8g
Protein

5.6g
Cut into bars and serve.
LINDA