Orange Cranberry Nut Bread is soft, slightly moist and is mixed and baked quickly and easily – no-fuss recipe for a delicious quick sweet bread
This Orange Cranberry Nut Loaf is by far the most delicious, easiest sweet bread I have been making for years.
The original recipe (adapted by me over time) was one I had since high school. And also the first bread I baked, well, to be honest we were a team of two as we made it in home economy class.
The only dishes you will have afterwards is one mixing bowl, a spoon and the loaf pan.
Now that's already my kind of recipe ! And to think I used to hate my HE class, or cooking/baking in general.
There is only a hint of the Orange in the bread, but the Nuts added really make this bread outstanding. And you already know that I love my cranberries.. seriously !
I think I have a packet or two in just about every room, not only in the kitchen. That is dried of course, and chances are good if you catch me at home chewing something, it will ten to one be a handful of dried cranberries.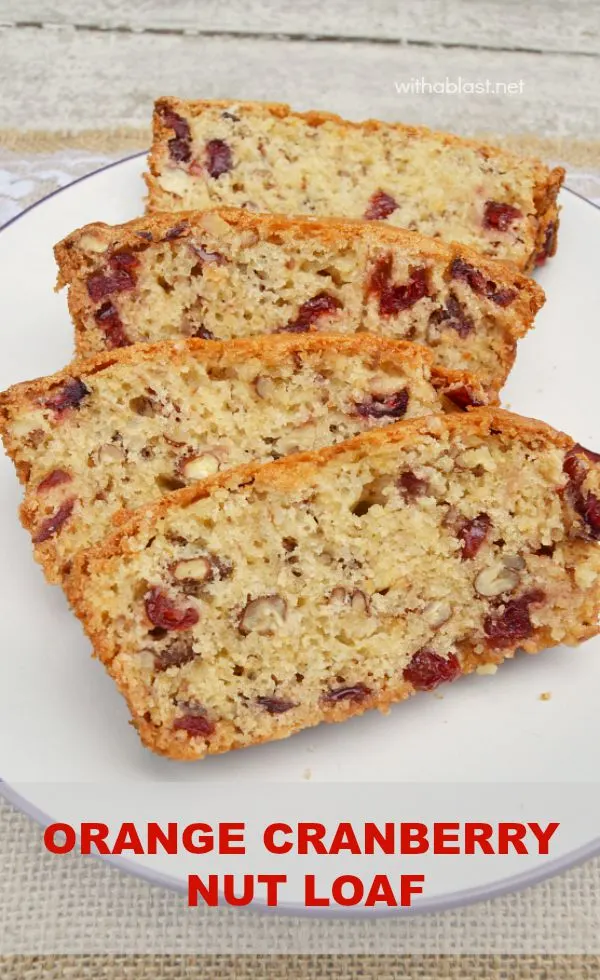 Types of Nuts to use :
I have made the bread with Walnuts as well as Pecan Nuts and my family loves both. There is a small difference in taste, but not much.
A mixture of the two Nuts is also delicious… I tend to do that when I'm sitting with half a packet of one and half a packet of the other, or purely just because I feel like it.
As you can see in the pics, I do not chop the Nuts too finely. Absolutely wonderful when you bite into one and that nutty flavor comes through with a bit of Orange and the sweet chewiness of the Cranberries.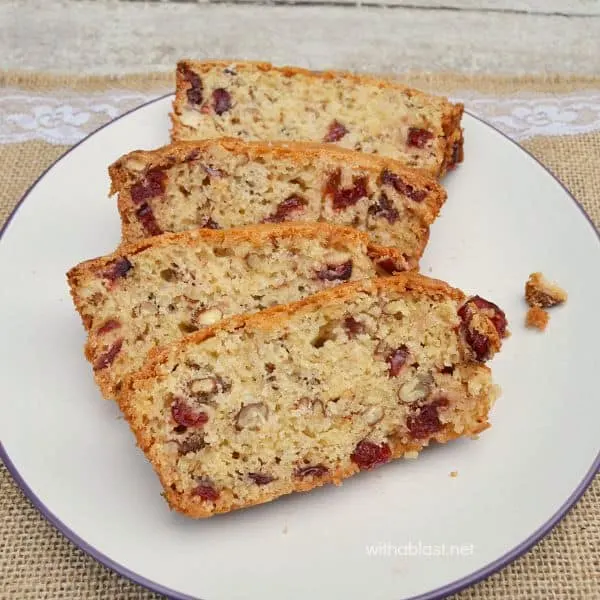 Keep this Cranberry Nut Loaf in mind when next you need to make a tea time treat or dessert and you are running low on time.
More Quick Sweet Bread recipes you might like:
Orange Cranberry Nut Loaf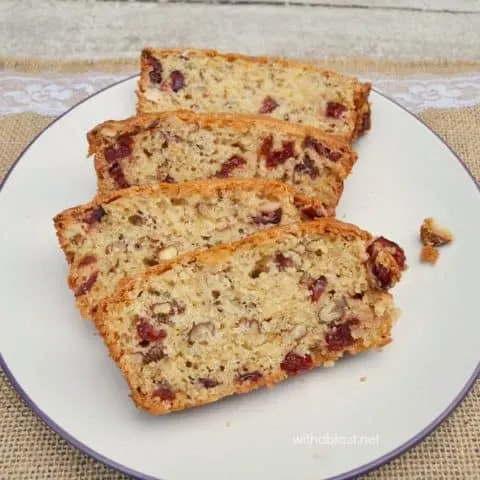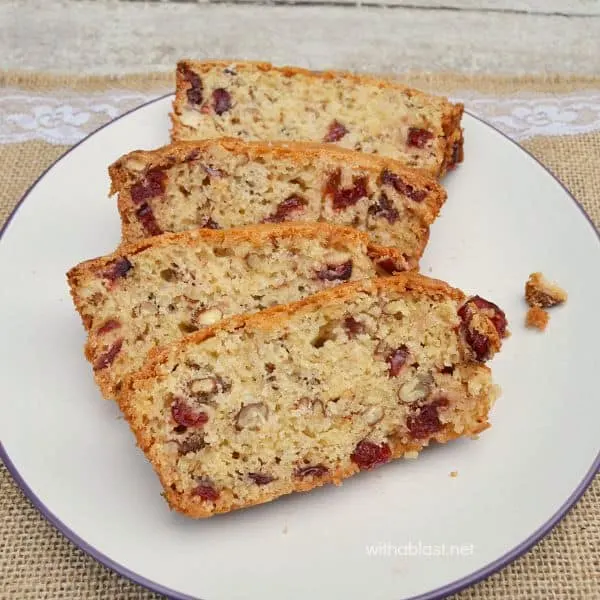 Orange Cranberry Nut Loaf
Total Time:
1 hour
10 minutes
Orange Cranberry Nut Bread is soft, slightly moist and is mixed and baked quickly and easily - no-fuss recipe for a delicious quick sweet bread
Ingredients
2 cups Flour
1 t Baking Powder
1/2 t Baking Soda
1/2 t Salt
1 cup Sugar
1 cup Dried Cranberries
1 cup Nuts, roughly chopped (your favorite)
1 Orange, juice only
Water, as needed
3 TB Unsalted Butter, melted
Instructions
1.) Pre-heat the oven to 180 deg C (350 deg F) – spray a medium bread loaf pan with cooking oil and line the bottom with baking paper
2.) Combine the Flour, Baking Powder, Baking Soda, Salt and Sugar in a medium mixing bowl
3.) Stir in the Cranberries and Nuts – add enough Water to the Orange juice to make one cup – add to the mixture together with the melted Butter – stir gently until just mixed
4.) Transfer to the prepared loaf pan and bake 55 – 60 minutes or until a tester comes out clean
5.) Remove from the oven – let cool 5 minutes in the pan then turn out onto a cooling rack
Nutrition Information
Yield

12
Amount Per Serving
Calories

261.7
Total Fat

8.9g
Saturated Fat

2.6g
Unsaturated Fat

5.8g
Cholesterol

7.8mg
Sodium

192mg
Carbohydrates

44.4g
Fiber

2.6g
Sugar

25.2g
Protein

4.2g
Delicious slightly warm or cold.
LINDA