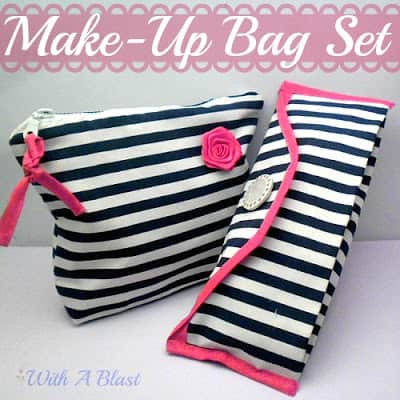 Make-Up Bag Set – DIY – One Large and one Small which is perfect to carry around in your handbag.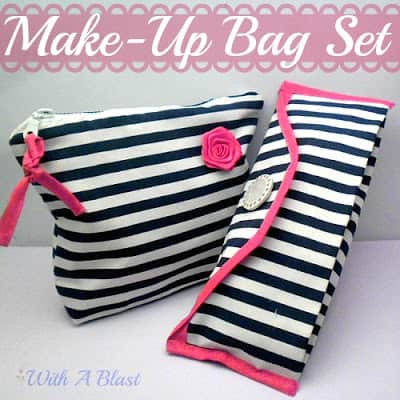 I can not tell you how relieved I am to have finished these two little bags ! I promised my daughter a small make-up bag for her handbag about two weeks ago already.
Started, stopped, did some other stuff and finally finished not only the small make-up bag, but a larger (more of a toiletries bag) one as well.

What a mission ! I am not a seamstress and have very limited knowledge of anything to do with sewing. And I am sure this is actually something easy to do, especially if you follow a pattern or a tutorial.
Unfortunately, I am not one of those clever people – I prefer to look at a picture, once, maybe twice, and then make my own version.
The sewing machine nearly ended up in the swimming pool a couple of times ! If I can just get the thing to work as it is supposed to. (now, this is according to the settings and the booklet which I actually do follow to the letter).
All I can tell you is in the above pic – the order of the layers.
Lining / Interfacing / Top (Outside) Fabric
Other than that … no idea how I finished these two bags ! Lots of very un-lady like words, nipping and tucking, cutting and stitching, ripping and more stitching …. you get the idea!
Tried as I could, the photographs are also not accurate. It is navy blue and white stripes with bright red trimming – although I do not think it looks bad, it's just not reflecting the right colors.
Make-Up Bag Set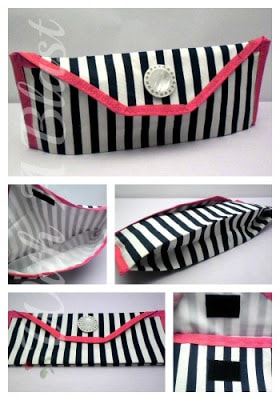 Above is the little bag, or pouch if you prefer, seen from all sides – the button is purely decorative, hence the small strip of Velcro.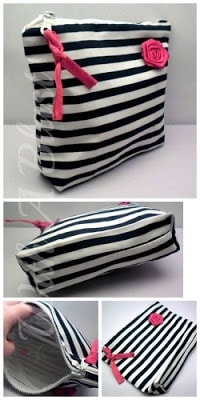 And the larger bag.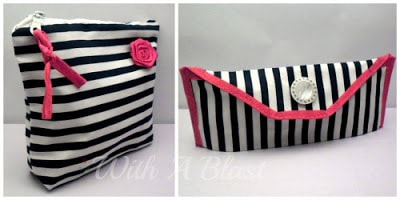 I did not line the bags with any kind of waterproof lining as I know my daughter would rather chuck it into the washing machine than wiping them clean every now and then.
LINDA
You Might Also Like: