Caramel Apple Milkshake is a thick, kid-friendly drink with a hint of Cinnamon and made using Yogurt for a lighter Milkshake
This post contain affiliate links – please see our Disclosure

I have one of the most delicious Milkshake recipes for you today! Caramel Apple Milkshake with a hint of Cinnamon.
My hubby is normally very set in his preference for milkshakes, usually a Lime Milkshake, but he will go for Chocolate or Strawberry as well.
Lime Milkshakes are usually best ordered at one of our favorite restaurants, and therefore he will always order a Lime flavor.
But, at home, he likes to make either a Strawberry or Chocolate Milkshake, which he normally only drinks when we have certain foods, something very spicy, Burgers or Hot Dogs.
The first time round he was watching me getting all the ingredients ready for this Caramel Apple Milkshake.
I could see on his face, he thought this is going to be one weird affair…. but… he fell for it ! And hard ! I am not sure who liked this more – him or me ?!
Of course, I myself, being a total Caramel junkie, is totally in love with this slightly Cinnamony Milkshake !
If the Caramel Condensed Milk is not available in your country, you can always use Dulce de Leche or any Caramel Sauce instead.
Also play around with the quantity you add to your Milkshake. I like mine not too sweet, but hubby on the other hand — the sweeter the better !
Using Frozen Yogurt also makes this a lighter Milkshake than when you use full cream Vanilla Ice-Cream, which you can of course use in this recipe.
But I prefer the very slight tartness of the Yogurt which works so well with the Apple and Caramel flavors.
Fall favorite recipes :
Caramel Apple Milkshake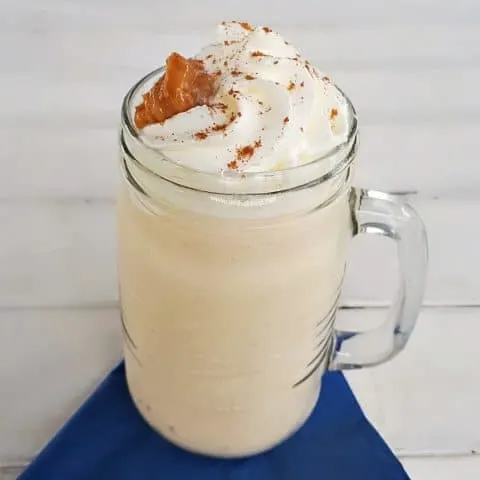 Caramel Apple Milkshake
Caramel Apple Milkshake is a thick, kid-friendly drink with a hint of Cinnamon and made using Yogurt for a lighter Milkshake
Ingredients
4 cups Vanilla Frozen Yogurt
1 cup Milk
2/3 cups Applesauce
1 t Ground Cinnamon
1/3 cup Caramel Condensed Milk (see in post for alternatives)
Whipped Cream, for serving
4 t Caramel Condensed Milk, for serving
Extra Ground Cinnamon, to sprinkle
Instructions
) Place the Yogurt, Milk, Applesauce, Cinnamon and Caramel in a blender – blitz until smooth
) Pour into long glasses
) Top with Whipped Cream, Caramel and sprinkle with extra Cinnamon
Recommended Products
As an Amazon Associate and member of other affiliate programs, I earn from qualifying purchases.
Nutrition Information
Yield

4
Amount Per Serving
Calories

377.4
Total Fat

12.9g
Saturated Fat

8.2g
Unsaturated Fat

2.8g
Cholesterol

5.2mg
Sodium

179.1mg
Carbohydrates

57g
Fiber

0.7g
Sugar

55.4g
Protein

9.8g
Serve immediately.
LINDA