Delicious, comforting, Low-Fat Chicken and Vegetables is the perfect dinner when you want to cut down on your fat intake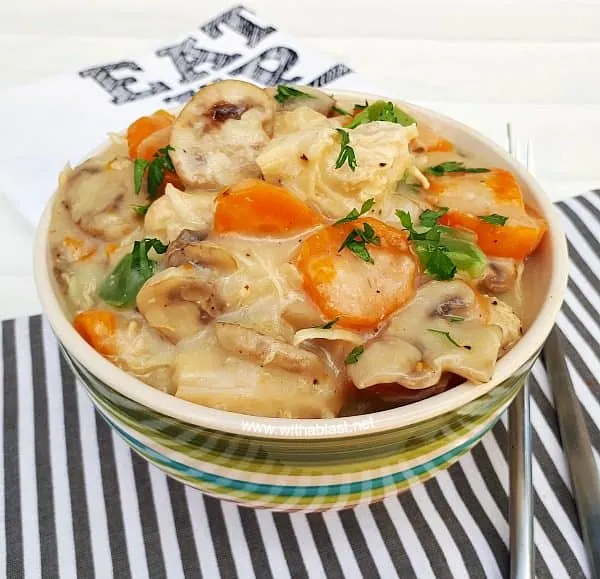 It is that time of the year in South-Africa where we are only about 6 weeks away from warmer weather. Which means it is time for low-fat and healthier recipes.
This Low-Fat Chicken and Vegetables dinner has always been one of my favorite, healthy dishes when I want to start an early-ish diet.
I am a staunch believer in eating healthier, less fat and lower carbs during any time when I want to shed a couple of kilos.
Moderate servings too, for the three main meals, and around three small portions of fruit or raw vegetables in between main meals.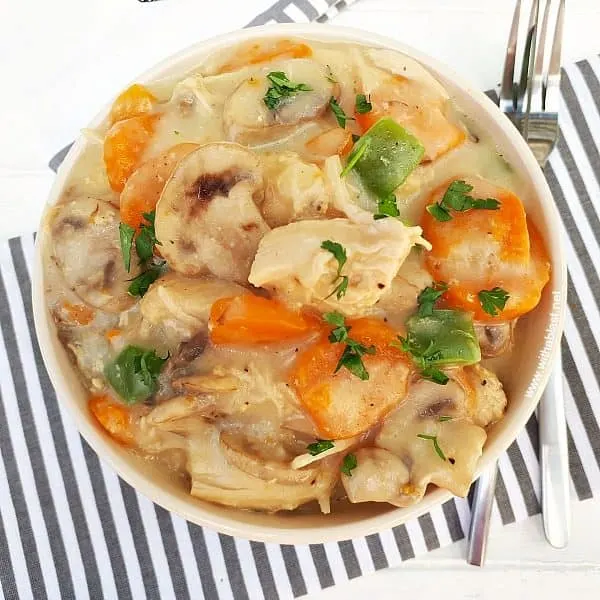 But, the biggest obstacle to start during Winter is that we all crave comfort food, right ? Well, at least I am !
And not just anything, I like my cheese this or that, loaded casseroles, usually with a lot of pasta. Wholewheat pasta is a great alternative, but me ? I prefer plain old high carb pastas.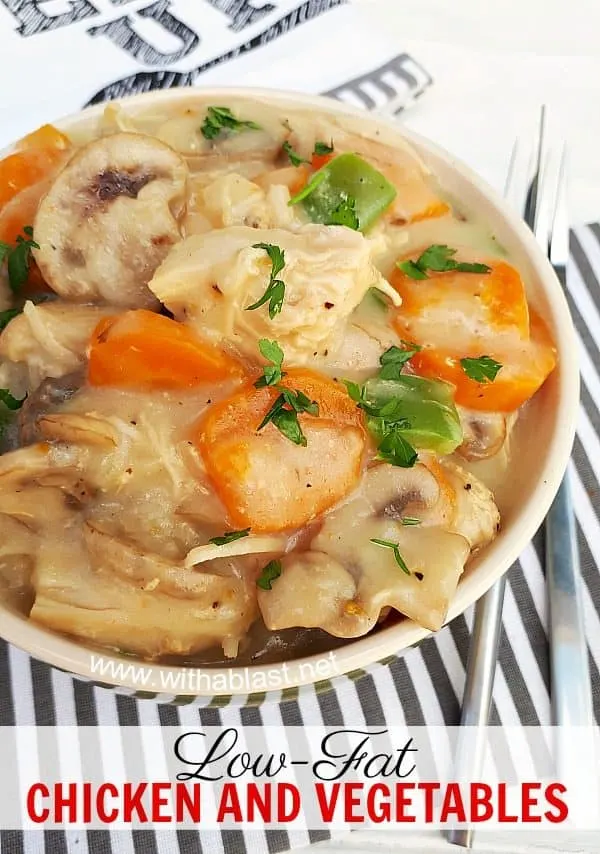 Except when it comes to wholewheat bread – that I love. Brown rice is another favorite of mine, which is a bit healthier than plain white rice.
I always serve this low-fat Chicken and Vegetables over brown rice.
How to make double the sauce:
The dish is fairly saucy, and if you wish you can always up the ingredients from the Flour through to the Sherry.
Simply double the ingredients for more sauce, but as I have mentioned, this ratio is just perfect for me.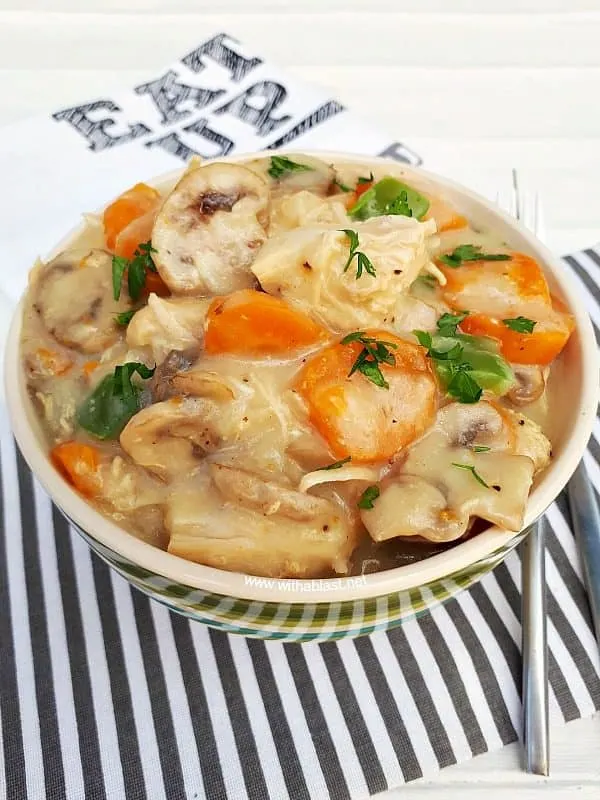 My family never even realize they are eating low-fat food with this dish, it is as tasty as any Chicken dish they are used to, and loaded with vegetables.
For another delicious (one of my all time favorites!) low-fat recipe, have a look at my One-Pot Beef And Vegetables too.
Low-Fat Chicken and Vegetables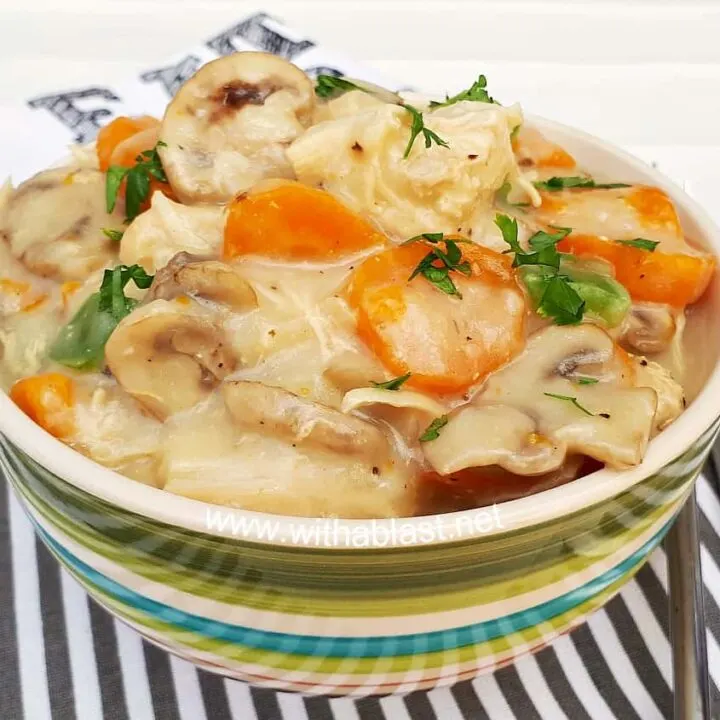 Low-Fat Chicken And Vegetables
Delicious, comforting, Low-Fat Chicken and Vegetables is the perfect dinner when you want to cut down on your fat intake
Ingredients
4 Large Chicken Fillets, (deboned, skinned chicken breasts)
2 Onions, chopped
3 Carrots, peeled and sliced into rings
Black Pepper to taste
2 cups Water
2 teaspoons Seasoning, Aromat, Fondor etc
250 grams Mushrooms, sliced ( 8 oz )
1 Large Green Bell Pepper, chopped
4 teaspoons Vegetable Oil
1 Tablespoon Flour
1/4 cup Cornflour, ( Cornstarch )
4/5 cup Fat-Free Milk
1 teaspoon Salt
3 Tablespoons Medium Sherry
Instructions
Place the Chicken, Onion, Carrot, Black Pepper, Water and Seasoning into a pressure cooker (you can use a normal saucepan a well – it might just take a bit longer). Cook on pressure for 15 – 20 minutes. Remove the cooked Chicken and Vegetables with a slotted spoon and keep aside. Retain 1 1/4 cups of the stock
Cut the Chicken into bite-size pieces and put aside
Heat the Vegetable Oil in a large skillet or sauce pan and saute the Mushrooms and Green bell pepper until soft
Meanwhile mix the Flour, Cornflour and the Milk until smooth in a separate medium-sized bowl. Add the retained Chicken stock to the Milk mixture together with the Salt and Sherry. Add to the Mushroom mixture in the pan and let simmer over low heat until the sauce thickens. Stirring continuously (5 – 7 minutes)
Add the Chicken and other Vegetables to the saucepan, stir gently to mix it all up again – Simmer for a minute or two until the Chicken is heated through
Nutrition Information
Yield

6
Serving Size

1
Amount Per Serving
Calories

195
Total Fat

6g
Saturated Fat

1g
Trans Fat

0g
Unsaturated Fat

4g
Cholesterol

56mg
Sodium

985mg
Carbohydrates

12g
Fiber

3g
Sugar

6g
Protein

23g
Nutrition value is not always accurate. Please also check your ingredient labels. Nutrion value only for the Chicken and Vegetables, Rice excluded