Hidden Wall Socket ~ Quick and easy DIY fix for those open, ugly sockets and this way you create more storage as well i.e. a charging station or whatever you need to store.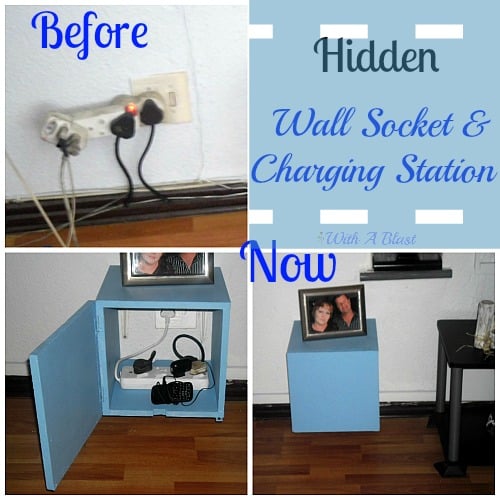 Right, so here we have the little table which I gave you a glimpse of, in my post Hiding Electrical Wires recently.
As you can see, it is really something to hide our wall socket and to serve as a small charging station as well.

The wires are all sorted out with the trunking we used just above the floor skirting. And you can see the painted panel we added to the open stand, hides all the wires coming from each electronic gadget.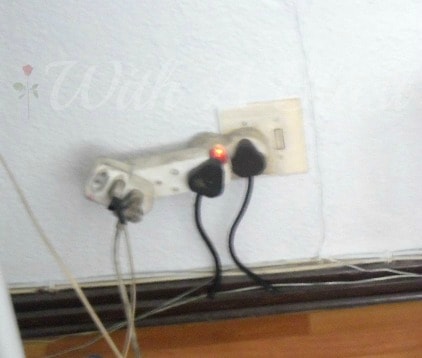 Please excise the bad pic, but apparently this is the only one I took or kept – see it looks way bad !
I have always thought this socket is in a strange place. But after looking at the original plans of our house (which was built in the late 80's and re-built in the early 90's) I sort of had an idea of why the socket is where it is now.
What I do not understand is, why the previous people who had the house re-built and changed, kept it there!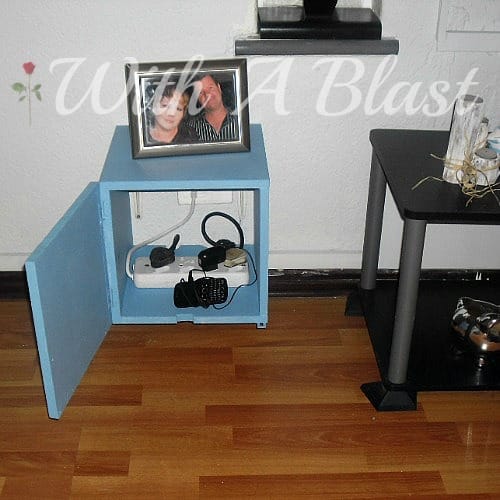 So, in my dreams, the cellphones should be placed inside and the door closed. BUT my phone is the only one set on a ringing tone, whereas everyone else's is set on vibrate. Don't ask, I don't know why … (I would be able to hear my phone with the door closed)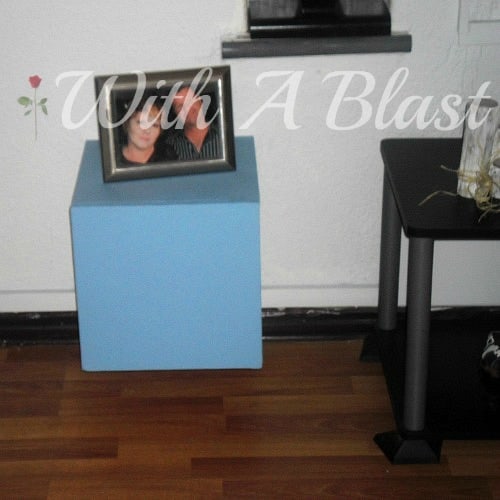 Now, doesn't that look much cleaner and neater ? Oh, and by the way, the blue is part of my accent color in the dominantly grey/black lounge.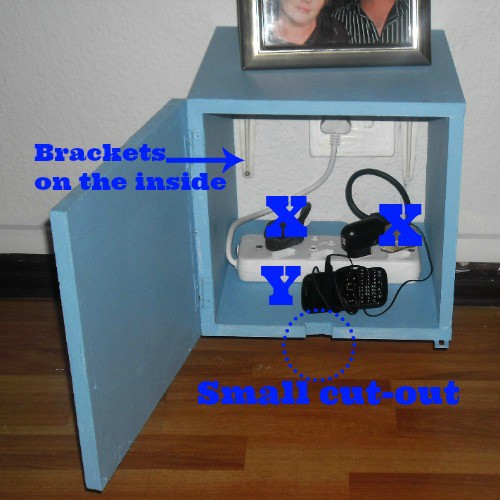 We built a simple cube 300 x 300 x 300mm – attached it to the wall with two wall brackets, on the inside and added a door using tow small piano hinges.
The X shows the plugs which comes from the trunking at the back/bottom of the cube table.
I did not do much about setting up a stand or something for a proper charging station as I would – almost certainly – be the only one to place my phone ( as per Y ) inside the cube.
I have circled a small cut-out we made on the bottom piece. This is for when we use anything else in the lounge, which is not a permanent fixture. ( i.e. vacuum cleaner or a floor/wall fan, my hot glue gun )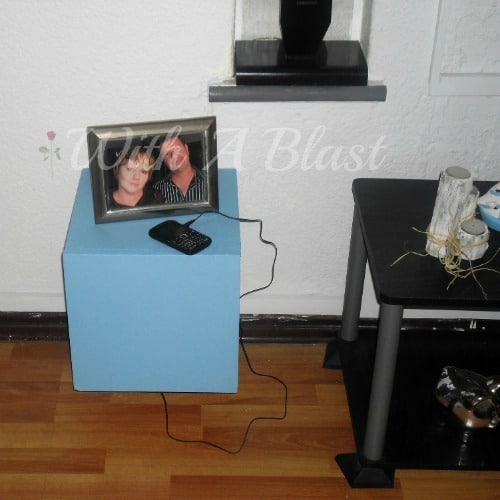 So, this would be reality — the phone/s on top of the cube/table and not inside !
But it still looks much better.
We are so close to done in the lounge, it already looks great. Only me having a hard time with placing and deciding on the accent colors !
LINDA
HIDDEN WALL SOCKET