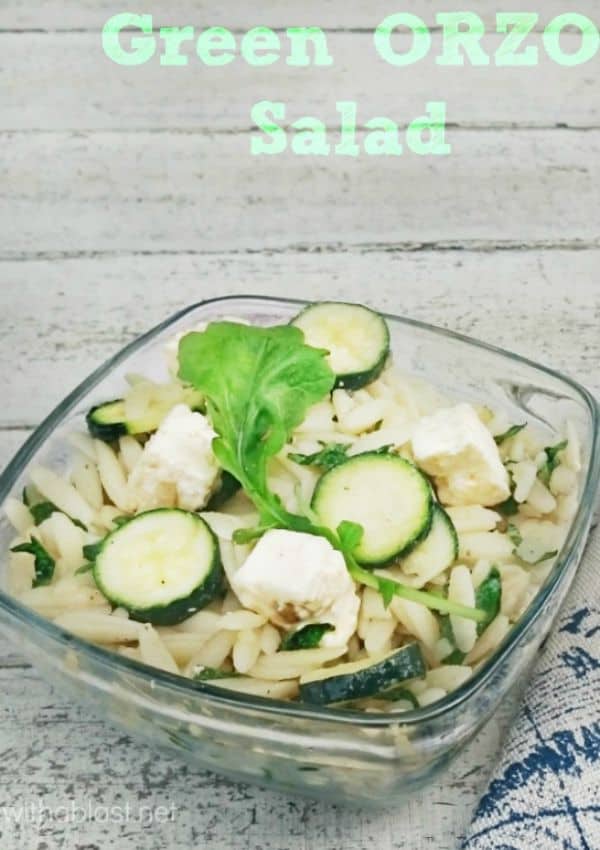 The Green Orzo Salad is one of the easiest, quickest and delicious pasta salads to make at the last minute.

Orzo cooks within 10 minutes and for this salad you drain the Orzo, and rinse under cold water, therefore no need to wait for the pasta to cool down.
I chop, slice and cube the remaining ingredients whilst the Orzo is on the stove and by the time it is fully cooked, drained and rinsed, all that is left to do is toss the ingredients together, whisk the dressing and drizzle over.
Often times I find myself looking for a small and light side dish to a richer meal, and this Green Orzo Salad just about always gets first choice. It is also a great recipe to use up leftovers, like Zucchini, which I always have a couple of small ones left. Too little to really make a Zucchini dish, but just enough to add to a salad.
I also prefer to use Baby Spinach as I find it more flavorful, but you can use any Spinach you have on hand or that little bag with some leaves leftover from a previous meal.
Arugula is of course my number one herby leaf and I add loads more to my own, already served up, salad. The Feta Cheese differs each time, depending which I have in the refrigerator, creamy, crumbly, herbed or Feta with Black Pepper.
Green Orzo Salad
8 Side Servings
INGREDIENTS:
1 1/2 cups Orzo
1 1/2 cups Spinach, finely chopped
3 Small Zucchinis, sliced
1 Round of Feta Cheese, cubed
Handful Arugula
Dressing:
3 TB Olive Oil
2 TB Balsamic Vinegar
1 t Fresh Garlic, crushed
1 TB Dijon Mustard
DIRECTIONS:
1.) Cook the Orzo as per the instructions on the packet – drain under cold water and place in a large mixing bowl.
2.) Add the Spinach, Zucchini, Feta and Arugula – stir through.
3.) Dressing : Whisk together and drizzle over the Salad.
4.) Transfer to a serving bowl.
Serve and enjoy ! {leftovers are great for lunch !}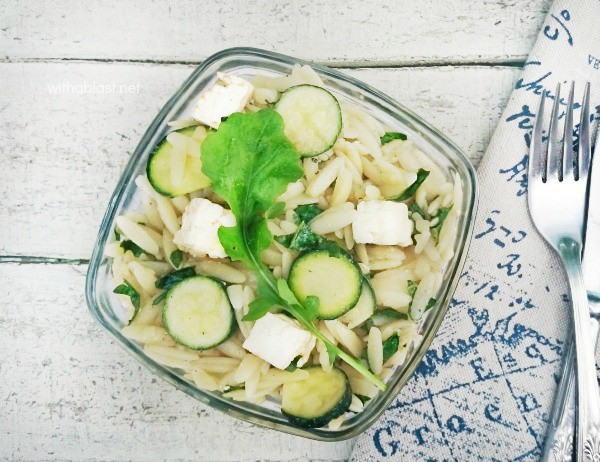 Linking up with these parties: