Funky Glass TV Stand ~ How to spray paint an old ugly glass table and preventing future scratches !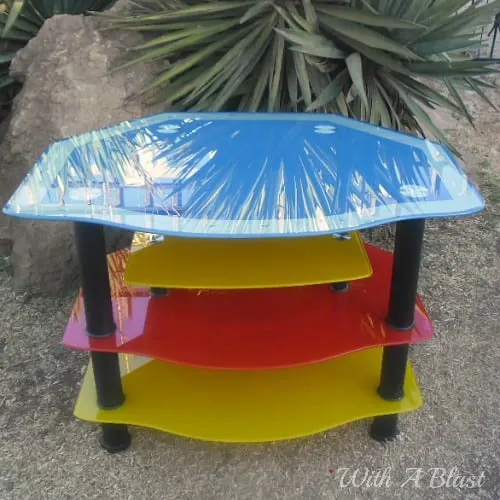 I love glass, anything glass, especially glass furniture, as in side tables, TV stands and coffee tables. We bought this TV Stand a few years ago.
Did not much like it then and up to a little while ago, I still did not like it. Since we changed it into a Funky Glass TV Stand – I love it !

I do not know whatever came over me when we bought this. Don't know about you, but I make these kind of blunder-buys too often to my liking.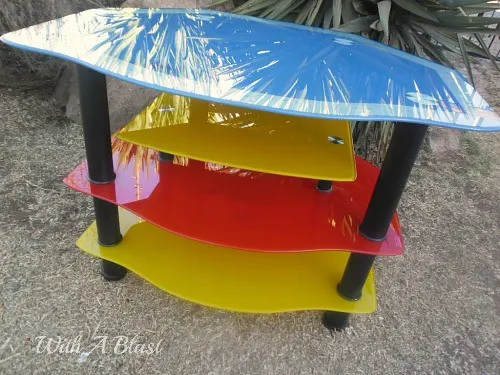 Anyhow, below is obviously the before ……. ugh, ugly as one can find ! Well, it was in our living room for not too long, if I remember correctly and was then discarded for "later".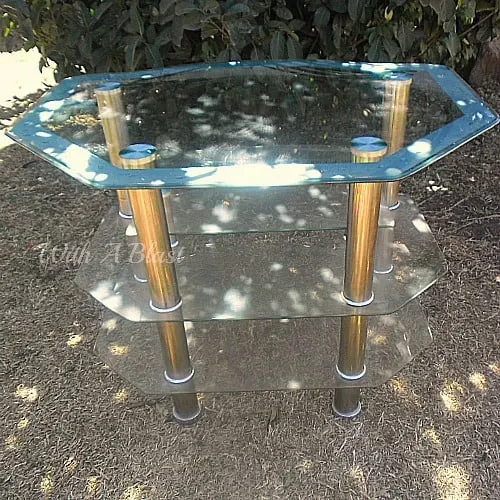 The kids never liked it either, but with the changes to my daughter's rooms (yes, rooms as in 2 rooms!) the bedroom is just about done and I started itching to get on with the small living room.
We are trying to not buy anything new, either use what we have, or maybe something (very) cheap from a thrift store, but we want it to be a fun, colorful room where they can just hang out with their friends.
Weekends, my daughter has 1st rights and during the week, the living room is there for my son's use ~ however, I think it will be a room-for-all over the weekends !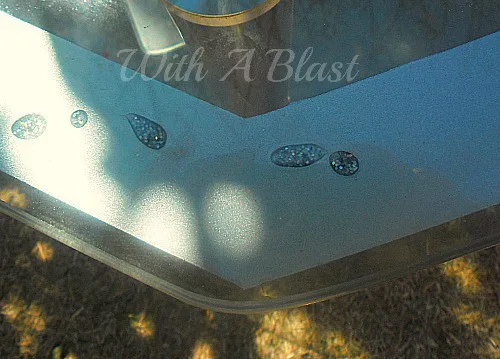 Spray painting did pop into my head a week or two ago, but I thought even using the best spray paint would scratch especially with the kids moving things around on the table top and the shelves.
Duh ! Spray paint the underside of the glass – not the top. Think about it, one never really touch the undersides of a table/shelves and nothing gets dumped on it.
Perfect, a dust and a wipe now and then would be all it need to stay clean. And we can clean the tops with whatever glass cleaner we normally use, without interfering with the paint job.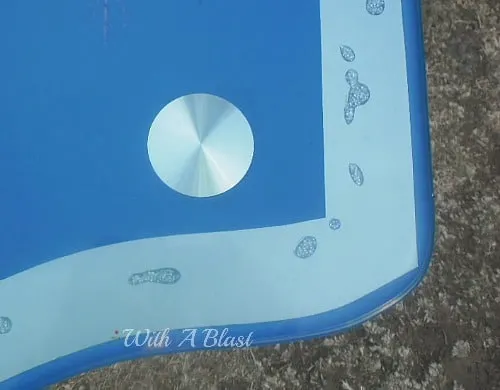 Well, nothing we could really do to the already silver frame and little dots of ?? some kind of glitter?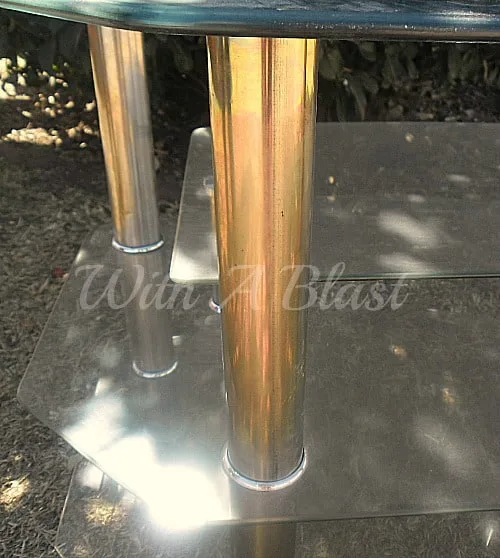 Hubby took the whole thing apart – spray painted the glass in fun colors and then used Rust-O-Leum's 2x Coverage Spray paint in matt black for the legs. Black legs — totally his idea and I love it!
FUNKY GLASS TV STAND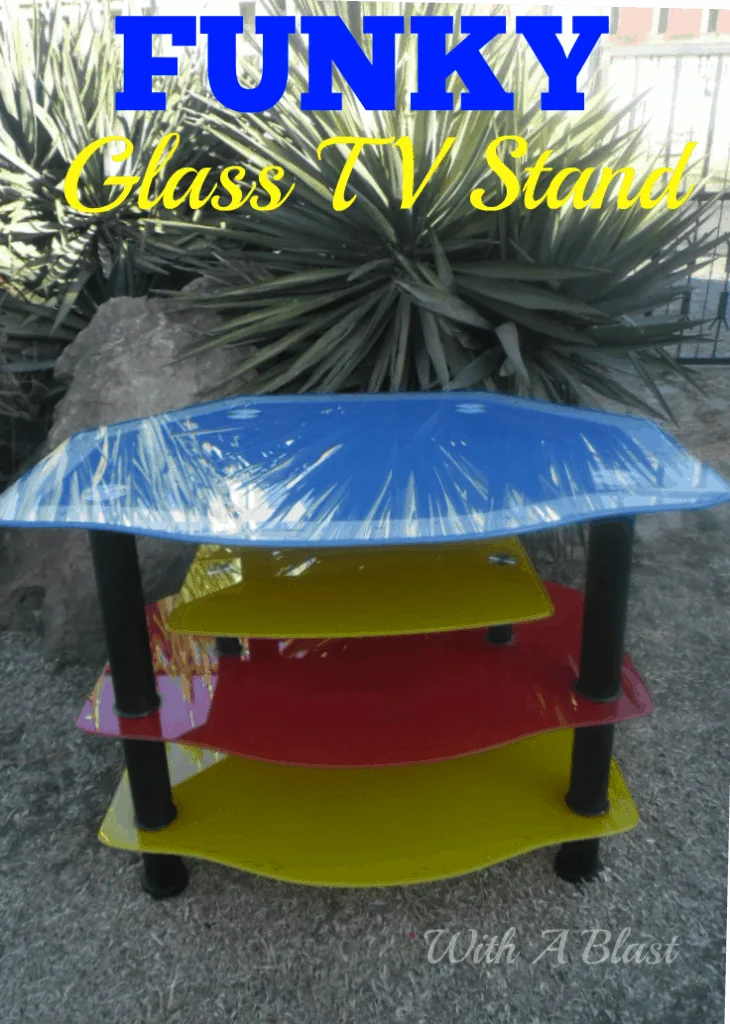 The table shelves were supposed to be only blue and yellow, but we ran out of blue .. well, red it was for the last shelf as we had a full can of red.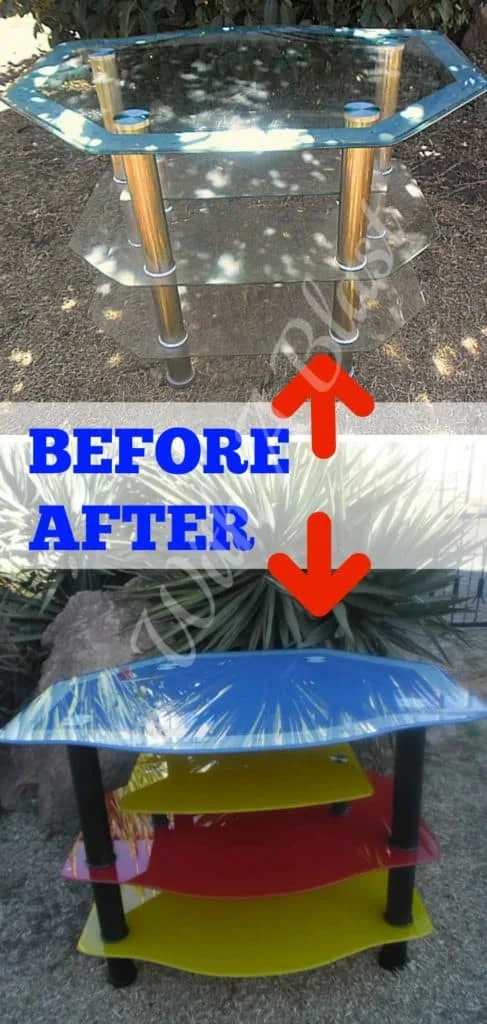 2 1/2 cans of cheap colored spray paint, about 1/3 can of the black Rust-O-Leum and an hour's labor!
LINDA
You Might Also Like: