DIY Hanging Wraps Holder ~ Quick and Easy craft ! Use Empty cans to create this handy, hanging holder for all those rolls of wraps.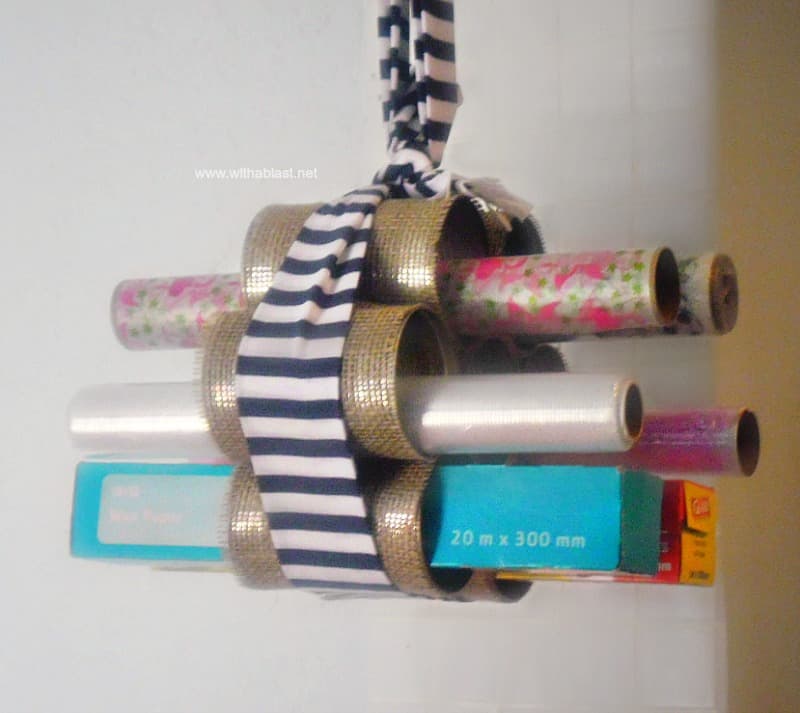 This is a quick and easy DIY to add some extra storage to things I use daily – wraps ! I had them in a cabinet, then on the counter in a nice plastic bucket standing upright and now I have them all hanging.
We made this Hanging Wraps Holder to clear some more space on the one counter for other gadgets. Which I had to (out of necessity for my limited arm use) bring down lower from the higher cabinets in the kitchen.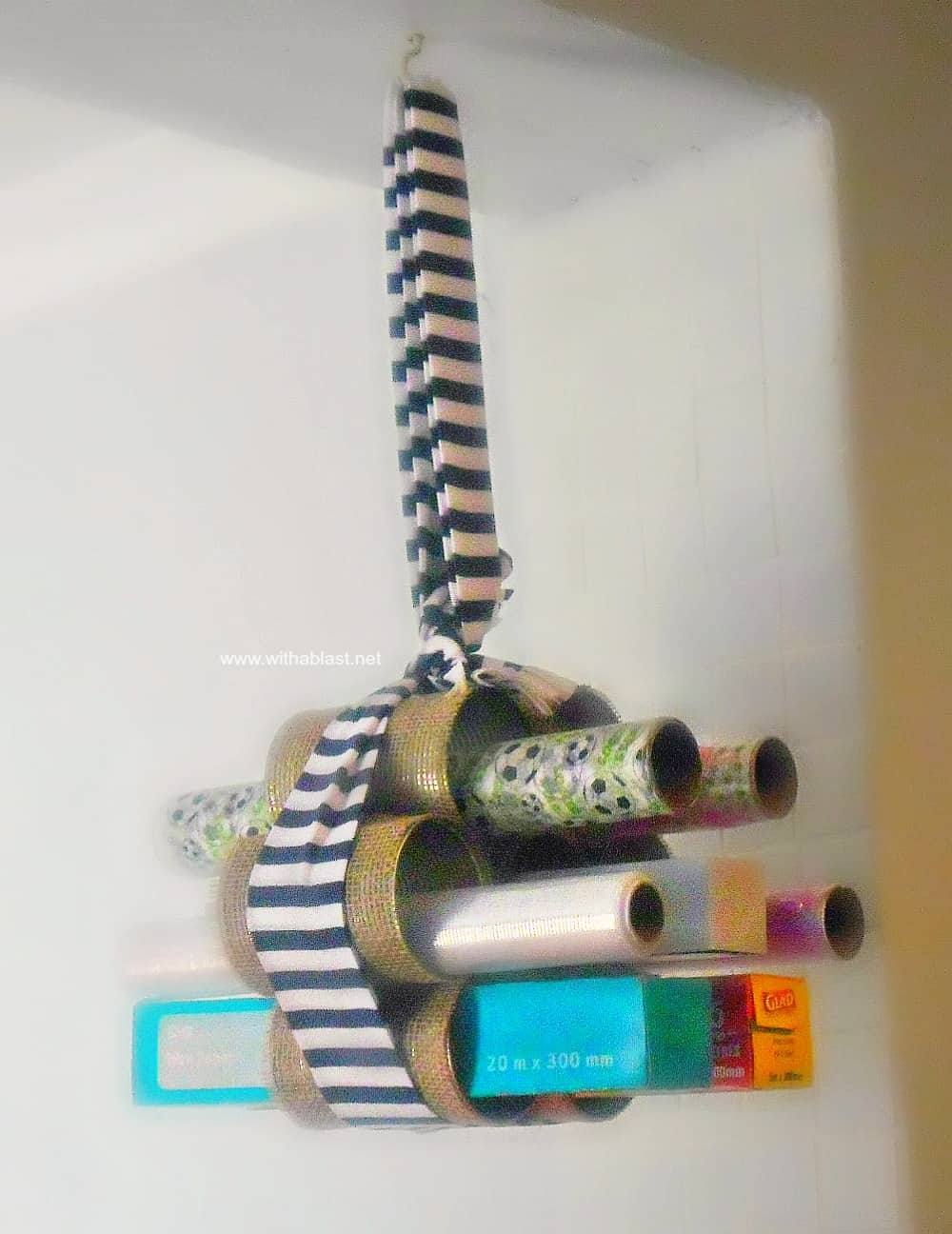 The photos are awful, I know, but try as I want, there is just no way to get better pics with a point and shoot in my kitchen. Above is a close-up of the Wraps Holder which we made as follows:
7 x Empty Cans – both sides opened up
Burlap
Hot Glue Gun
Fabric strips
This is how I made the Hanging Wraps Holder:
First I wrapped each can with Burlap and simply hot glued the two ends of Burlap together.
A Drop or three to each can and then I stuck all the cans together in a group.
I tied a piece of fabric strip around the group of cans, making two knots and then added another piece of the same Fabric to make a loop.
Hung it from the hook hubby screwed into the wall and finished !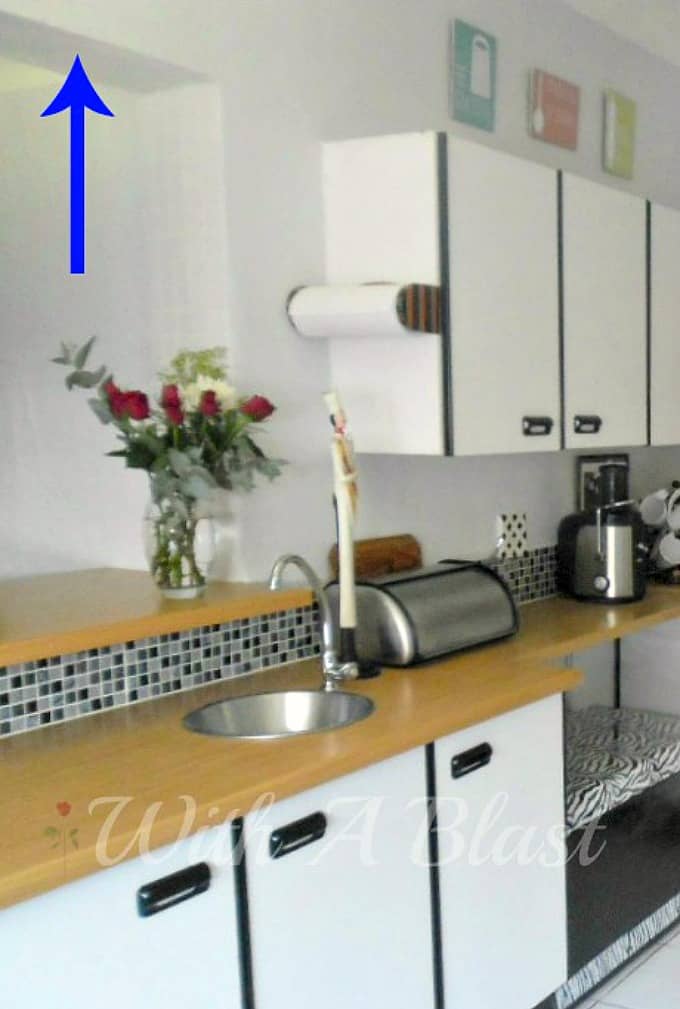 This is a photo from when we had our make-over on the Kitchen and I'm just using it now to show you exactly where the Wraps Holder hangs from.
The photo is taken on the Kitchen-side, with my prepping counter right next to the prep sink on the left of the photo.
DIY Hanging Wraps Holder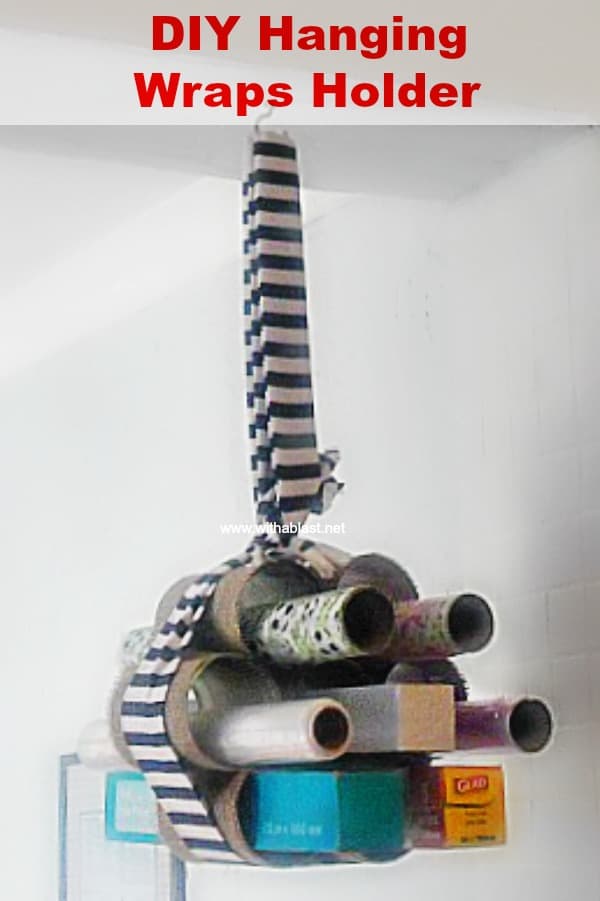 At the back is the Laundry/Scullery – on the other side of the prep counter.
Besides for the bad photography, I am very happy to have my wraps all close to me. Yet out of my way and actually not taking up any space at all (unless you count air-space!).
You might also like:
LINDA