Great idea to use up Cranberry Jelly or Sauce and it is an amazing combination with Chicken and Camembert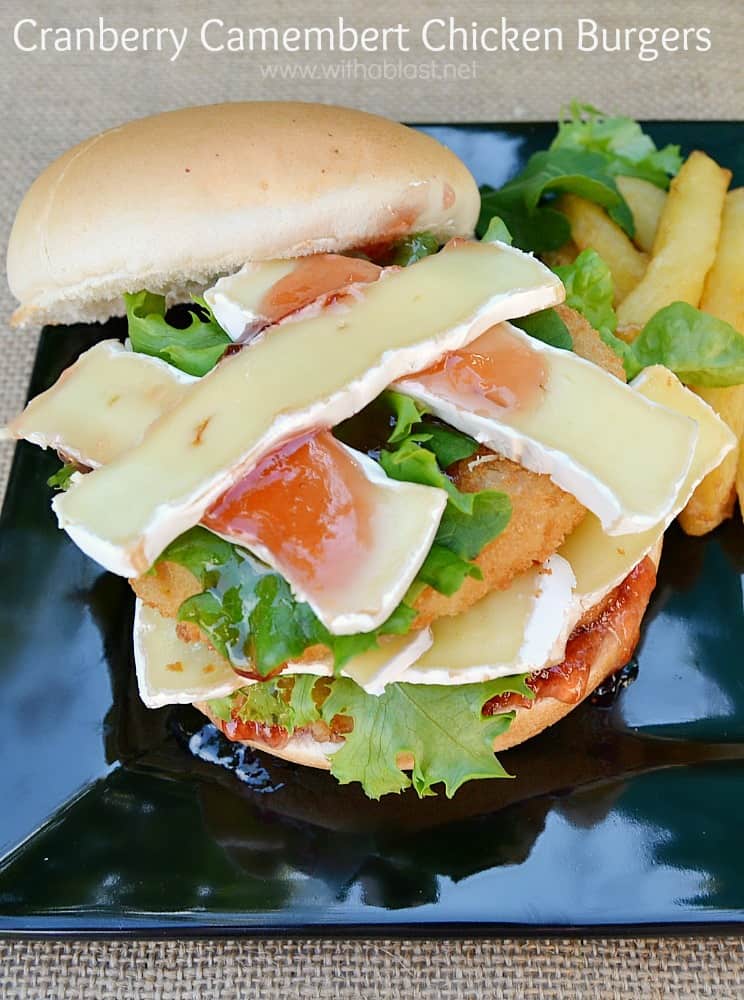 I hope everyone had a very Merry Christmas and did not overdo the eating too much 🙂 Oh, what am I talking about ! Christmas (and all other holidays for that matter!) is the day when you can really throw all good intentions overboard.
Now, let's talk about leftovers …… I had some Cranberry Jelly and Camembert Cheese left over and decided to make these Cranberry Camembert Chicken Burgers.

Yep, no heavy cooking or baking until at least, well, New Year's Eve, of course, which is less than a week away anyway.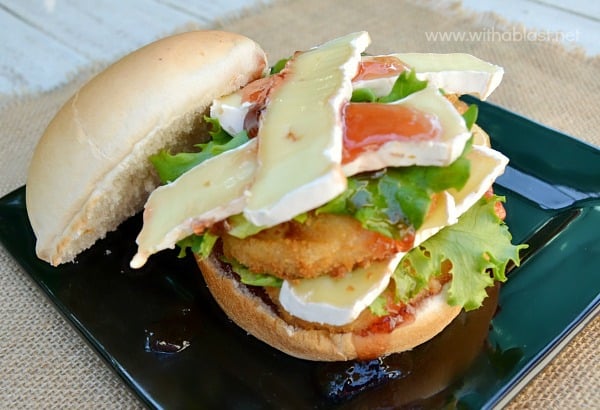 This is an absolute simple recipe, or not even much of a recipe, more of an idea what and which flavors works well when you have a little of this and a little of that left. Any cooked Chicken, the white parts ? If so, use that instead of the crumbed Chicken Patties which I have used.
Or make your own crumbed Chicken Patties, using raw Chicken fillets, covered in a crumb of your choice.
I am really, really lazy for quite a few days after Christmas and have used good quality, freshly made from our local butchery, crumbed Chicken Patties, which only required a few minutes in the George Foreman and it was fully cooked. (I just love my George Foreman !)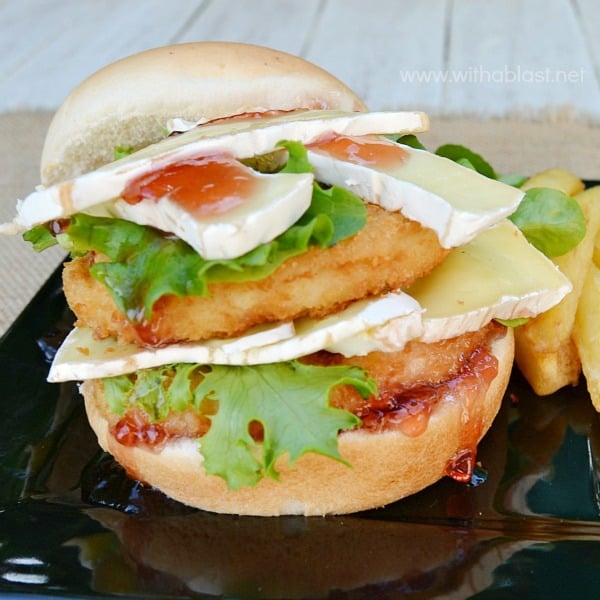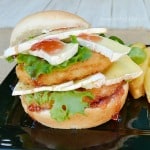 Cranberry Camembert Chicken Burgers
Great idea to use up leftover Cranberry Sauce (or Jelly) with this easy, quick recipe for Cranberry Camembert Chicken Burgers
Ingredients
12

Crumbed

Chicken Patties

(homemade or store-bought)

6

Burger Rolls

toasted or not

12

TB

Cranberry Sauce

(or Jelly)

2-3

Handfuls

Fresh Arugula

1

Camembert Cheese Wheel

thinly sliced
Instructions
Cook the Chicken Patties as per the packets instructions, or if homemade, as you normally would

Slice the Burger Rolls in half, toast if you like – spread 1 Tablespoonful of Cranberry Jelly or Sauce, over each bottom half of the Rolls

Place one cooked Chicken Pattie on top of the Jelly/Sauce – add 3 slices of Camembert Cheese over the warm Patties and arrange a layer of Arugula over the Patties

Place the second Chicken Pattie over the Arugula, more Camembert if you wish and top with another Tablespoonful of Cranberry Jelly or Sauce – top with the other half of the Roll and serve
Serve the Burger with a portion of oven baked Chips/Fries or Potato wedges and you're good for dinner or lunch.
LINDA