Homemade Coconut Ice recipe – plain and mint favored recipe – Make this popular candy at home without all the preservatives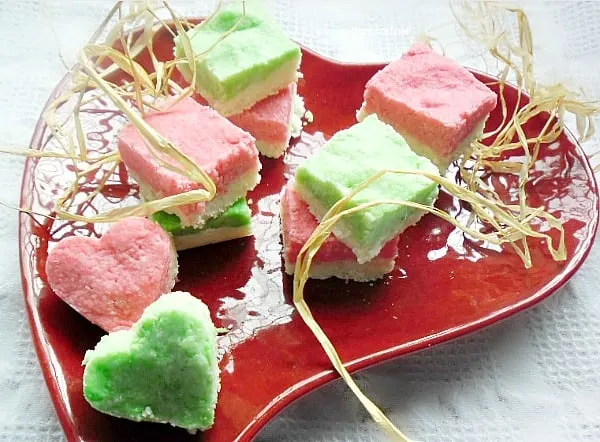 I made Coconut Ice, once, a long time ago. Today, I decided to make it again.
It is really quick to make and not full of the preservatives found in some store-bought types.
The other thing is…. well, I have not made a Coconut anything in a while, and my craving has started up again !
I think that I mentioned before, I am a total Coconut freak. And I am sure my blog has gone through some withdrawals as well 😉 .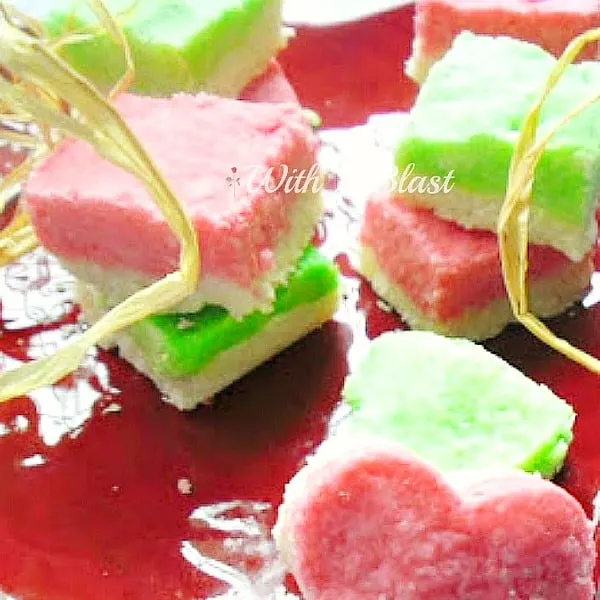 The Coconut Ice is so easy to make. Mix, color and shape ! No cooking, no baking.
Go ahead, treat the kiddies (and yourself) to some homemade candy today.
I made some plain and mint flavored for today's post.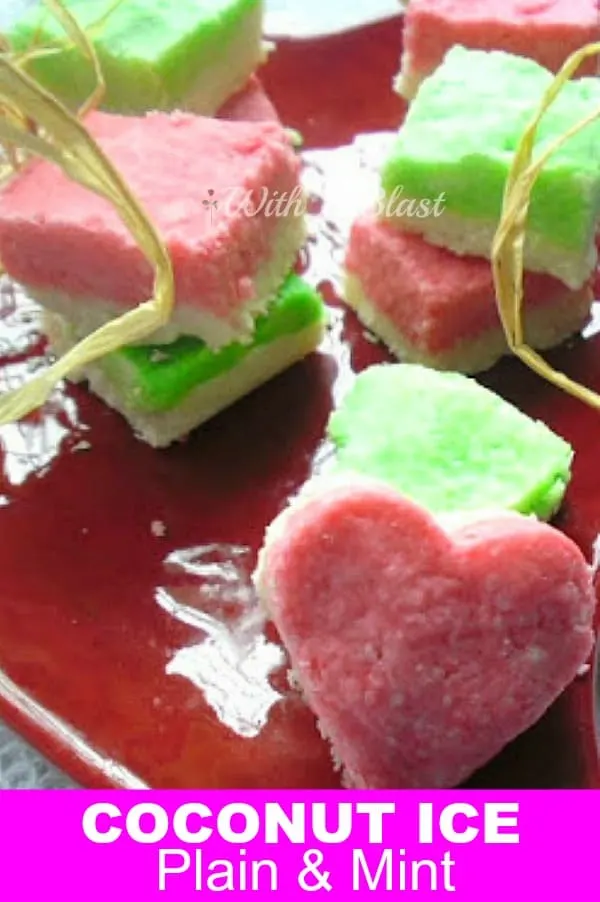 TIP:
In very hot weather, leave the Coconut Ice in a sealed container in the refrigerator.
During cooler weather, outside the refrigerator will be okay.
Although I am not sure how long they would last out in the open for all to see !
More Candy recipes you might like:
Coconut Ice (Plain and Mint)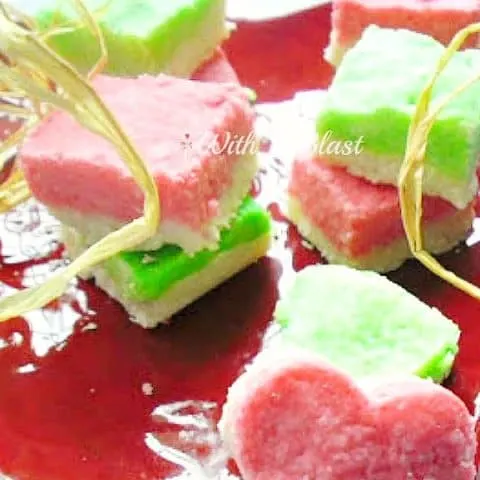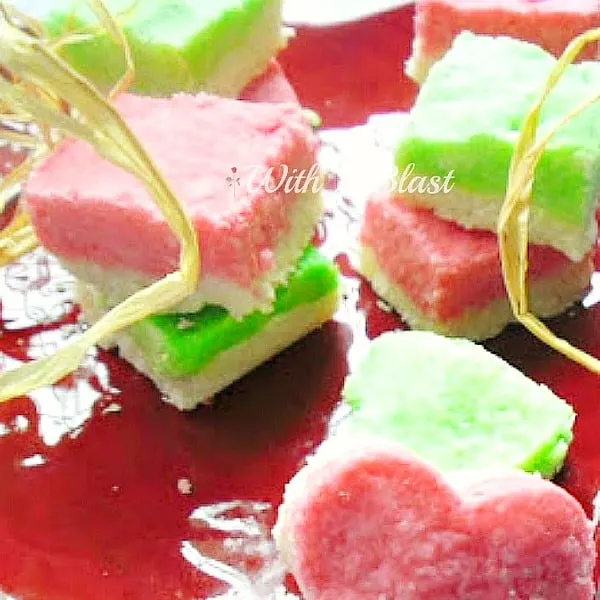 Coconut Ice (Plain and Mint)
Homemade Coconut Ice recipe - plain and mint favored recipe - Make this popular candy at home without all the preservatives
Ingredients
4 cups Icing Sugar (Powdered Sugar)
1/2 t Cream of Tartar
4 cups Desiccated Coconut
1 can (397g) Sweetened Condensed Milk
1 t Vanilla Essence
1/2 t Peppermint Essence
Green Food Coloring (see note below)
Pink Food Coloring
Instructions
Sift together the Icing Sugar and Cream of Tarter – add the Coconut and mix well

Add the Condensed Milk – the mixture will be very stiff (I used a plastic sandwich bag over each hand, and mixed it all up with my hands – almost as if you are kneading)

Transfer 1/4 of the mixture to a separate bowl – add the Peppermint Essence and a drop or two of Green Food coloring to this and use the knead method again to mix it very well – keep aside

Add the Vanilla Essence to the remaining 3/4 of the Coconut mixture – use same method to mix

Transfer the same amount as in step 3 to a separate bowl and add a few drops of Pink Food Coloring to this – mix again until the color is right

Spray two 20 x 20 cm dishes ( 8 x 8 inch) with cooking spray.

Use half of the mixture and press into the bottom of your dish – do the same with the other half into the second dish

Press the Peppermint flavored Coconut on top of one of the dishes containing a white layer – even it out

Repeat step 7 with the Pink colored Coconut in the second dish

Place in the refrigerator for 30 minutes and cut into cubes or whatever shape you prefer (deep Cookie cutters works very well!)
Notes
Do not use too much green food coloring as the Peppermint is green as well
Nutrition Information
Yield

50
Amount Per Serving
Calories

103
Total Fat

6g
Saturated Fat

6g
Carbohydrates

12.2g
Fiber

1.3g
Sugar

10.1g
Protein

0.7g
LINDA