Create an entrance where you might not think to look. A Closet turned bedroom entrance ! Connecting two rooms to form a small teenager's bedroom/lounge.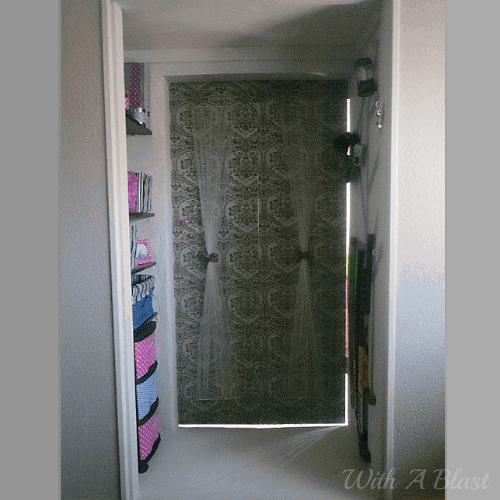 This is either one of my best light bulb ideas, or a complete disaster ! Anyhow, I am excited to share with you, what I call "Phase 1" of my daughter's bedroom makeover. A Closet turned Bedroom entrance.
We built the folding doors ourselves, added some wall paper (same as with my daughter's mirror which you can read about HERE).
I then added a piece of tulle to the center of each door and tied the middle with simple ribbons.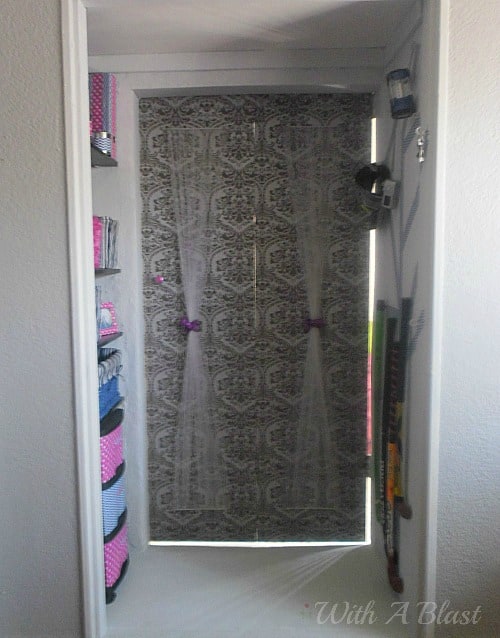 In case you are wondering, her bedroom is on the other side of the folding doors (which I might add are not done yet on the reverse side).
The far right side opening at the hinges needs to be closed. And we still have to install laminate flooring to the bedroom.
The entrance (which will cover the opening at the bottom of the folding door too) and the room I am standing in which will be the small living room for the kids.
My son is home during the week. And although he has his own bedroom with small bathroom (not in the house) he sometimes has a friend or two over and the small living room would be perfect for them to use.
My daughter on the other hand, only comes home over weekends, when the living room will be all hers to use. To actually get into her bedroom, we now have to enter the soon-to-be small living room. Turn left and straight through this new entrance which used to be my son's closet in his old bedroom.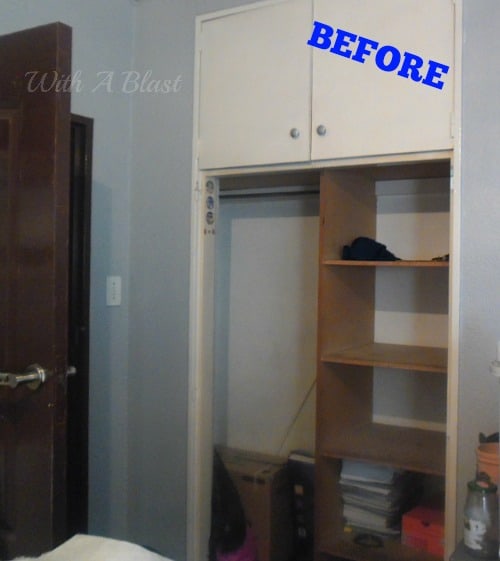 Here is a before photo above. My hubby had already removed the doors before I could take a photo.
He did not only break through the wall at the back, but also "lifted" the top two small closet cabinets, as I want to keep them. But we definitely needed the entrance to be higher than just the lower part of the closet.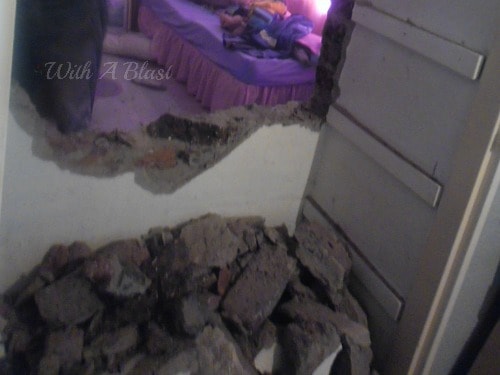 Brick wall .. yes, that's how we do it in SA ! My daughter's bedroom closet is to the right of this opening and in the back you can see her old bed (more on that later!).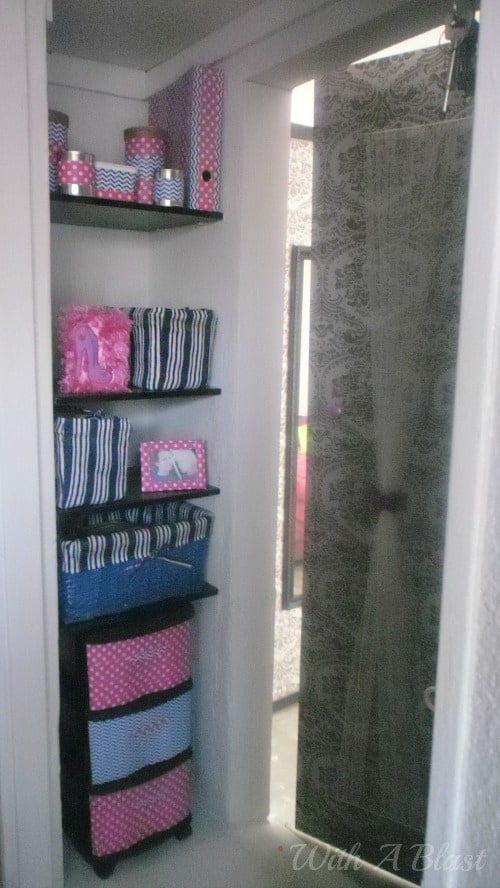 Above you can see the Duct Tape crafts I shared over the last couple of weeks (see HERE and HERE).
I added a Duct Taped photo frame as well. The baskets – 2 small and 1 large – are quite old and used to be white but have faded a bit.
Decided to spray paint the larger basket blue and put the same lining back in. On the 2 smaller baskets, I had actually removed the lining and used them as covers.
Closet Turned Bedroom Entrance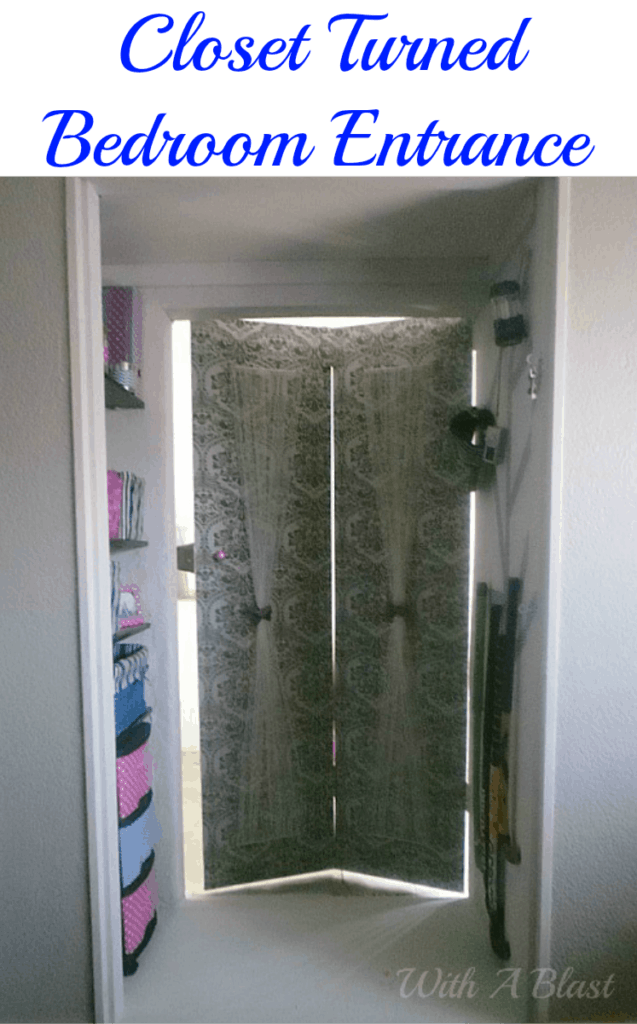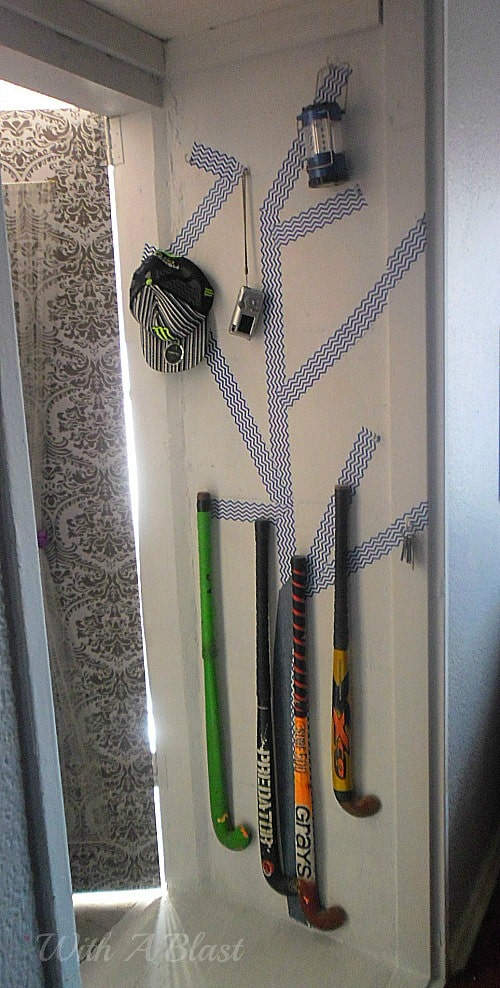 I was not sure about the other side of this small entrance, but then remembered Erlene from My Pinterventures shared a Duct Tape Tree with hooks to hang goods on – well, I told her I'm stealing the idea !
But please have a look at her project with lovely step-by-step directions, and hers looks way better than mine.
More storage space on the duct tape wall "tree" !
This is for the kids to use as they wish, their car keys, hats, emergency battery operated light, cameras and whatever else they need to hang in one place.
But, the hockey sticks were totally my idea ! They belong to my daughter and let me tell you, blood, sweat and tears are all over those !
She was a pretty awesome player and used to hit a ball with a stinking speed ! Accidents happen in all sports – she got whacked a couple of times (once with concussion!). And purely by accident, as the game goes, sometimes struck another player as well with the stick. (The green stick was her favorite, btw!)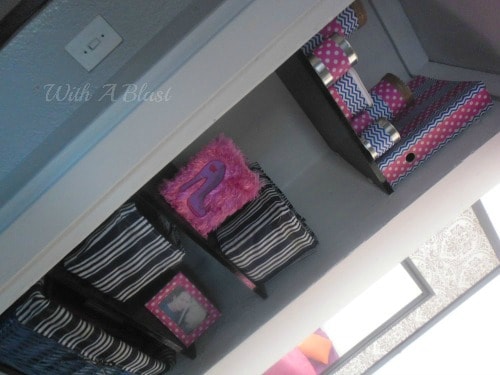 Another somewhat sideways shot with a tiny, tiny peek into her bedroom which is now about 50% done.
Still lots to do, and after that the small living room, which I think will be the biggest challenge ! Ending with laminate flooring throughout to fit in with the rest of the house's flooring.
Oh yeah, and one last thing. We are thinking of installing a door in the living room area, to the outside onto a back patio which will meet up with one of our two doors from the main living room leading to the same area.