Christmas Cocktail is a delicious, refreshing Rum based Cocktail and it looks wonderfully festive [can also be made non-alcoholic]
MSG 21+ Only
Not only does this Christmas Cocktail look very Festive, it also taste Festive with the Pomegranate Juice and Arils. Paired up with some Rum and you have a winner.
To make a non-alcoholic version, simply leave out the Rum. Kids love the look of this Cocktail and would certainly want some and you definitely want to leave out the Rum in their batch !
My ratio of Juice vs Rum is just right for us, as it is not that strong, which means we can have a second drink easily.
With alcohol it all depends on personal taste – some like to really taste the Rum, others not so much.
I like it to have only a hint of the Spiced Rum in the taste.
Seeing as we live in a Summer Christmas country, I do not mind adding plain ice. The drink goes down fairly quick on a hot, late afternoon, early evening !
When I make similar (icy) Cocktails, which we enjoy during Winter, I always try to freeze the Juice or other mixer ahead of time (to use instead of plain ice cubes).
In Winter time drinks do not go as fast and this way, the Cocktail will not get a watery taste on standing.
Do you like Pomegranate Arils (seeds) ? I love them ! And would probably eat handfuls at a time if it was not that expensive or hard to find at times.
I remember lots of trees around the area I grew up in and there were also lots of trees on the way to school. All those trees seem to have disappeared over the years, which is a pity.
More Christmas recipes you might like:
Connect with us :
PINTEREST TWITTER FACEBOOK INSTAGRAM
Christmas Cocktail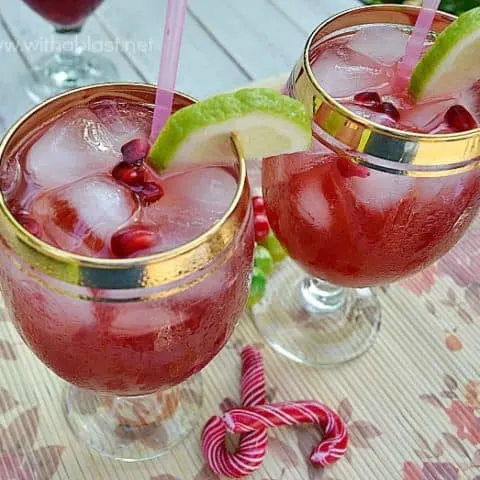 Christmas Cocktail
Christmas Cocktail is a delicious, refreshing Cocktail and it looks wonderfully festive
Ingredients
4 cups Ice Cubes
8 TB Light Rum, (I use Spiced Gold)
1/2 cup Pomegranate Juice
4 cups Lime Soda
4 t Fresh Pomegranate Arils, (seeds)
1 Lime, sliced into wedges, to garnish
Instructions
Divide the ingredients in 4 – beginning with the Ice, add all ingredients in the order given above, to 4 large glasses (except the Lime) – give each glass a gentle stir – garnish the rims with a Lime wedge and serve immediately.
Notes
For a non-alcoholic version, simply leave out the Rum
Nutrition Information
Yield

4
Amount Per Serving
Calories

191.5
A Straw will come in very handy !
LINDA
Don't forget to PIN !