Delicious, very creamy Candy Cane Dark Chocolate Mousse with a White Chocolate topping ~ and even MORE Candy Cane in quick-to-make Macaroon Cups
This is one of the most delicious, creamy sweet treats I have had recently, featuring all my favorite ingredients, Chocolate Mousse, Coconut and of course Candy Cane !
The recipe I am sharing today for the Candy Cane Chocolate Mousse Macaroon Cups, are really about the Macaroon Cups.


I wanted to try some other kind of edible Cup, instead of the usual Chocolate Cups I make. As with the Chocolate Cups you can really use any filling in these Macaroon Cups, as long as it is filled fairly close to serving time.
On standing, some fillings might make them a little soggy, but with the Mousse filling (or anything else which sets quickly i.e. Instant Puddings) you can at least fill the Cups an hour or two before serving – just make sure to keep in the refrigerator.
The Macaroon Cups can be made a couple of days in advance and once cooled can be stored in an airtight container until you are ready to fill them. Be careful when you pack them though, as the empty Cups are quite fragile.
I only made them once in advance, but seeing as it is a quick mix and only a few minutes in the oven, I now make them when I need the Cups.
A couple of weeks ago, I found the above Chocolate Mousse Duo packs in our store and grabbed a couple of packs.
They are so convenient to use and a pleasure to pipe (piping – yes, I am still in practice mode!) – all that is needed is milk. Then a couple of minutes beating and Voila! your Mousse is ready
Candy Cane Chocolate Macaroon Cups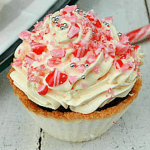 Candy Cane Chocolate Macaroon Cups
Creamy Candy Cane Dark Chocolate Mousse with a White Chocolate topping ~ and even MORE Candy Cane in quick-to-make Macaroon Cups
Ingredients
1/2

cup

Caster Sugar

2

Egg Whites

1

cup

Desiccated Coconut
FILLING / TOPPING:
1

Box

Double Chocolate Instant Mousse

(or filling you prefer)

Ingredients for the Mousse (see box)

as per the box (usually only Milk required)

1/4

cup

Candy Cane

finely crushed

1/4

cup

Candy Cane

coarsely chopped

Sliver Pearls

(optional)
Instructions
Pre-heat the oven to 180 deg (350 deg F) – spray 4 muffin tin holes (or silicone muffin baking cups – my choice!) with cooking oil

In a small mixing bowl mix the ingredients for the Macaroon Cups – no need to beat, just stir well to combine – use approximately 2 tablespoonfuls per Cup in each hole – press onto the bottom and up the sides – if a certain spot looks a little to thin, add more mixture and press into place (the recipe is for slightly more than 4 Macaroon Cups, as not all muffin tins, silicone cups etc are the same size)

Bake 15 – 18 minutes or until light golden (muffin tin will create a full golden color, whereas silicone cups – only the top edges)

Remove from the oven and let cool completely before turning out
FILLING / TOPPING:
Prepare the Dark Chocolate Mousse first as per the pack's instructions – stir through the finely crushed Candy Cane and fill the Macaroon Cups

Prepare the White Chocolate Mousse – pipe over the Dark Chocolate Mousse and sprinkle with the coarsely chopped Candy Cane and Silver Pearls (if using)
Recipe Notes
Refrigerate for up to 2 hours before serving, although you can serve these delicious treats with only a few minutes of chilling