Brunch Napkin Rings (2-in-1) ~ How to easily make these 2-in-1 Napkin Rings/Placecards ~~ No need to know ANYTHING about knitting !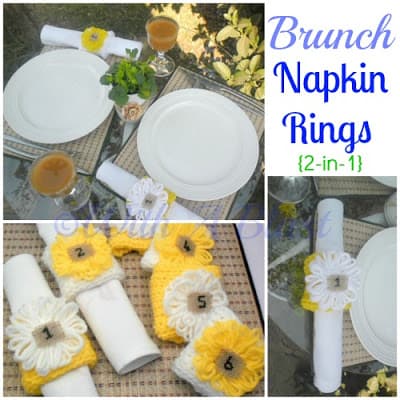 I told you I have a new toy to play with ! A small round loom, which to me, is like magic 🙂 .

Now, remember, I haven't knitted or crocheted in decades, yet I managed to make these cute Napkin Rings, using mainly the loom.
Of course, I still need loads of practice (and some patterns I already have on Pinterest!), but I am quite chuffed with the outcome of these.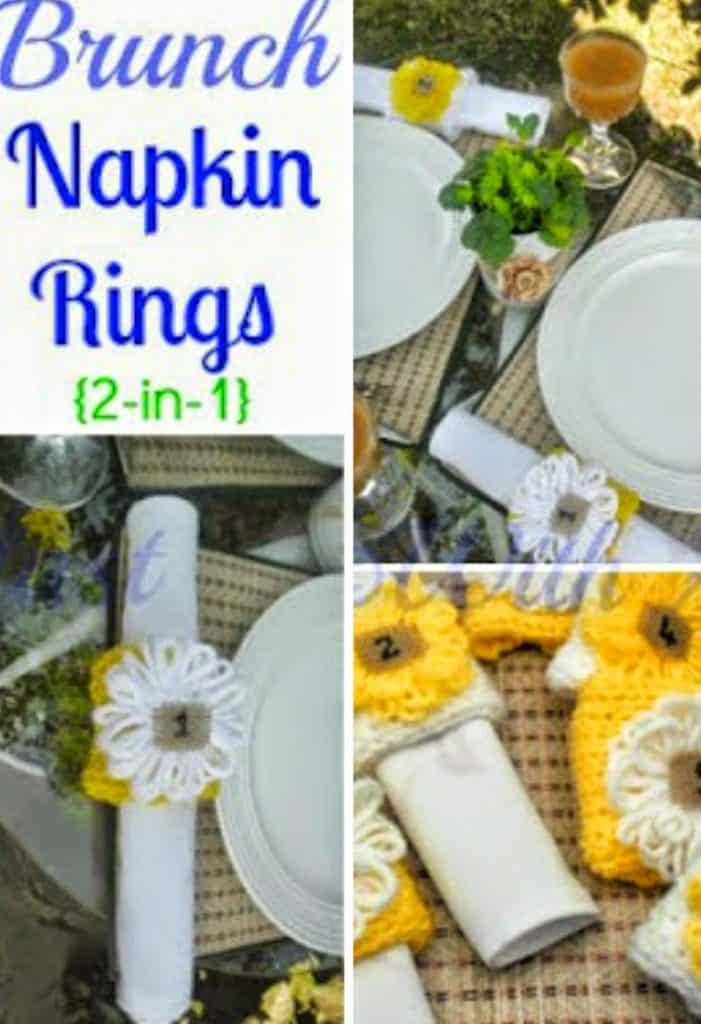 I call them Brunch Napkin Rings as that is what I intended them to be. Bright and cheerful and with the flower it is perfect to use for an outdoors Brunch/Lunch or any kind of Al Fresco meal.
The 2-in-1 is because of the obvious use – a Napkin ring and the second is that it serves as place"cards" or in this case numbers.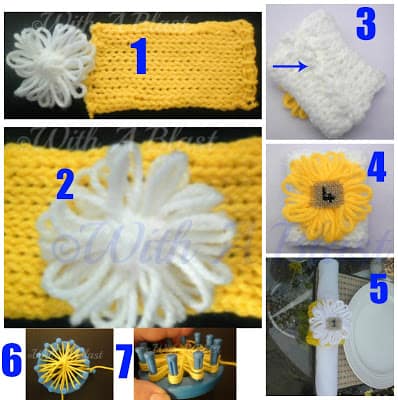 How To Make Brunch Napkin Rings
1.) I made a flower with the loom (full instructions inside the small round blue loom packet). Then I used the same loom (not going all round, starting one side and returning the other way at the last peg in the loom) and knitted a rectangular piece of about 15cm (6 inches) long.
2.) Used wool to stitch the flower to the rectangular piece – front center.
3.) I used wool again to stitch together the back (I have since learnt that if you use the loom all round it will create a "pipe" – okay, that's how we learn).
4.) To make the numbers, I cut tiny pieces of burlap and wrote numbers on them with a permanent marker. This I glued onto the flower's center with my hot glue gun.
5.) The finished product !
6 and 7.) This is the small round blue loom which I have used (I was making a flower in these pics).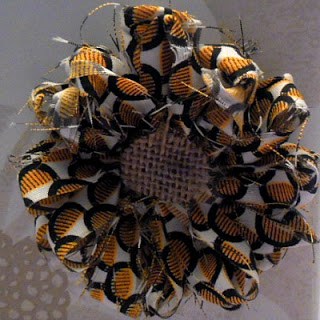 I think this is the prettiest flower I have made thus far using the loom. Same method, I just used strips of fabric here instead of wool.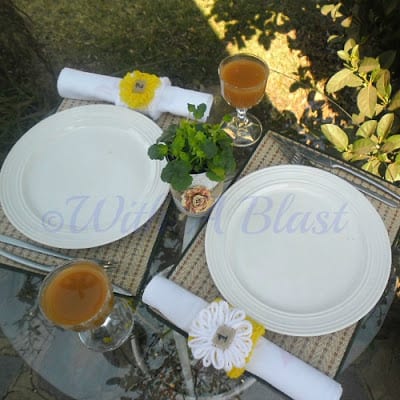 Bright, cheerful and ready for our Al Fresco meal !
I am already thinking cup cozies, a scarf or three, leg warmers … you get the idea !
LINDA
You Might Also Like: