Blood Oozing Chocolate Apples are as gory as you can make a Halloween treat ! But delicious with the apple, chocolate and hard red candy combination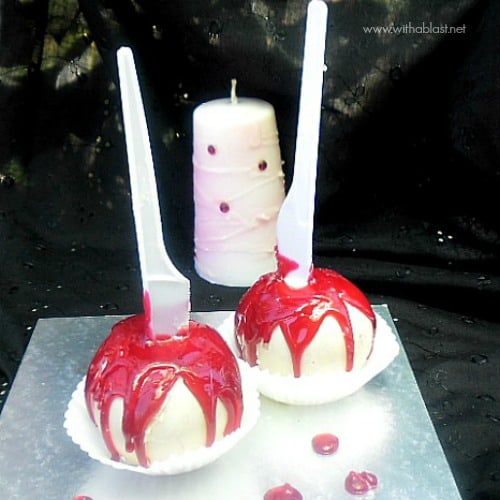 I have a delicious Halloween treat for you today, even if the name does not sound all that delicious !
These Blood Oozing Chocolate Apples are also not only for Halloween, you can serve it as an anytime snack.
Dipped in a good quality White Chocolate and drizzled with homemade hard candy, will make it an amazing treat for the whole family.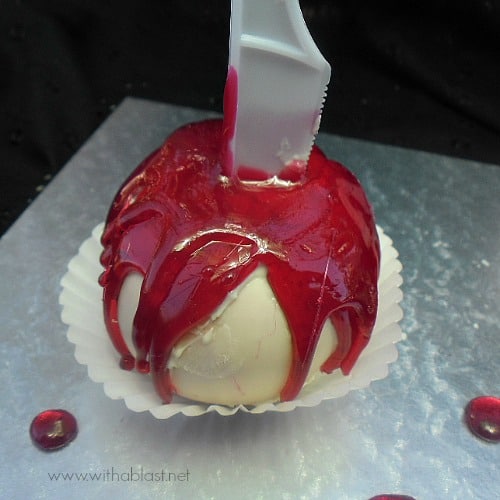 I used plastic knives (because of the Halloween thing going!). But I would not recommend using any kind of knives when serving to little ones, as even these plastic knives can be quite sharp and dangerous.
These last three, four months of the year, are always a treat for the eye – and the mouth!
Because all kinds of goodies show up, Halloween, my US friends' Thanksgiving eats and decor and then of course the big one – Christmas !
Halloween is not big in South-Africa, but I do like to make some gross-looking treats ! And if I happen to have made a new recipe and it did not work out that great … well, I just tell my family it is all in the Halloween spirit 😉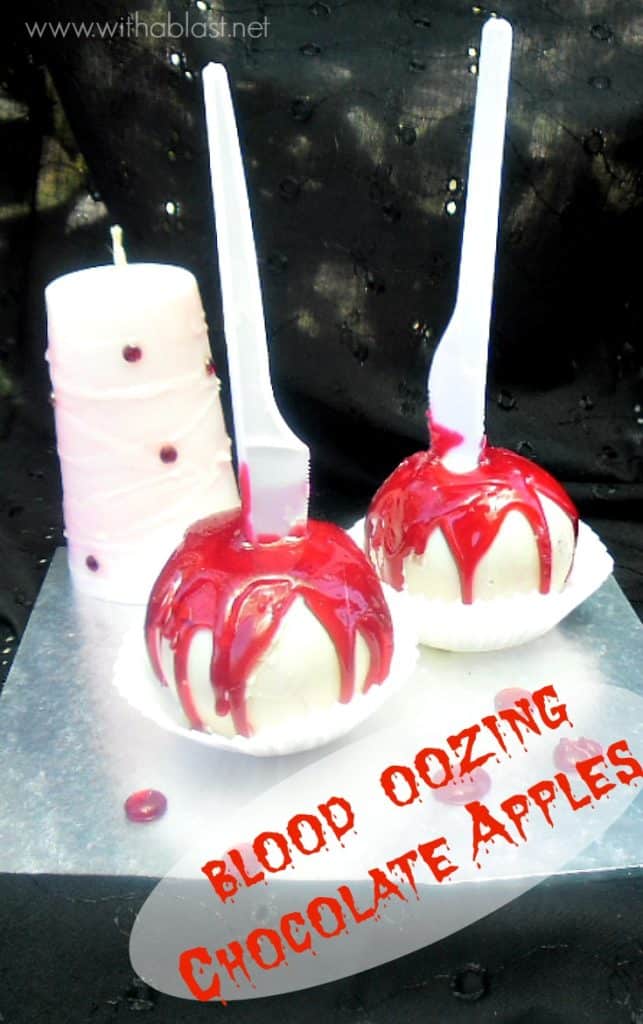 I have been trying to get hubby to fetch our "Potjie" (cauldron type of cooking pot in South-Africa) from the garage.
But seeing as it was quite a busy weekend with the kids coming and going, he still did not fetch it — and if you are wondering why I don't fetch it myself ?
I might never find my way out of the garage again ! Truly, only my dear husband knows what's going on in there !
Will remind him again tomorrow as I need it for a small decoration at our front door, which I would like to share with you as well.
Blood Oozing Chocolate Apples
Yield: 4 Servings
Blood Oozing Chocolate Apples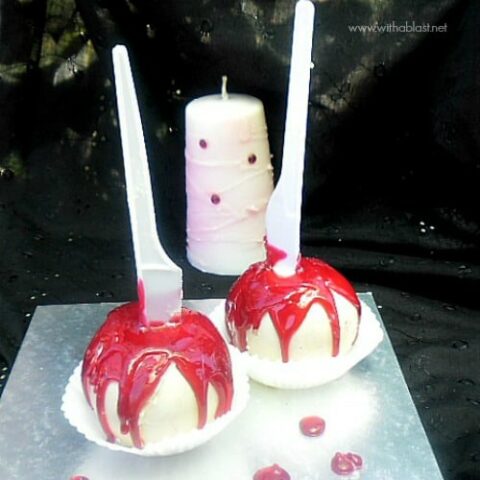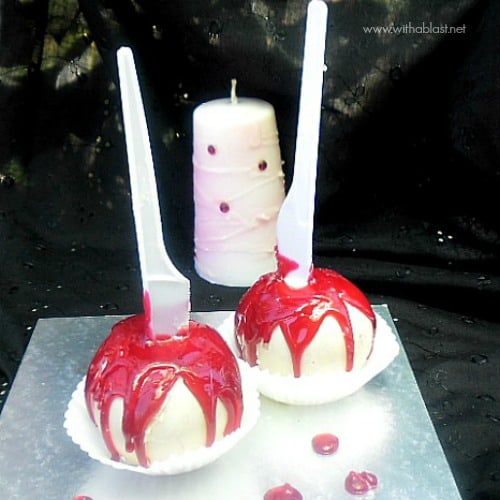 Blood Oozing Chocolate Apples are as gory as you can make a Halloween treat ! But delicious with the apple, chocolate and hard red candy combination
Ingredients
4 Medium Red Apples
300 g White Chocolate, good quality ( 9.5 oz )
1/2 cup Water
1 cup Sugar
Red Food Coloring (add drop by drop until you are happy with the color)
Instructions
Melt the Chocolate in a deep, medium bowl – dip each Apple into the Chocolate and place on a piece of waxed paper or aluminum foil (I dip the Apples twice) – place in the refrigerator until set and ice cold

In a small saucepan, heat the Water, Sugar and Coloring, stirring continuously until the Sugar has dissolved – keep boiling, with the occasional stir, until the mixture has reached the hard boiled stage (drop a bit in a cup with cold water and when it turns hard immediately, the mixture is ready)

Remove the Apples from the refrigerator and immediately drizzle over the Hard Candy mixture – do this around the top and let it run down the sides – repeat until you are happy with the look



The Hard Candy should set almost immediately when touching the ice-cold Chocolate covered Apples, but you can also place it back in the refrigerator for a few minutes
Nutrition Information
Yield
4
Amount Per Serving
Calories

690.5
** If the Hard Candy mixture begin to harden before you are finished, just re-heat it until smooth again.
LINDA