Almost Chinese Chicken takes only 25 Minutes – Prep to Serve ! Quick, delicious, sweet and sour chicken dinner which can be served over rice or noodles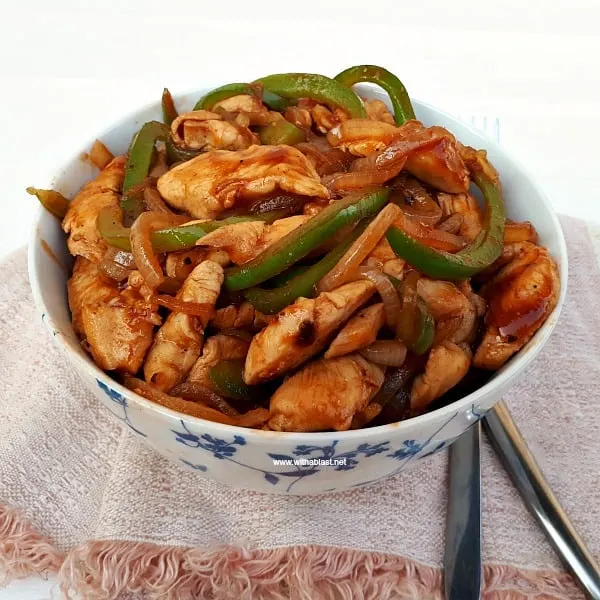 This dish reminds me of Chinese food, but definitely lacks quite a bit to earn the full name of Chinese. Instead I present Almost Chinese Chicken !
It is slightly sweet and slightly sour – nothing overbearing. Instead the taste of the Chicken and the vegetables come through a lot stronger.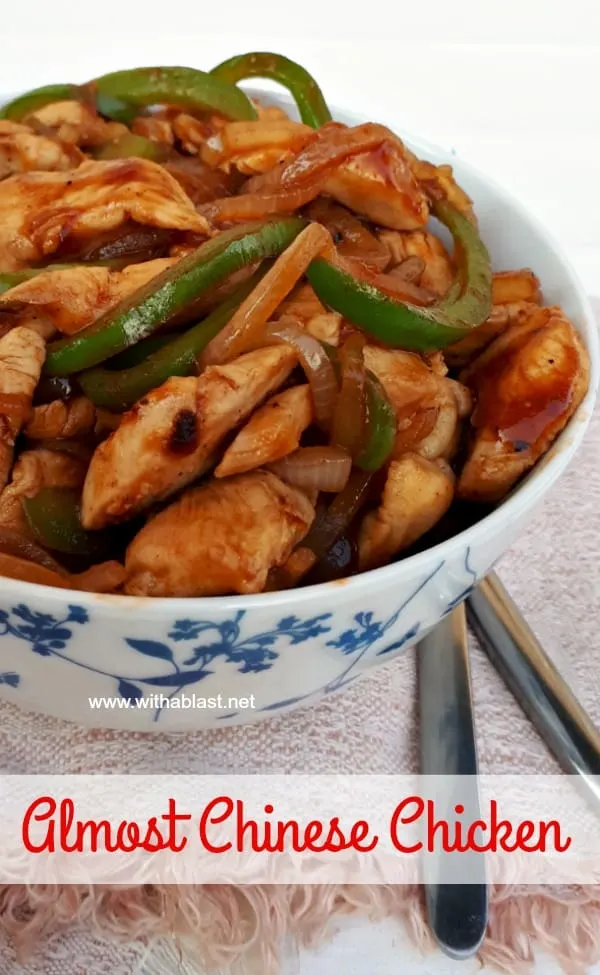 The Chicken is usually ready long before the rice is fully cooked. Therefore if you are really pressed for time, you can serve the Chicken over noodles.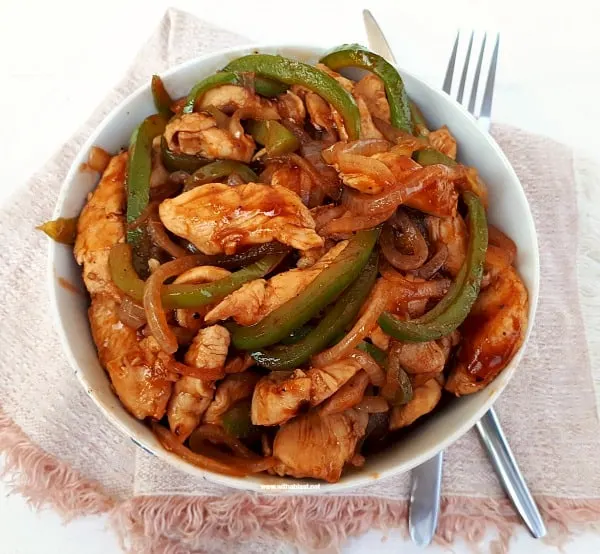 Even the two minute type noodles are delicious with this Chicken.
In that case, I open a couple packets of two minute noodles (keeping the spice sachet to make a sauce to pour over my dogs' dry dog food) and cook it up in, well, two minutes ! Either in the microwave or on the stove top.
What is especially great to use the noodles is that you know exactly how many packets to use, one packet per person. Or two packets for the really hungry lot !
The sauce does not need to cook for long, only a minute or two, before adding the Chicken back into the skillet. A quick warm through and the Chicken is ready to be served over rice or noodles.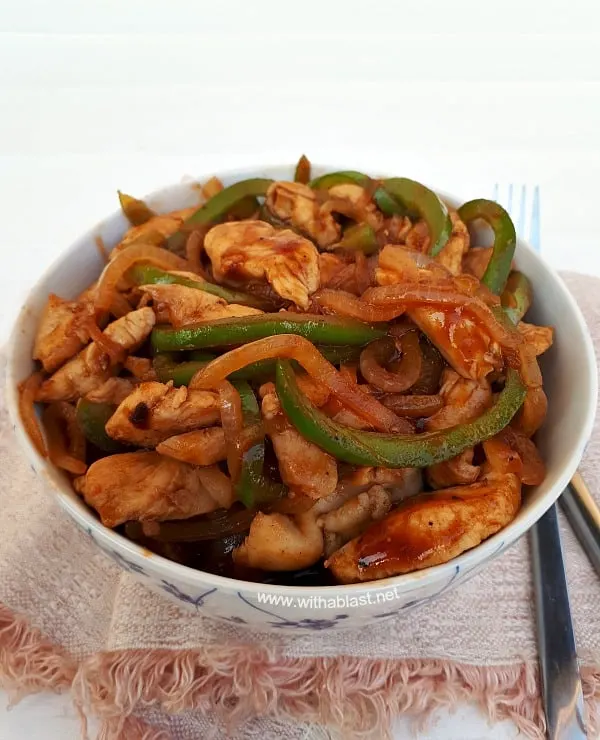 Dinner on the table in 20 – 25 minutes tops ! Unless of course you are still waiting for the rice ..
More Chicken recipes you might like:
Almost Chinese Chicken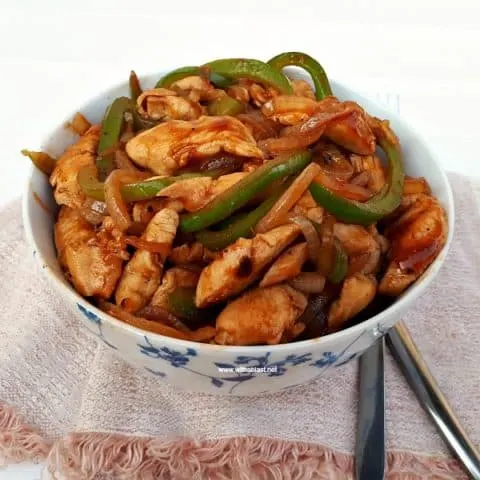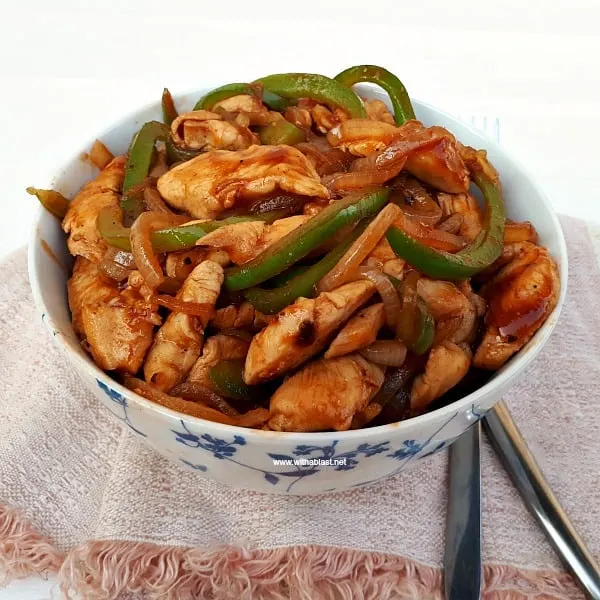 Almost Chinese Chicken
Almost Chinese Chicken takes only 25 Minutes - Prep to Serve ! Quick, delicious, sweet and sour chicken dinner which can be served over rice or noodles
Ingredients
CHICKEN:
6 Chicken Fillets, cut into strips
Salt and Pepper, to taste
2 TB Vegetable Oil
VEGETABLES AND SAUCE:
2 Onions, thinly sliced
1 Green Bell Pepper, thinly sliced
1/2 cup Water
2 TB Sugar
1/4 cup Chutney
Salt and Pepper, to taste (small dash of each)
2 TB Worcestershire Sauce
1/4 cup Tomato Sauce (use a thick ketch-up)
2 TB Tomato Paste
Instructions
Season the Chicken strips with Salt and Pepper – fry in batches, in the Oil until golden brown and done – remove from skillet and keep warm
Using the same skillet, (add a little more Oil if needed), saute the Onion and Green Bell Pepper until soft. Add all the remaining ingredients to the Onion and Green Bell Pepper – stir and simmer over low heat until thickened (only a minute or two)
Add the cooked Chicken strips back into the sauce, stir to cover the Chicken with the sauce – simmer another minute or two and serve immediately over rice or noodles
Nutrition Information
Yield

6
Amount Per Serving
Calories

282.9
Total Fat

8.8g
Saturated Fat

4.9g
Unsaturated Fat

2.5g
Carbohydrates

24.7g
Fiber

1.5g
Sugar

17g
Protein

26.1g
LINDA