21 Stunning Wall Art Ideas – Beautiful Wall art ideas collection which you can DIY for less (full tutorials)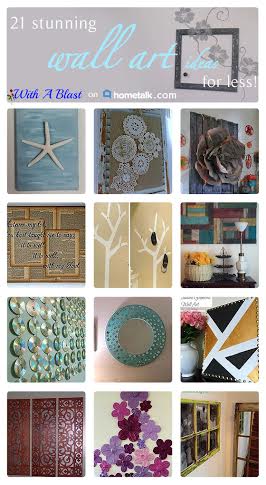 I am so excited today as I have a fantastic collection of 21 Stunning Wall Art Ideas to share with you which I have curated for Hometalk
All of the posts in the collection are super DIY friendly and affordable and I am sure you will find more than one idea to try for yourself.
Liz, from Hometalk contacted me a couple of days ago regarding my post which I have shared on the Hometalk site. It is for my EASY FRAME and PAINT WALL ART.
She then asked me whether I would be interested in curating a board dedicated to DIY Wall Art Ideas … moi ?
Yes, of course I agreed and I enjoyed putting this board together tremendously. To see all 21 Wall Art Ideas click HERE or simply click on the image above.
I hope you enjoy and if you are not a member of Hometalk yet, why wait?
Sign up and start clipping ! Either your own projects as well as tons of other inspiration on their site, clipped by bloggers, professionals and the everyday person. You will be astonished to see all the Home and Garden tips and ideas.
SEE YOU THERE !
LINDA