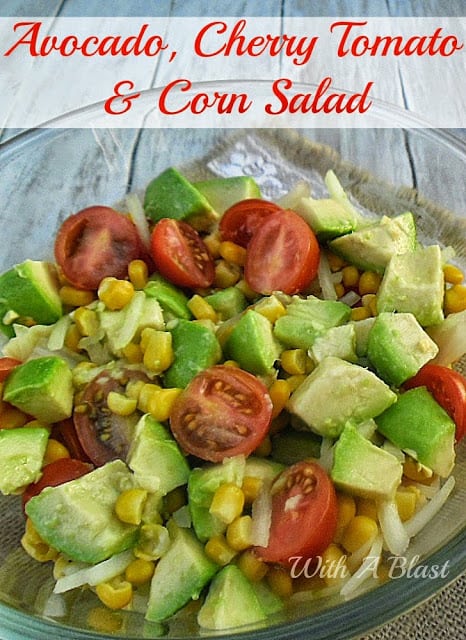 We braai (BBQ) a lot – I mean, who watches a Rugby match without the grill on? Speaking of Rugby, I am a enormous gigantic HUGE fan of the Blue Bulls. Always have been, and always will be .. got that?? ALWAYS!
Now in our house it's a bit complicated – everyone has a different team we support .. yeah, it can get serious on a game day … ME : Blue Bulls ROY : Sharks DIMITRI : Lions/Hurricanes CHERI : Stormers
Right, but we all agree – Rugby and a Braai goes hand in hand. No matter the weather…
Avocado, Cherry Tomato and Corn Salad
INGREDIENTS:
SALAD:
1 cup Frozen Corn
1 cup Halved Cherry Tomatoes (I like Italian, nice and sweet)
1/2 Onion, thinly sliced
1 Large Avocado, cubed into bite-sized pieces, sprinkled very lightly with lemon juice, to avoid discoloration
VINAIGRETTE:
1 TB White Vinegar
1/2 t Dijon Mustard
2 TB Extra Virgin Olive Oil
Pinch Salt
Pinch Black Pepper, freshly ground
DIRECTIONS:
1.) Boil the Frozen Corn for 7 – 10 minutes, drain and let it cool completely (If you're in a hurry, keep it in the colander under running cold water for a minute)
2.) Place all the Salad ingredients in a salad bowl and mix gently
3.) Mix together all the ingredients for the Vinaigrette and drizzle over the Salad – mix slightly
Keep in the fridge till ready to serve.
This recipe can easily be doubled/tripled.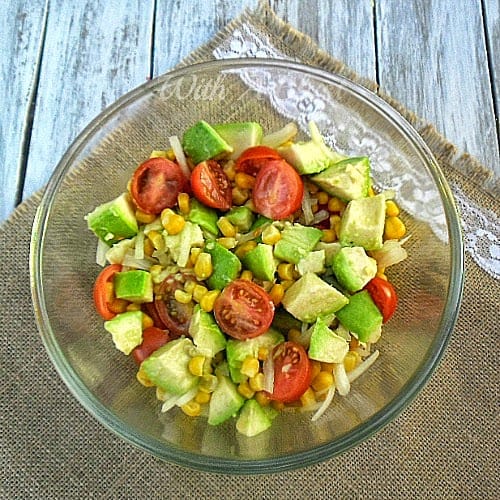 Hope you'll try this quick and delicious Avocado, Cherry Tomato & Corn Salad soon!