Yogurt Chocolate Strawberry Meringues is filled with yogurt flavored chocolate and a strawberry mixture – perfect sweet treat to add to a sweet party platter.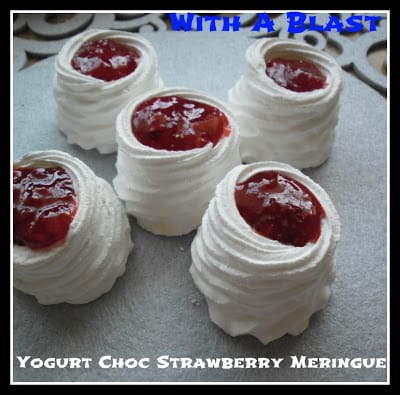 What a combination !
I bought (yeah, I'm too lazy to make them myself), meringue nests at the supermarket during last week.
At the time I had no idea what I wanted to use them for and the packet sat on the kitchen counter asking me everyday ".. what's your plan with us..?".

When I looked at them this morning, I thought today is the day. First I baked a Strawberry Bread and had quite a few strawberries leftover.
I know, just a week or so ago, I mentioned that all the strawberry recipes were starting to drive me crazy. But who can walk past a punnet of bright red strawberries and not wanting to buy some. Not a question, a statement!
Right, the name of the recipe start with Yogurt Chocolate – here's where this come in: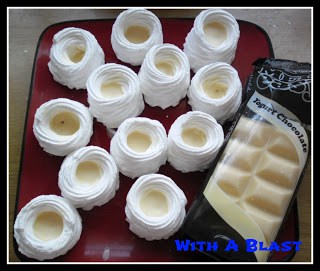 How to make Yogurt Chocolate Strawberry Meringues:
I started off with melting 4 TB Yogurt Chocolate together with 1 1/2 TB Coconut Oil
Added about a teaspoon of the Melted chocolate into the bottom of each of the meringue nests and placed it for 3 – 4 minutes in the freezer to set.
Meanwhile I hulled and chopped 1/2 cup of Strawberries, placed it into a small saucepan, added 2 TB of Sugar and brought it to boiling point over medium heat. I then added 2 t Cornflour and stirred continuously until it thickened.
I removed it from the heat and let it cool for 5 minutes and then topped the Chocolate in the meringue nests with the strawberry mixture.
And there you have it !
Yogurt Chocolate Strawberry Meringues
What a treat ! And SWEET – I only managed two but between hubby, my son and his friend they were all gone 15 minutes after serving.
They did not expect the Yogurt chocolate in the center and were quite surprised – I guess in a good way, as all these meringue nests disappeared in a flash !
Change the chocolate flavor, add more chocolate and less strawberry mixture – just as you wish, but I found the Yogurt flavor gave this a bite of sourness and together with the sweet strawberry topping this was just right.
LINDA