Creamy and loaded with Bacon, this Tartiflette (Potato based casserole) is one of my family's favorite lunch or light dinner dishes
With only a bit of prepping and dumping into an oven dish, you can have this Tartiflette on the dining table in no time at all.

Whilst the dish is baking, I throw together a small crunchy salad, nothing fancy – lettuce, cucumber, tomato, onion kind of salad – butter a dinner roll or three for those who have to have their rolls with dinner and I'm done.
Usually I have enough time to get dessert ready as well, depending on what I'm making on that particular day. If it is something that needs to set, I would have made it earlier during the day.
Small individual trifles in Summer are quick to make and whilst having the main dish, all the trifle flavors can play together and combine a little.
During Winter I like my baked puddings and will get that ready to go into the oven as soon as the Tartiflette comes out.
I have made Tartiflette with standard sized potatoes, cubed or sliced, baby potatoes whole, but we like the Baby Potatoes, halved most and I have since stopped using any other kind, sliced, cubed or whole.
A couple of years ago, I read about this awesome potato based casserole the first time and had seen various recipes over the years. It is actually all about the Potatoes and the creaminess of the meal. The rest of the ingredients, differs from recipe to recipe.
Seeing as it is a French delicacy and a French name I am more than sure I pronounce it incorrectly, even though it looks like a straight forward (English?) word. But, no matter how wrong I am, when my family hears we are having Tartiflette for lunch or more likely a light dinner in Summer, they are over the moon.
I am often surprised by people's reactions to food – make something that looks like a million dollars, with lots of foreign, imported ingredients (expensive stuff too!) and you might get a " it was delicious ".
Hop on over to ordinary, daily pantry ingredients, mix up the right stuff, and all of a sudden you are the Mom of the year … food wise, that is.
Tartiflette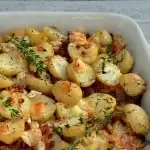 Tartiflette
Tartiflette is a creamy potato dish, loaded with Bacon and ideal for lunch or as a light dinner
Ingredients
900

g

Baby Potatoes

scrubbed clean ( 2 pounds )

2

TB

Butter

250

g

Bacon

chopped ( 8 oz )

1

Onion

chopped

2

t

Fresh Garlic

crushed

Salt and Black Pepper

to taste

125

g

Camembert Cheese

halved horizontally and cubed small ( 4 oz )

1

cup

Fresh Cream

(double cream/whipping cream)

1/2

t

Dried Thyme

Fresh Thyme Sprigs

to garnish (optional)
Instructions
Pre-heat the oven to 200 deg C (400 deg F) – spray a deep 20 x 20cm ( 8 x 8 inch ) oven dish with cooking oil

Boil the Potatoes until just tender – drain, half each Potato and set aside

Heat the Butter in a skillet – stir-fry the Bacon, Onion and Garlic until the Bacon is done – remove from heat

Arrange 1/3 of the Potatoes on the bottom of the prepared oven dish – season lightly with Salt and Black Pepper – scoop over half the Bacon mixture – repeat the layers ending with a layer of Potatoes

Scatter the Camembert pieces over and pour the Cream over

Sprinkle over the Dried Thyme – bake 25 minutes, reduce heat to 180 deg C (350 deg F) and bake a further 15 minutes until the Potatoes are golden and the Cheese bubbly
Garnish with Fresh Thyme (if using) and serve with a crunchy salad as a light dinner or lunch.
LINDA