Strawberry Avocado Brie and Peanut Brittle Salad screams Summer ! AND with an unusual, but delicious add of Peanut Brittle this will be a hit with young and old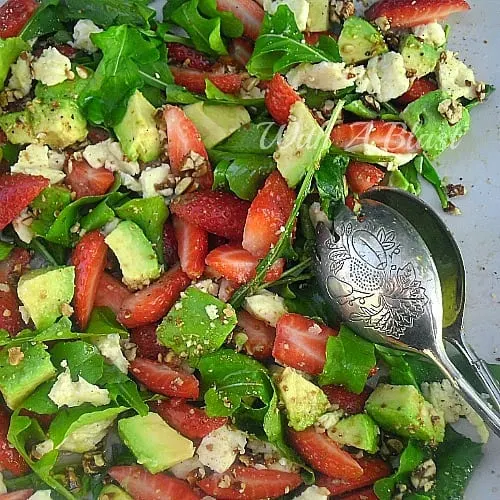 I noticed that we still have strawberries in the stores. And seeing as I can not pass without grabbing a punnet (or 5), I use them in all my favorite recipes, as well as new ones I find.
There are not many salads more delicious than a good strawberry salad and this Strawberry, Avocado, Brie and Peanut Brittle Salad is no exception.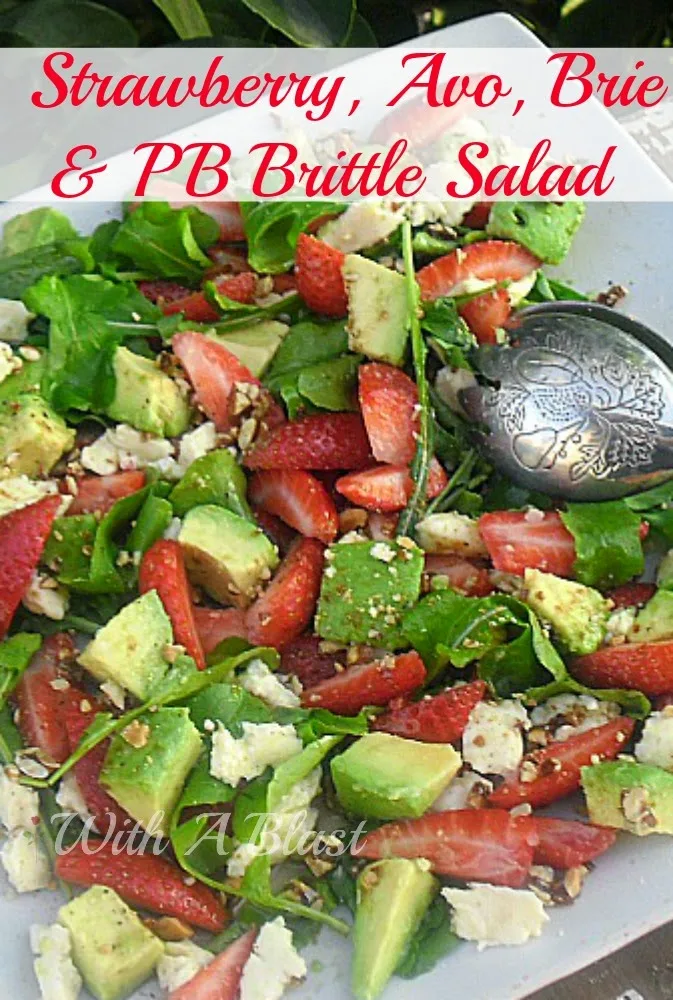 Peanut Brittle might sound like a strange ingredient. But trust me, it makes a fabulous change to not only the flavor but it adds crunchiness as well.
You can chop the Peanut Brittle as small or as big as you like. Mine was sort of a mix between small and larger – some Peanuts were kept whole, whereas I chopped other pieces almost to a fine crush.
Best way to do this – place the Brittle in a strong plastic bag and hit away with the blunt/smooth side of a meat mallet.
The Brie can be substituted with any kind of goat's cheese. I am a big fan of Brie and use it wherever I can.
Strawberry Avocado Brie and Peanut Brittle Salad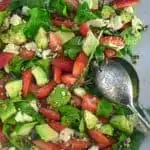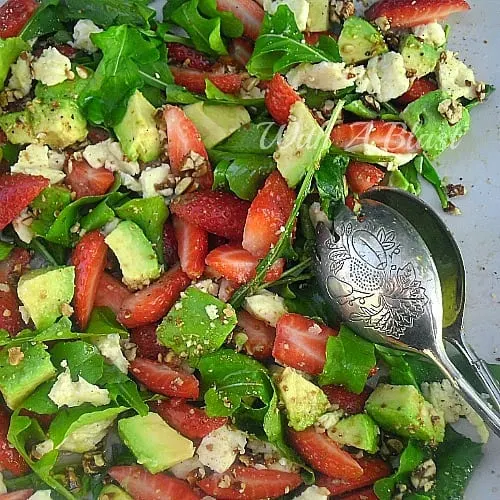 Strawberry Avocado Brie and Peanut Brittle Salad
Strawberry Avocado Brie and Peanut Brittle Salad screams Summer ! AND with an unusual, but delicious add of Peanut Brittle this will be a hit with young and old
Ingredients
200

g

Arugula Leaves

( 7 oz )

2

Avocados

peeled, cubed

2

cups

Fresh Strawberries

hulled and quartered

125

g

Brie Cheese

crumbled or sliced thinly ( 4 oz )

3

TB

Peanut Brittle

(the candy slab), crushed

Sea Salt and Black Pepper

to taste

3

TB

Balsamic Vinegar

2

t

Brown Sugar
Instructions
Arrange the Arugula, Strawberries, Avocado and Goats Cheese on a serving plate or salad bowl

Sprinkle with the Peanut Brittle and season with Sea Salt and Black Pepper

Mix the Balsamic Vinegar and Brown Sugar in a small microwavable bowl – microwave 1 minute, stirring every 20 seconds – remove and cool

Drizzle the Balsamic Glaze over the salad and serve
LINDA
You Might Also Like: