Skinny Chili Con Carne is a low-fat, very saucy, tasty dinner and is packed with vegetables – mild or hot – your choice!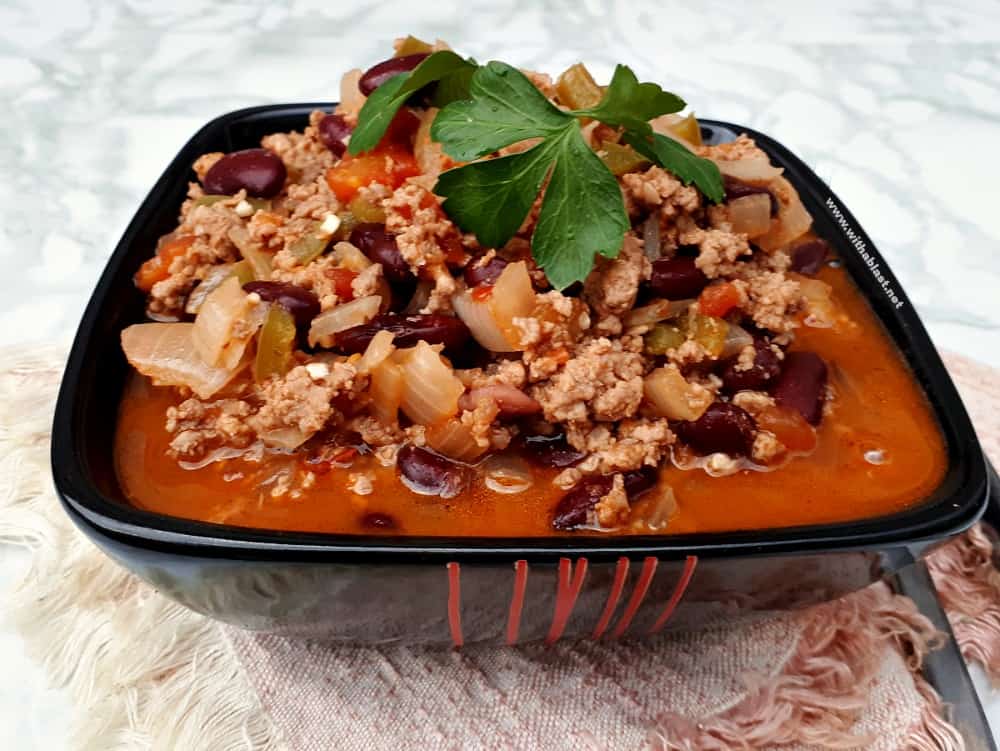 Chili is another dish which I do not think of as a seasonal meal. In South-Africa we have Curry and Chili dishes throughout the year.
Since I started my diet in the beginning of April, I have already lost 1.2 kilograms ( 2 1/2 pounds ) during the first week.
I always take the first week seriously and am very strict with myself. But now in my second week I treated myself with one of my trusty old recipes, this Skinny Chili Con Carne !
The first time I was on a diet, was in the late 90's and it went so well, I am and will always be a firm believer in the Weigh-Less diet program. Which if you do not know Weigh-Less is basically to eat healthy, low-fat foods and in moderation.
Just an FYI – I am not an affiliate for Weigh-Less.
This Chili recipe is also from one of their cook books I bought back then and have been making it since on a regular basis. My family also loves this dish, therefore it is at least one night I do not have to make two separate dinners.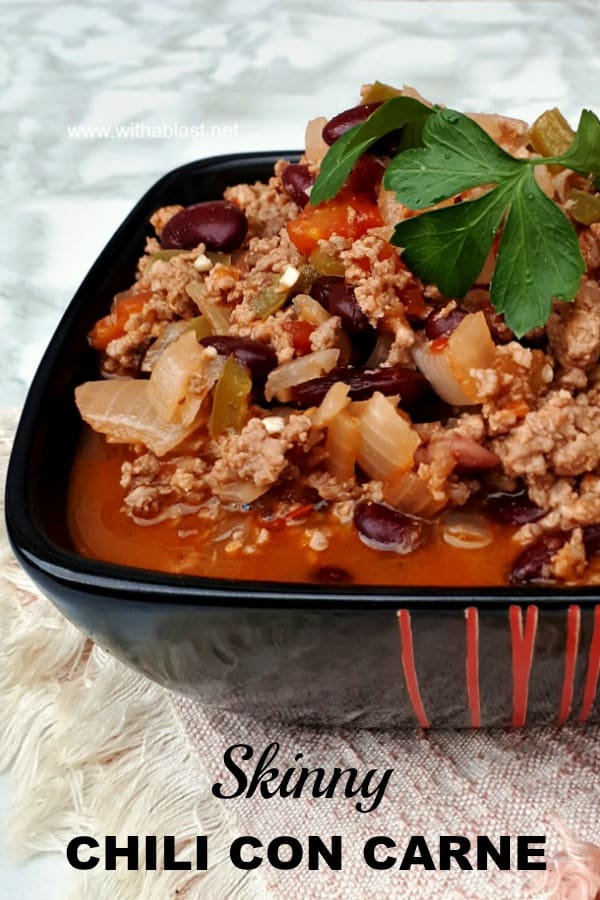 I kept my goal weight for around 8 years, but then had a big slip when I was diagnosed with a chronic illness and some of the medications made me feel more hungry than usual. Not that I am looking for excuses for gaining weight, but it was most definitely one of the biggest factors.
Then my doctor had to step in and give me a wake-up call regarding my weight ! Either I lose weight or I can book my funeral – really ! It was bad.
So, late 2007 I attended Weigh-Less classes again and within 4 months had lost 24 kilograms ( 54 pounds ). I kept my goal weight for years after that.
Since I started blogging back in 2012, the weight has slowly but surely creeped up on me again. I am not attending classes, but am following the guide lines I used to when with Weigh-Less.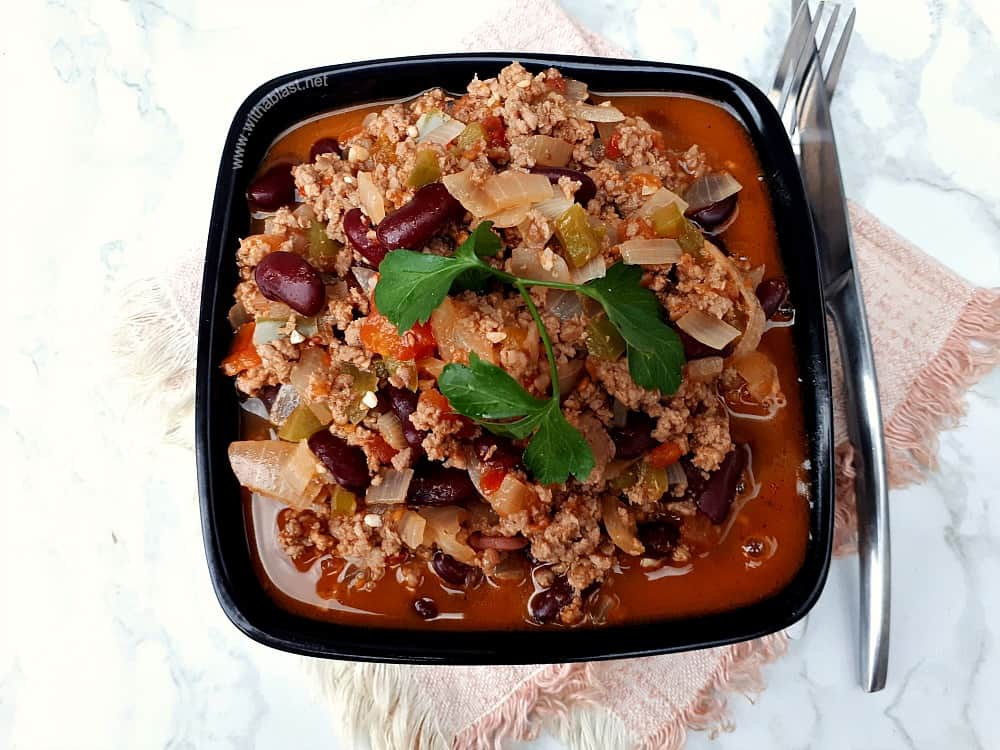 My tips for losing weight
Always eat breakfast !
Low-Fat is fine, but start out with anything Fat-Free (i.e. yogurt, milk etc)
Eat fresh fruits and vegetables raw when possible
Cut your sugar intake – use raw Honey, Maple Syrup, Stevia instead
Eat in portions – 6 portions works well for me – Breakfast in the morning, a Fruit and small yogurt around 11 am, Lunch between 1 and 2 pm, another fruit around 4 pm and Dinner followed by a small fruit salad or a sugar-free treat
Use a smaller plate for yourself when serving – I know, it's a mental trick – and it works !
Do not skip a meal – not always possible, but do try to keep up with your meals
Last but not least (and not really a weight loss tip) – do not weigh yourself every day. Once a week, at the same time as last week, wearing more or less the same clothing.
I am not a dietician, these are my own personal true and trusted tips I follow when dieting. Remember, not everyone's bodies are the same therefore do not compare yourself with a friend 's weight loss.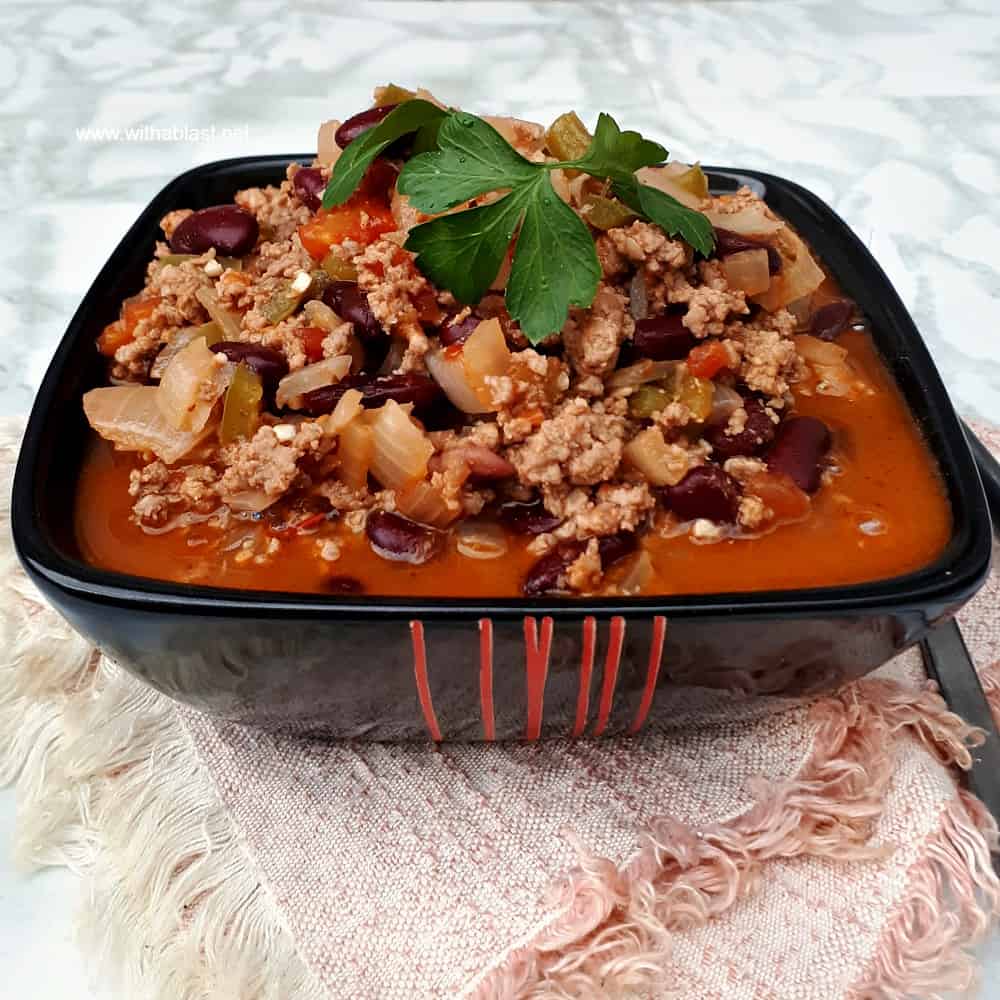 Once you have tasted this family favorite skinny Chili Con Carne, you will see that losing weight does not mean giving up on tasty meals.
Brown rice is best to serve with the Chili, but I know, brown rice is not for everyone. I cook a large batch of brown rice for myself once a week, which I then keep in a sealed container in the refrigerator and use as needed.
My family most definitely prefer white rice, usually Basmati with this Chili.
Skinny Chili Con Carne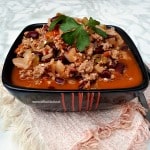 Skinny Chili Con Carne
Skinny Chili Con Carne is a low-fat, very saucy, tasty dinner and is packed with vegetables - mild or hot - your choice !
Ingredients
2

Onions

chopped

2

t

Fresh Garlic

crushed

2

Green Bell Peppers

chopped

1-2

Red Chilies

finely chopped (optional)

450

g

Lean Ground Beef

( 1 pound )

1 1/2

cups

Tomatoes

chopped (see Note below)

2

cups

Beef Stock

low-sodium

2

Bay Leaves

1 1/2

t

Chili Powder

or to taste

1/8

t

Dried Basil

1/2

t

Black Pepper

Salt

to taste

1

can (410g)

Red Kidney Beans

drained and rinsed
Instructions
Using a large non-stick skillet stir-fry the Onions, Garlic, Green Bell Peppers and Chilies (if using) until soft

Stir in the Ground Beef and cook until done

Add all the remaining ingredients ( except the Kidney Beans ) and bring to the boil - reduce heat and simmer uncovered over medium heat until the sauce has reduced by half

Stir in the Kidney Beans and heat through
Recipe Notes
Optional: Chop the Tomatoes and then give it a quick blitz in the blender - still chunks of Tomato, but saucy as well
Serve over rice.
LINDA
You Might Also Like: