Salted Caramel Truffles with only 5 ingredients ( 3 ingredients in the caramel filling ) and NO thermometer needed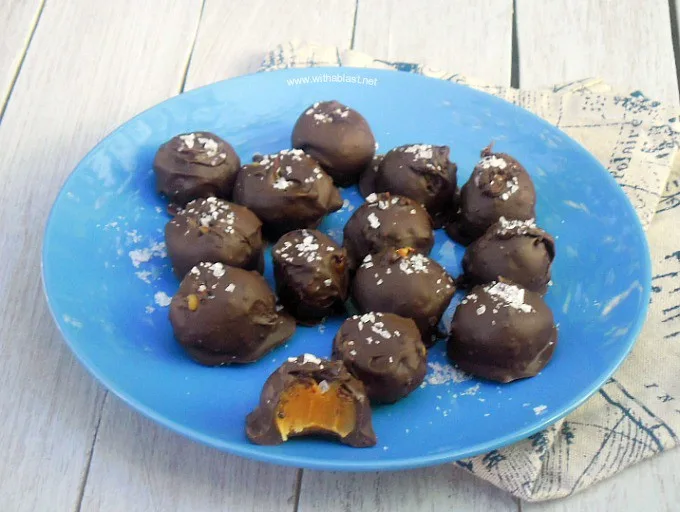 I used my favorite recipe for Caramels, coated the rolled balls in Dark Chocolate and sprinkled them with coarse Sea Salt – all with only 5 ingredients. (Chocolate and Salt included!)
These Salted Caramel Truffles are so easy to make and they are a frequent sweet treat in our house.
I have to warn you though, these Truffles disappear as if there is no tomorrow. They are extremely addictive and I can never stop eating them.
Good thing the rest of my family also love them, otherwise my weight might just jump sky-high !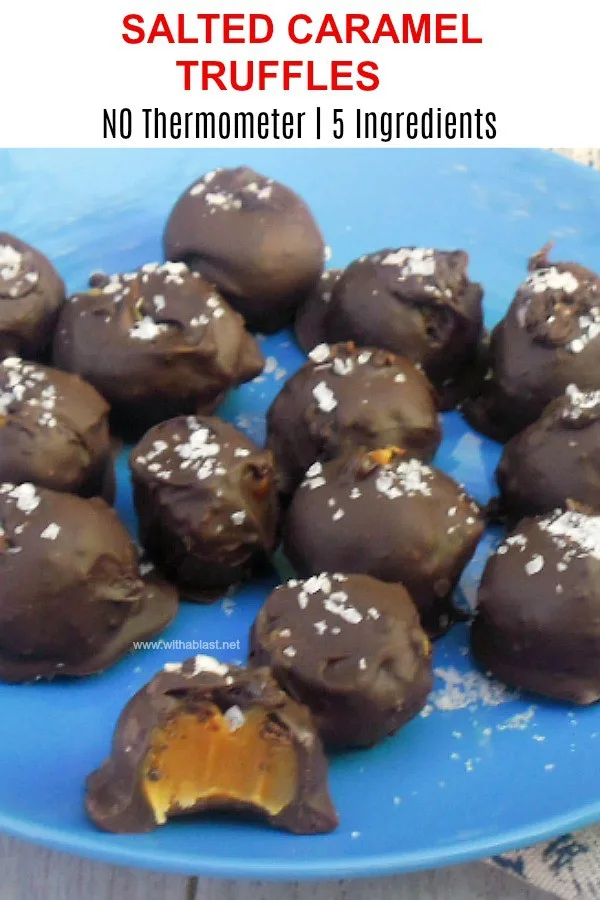 I usually keep them in a sealed container in the refrigerator during Summer, as they tend to go very soft and sometimes even melt with the Summer heat.
But during Winter these Salted Caramel Truffles are usually kept close-by in the lounge, which is not a good thing … it's a case of " I see .. I must have ..".
All in all, it is a miracle if we have any left over from the previous day !
Here are some more links to recipes where I have used the Caramel filling (with slight changes) :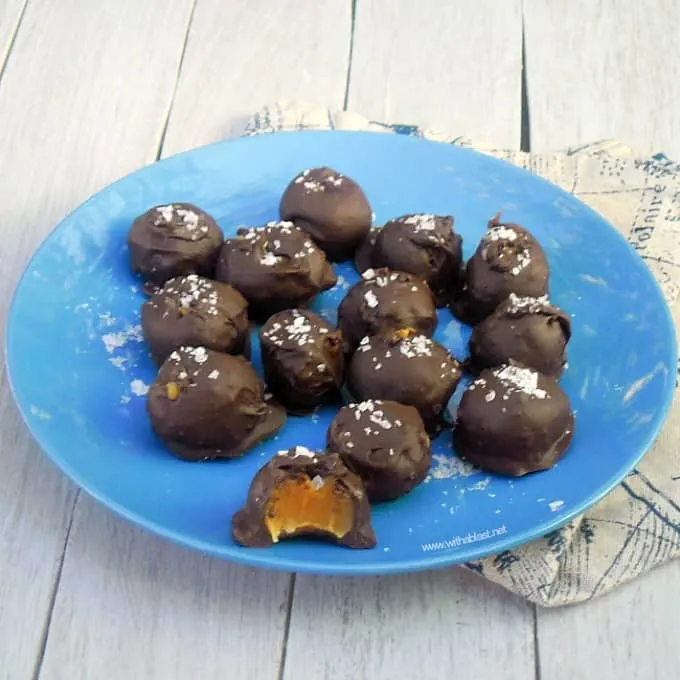 More Homemade candy recipes you might like:
Best Salted Caramel Truffles

Salted Caramel Truffles

Total Time:

1 hour

15 minutes

Salted Caramel Truffles with only 5 ingredients - perfect sweet treat or edible gift idea

Ingredients

1 can (397g) Sweetened Condensed Milk
2 tablespoons Unsalted Butter, cubed
1/3 cup Golden Syrup, (or Treacle Syrup)
180 grams Dark Chocolate, (good eating quality) - ( 6.5 oz )
1 teaspoon Coarse Sea Salt

Instructions

Place the Condensed Milk, Butter and Syrup in a medium saucepan – bring to the boil, lower heat and simmer, stirring continuously, for 5 – 10 minutes or until the mixture has turned a caramel color and has thickened.
Remove from the heat – cool completely – roll into small truffle sized balls – chill for an hour or two in the refrigerator.
Melt the Dark Chocolate – dip the Caramel balls in the Chocolate – place on a sheet of aluminum foil and sprinkle immediately with Sea Salt.

Notes

Total servings depends on how small or big you prefer to roll them

Nutrition Information

Yield

24

Serving Size

1 Truffle Amount Per Serving

Calories

36

Total Fat

2g

Saturated Fat

1g

Unsaturated Fat

1g

Carbohydrates

5g

Fiber

0g

Sugar

3g

Protein

0g
Linked up at : WEEKEND POTLUCK – The Country Cook