Mint Lemonade (Syrup) – Only a few minutes of boiling, some cooling and you have a concentrated Syrup for the most delicious, refreshing Mint Lemonade !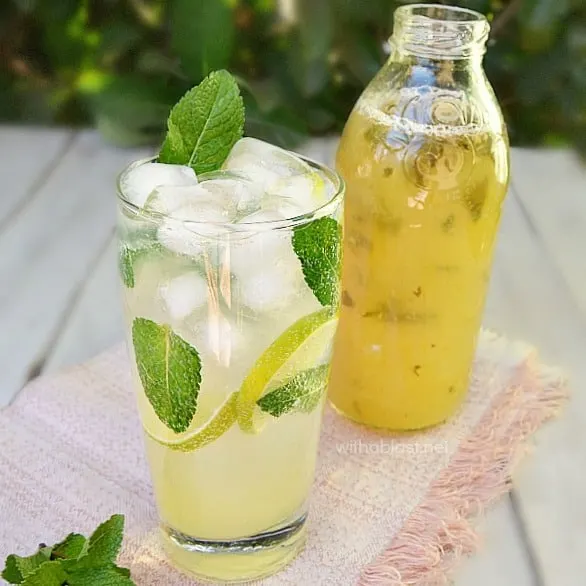 Mint Lemonade (Syrup) is easily my new drink of choice. As I have mentioned before, hubby and I are total Coca-Cola addicts. The real thing, no second hand brand, no diet or light, just plain old Coca-Cola.

By now all of us know that most soft drinks are no good for our health, but man, there is just nothing better than an ice-cold Coca-Cola after a burger and fries !
So, no, I am not giving up my all time favorite (yes, I have seen videos, read articles of how bad it can be to a person's health).
I am also not that stupid to realize we need to cut back on the Cola and it seems the healthiest drink, is a homemade drink.
Which is another reason, besides the awesome, refreshing taste, that I like this Mint Lemonade.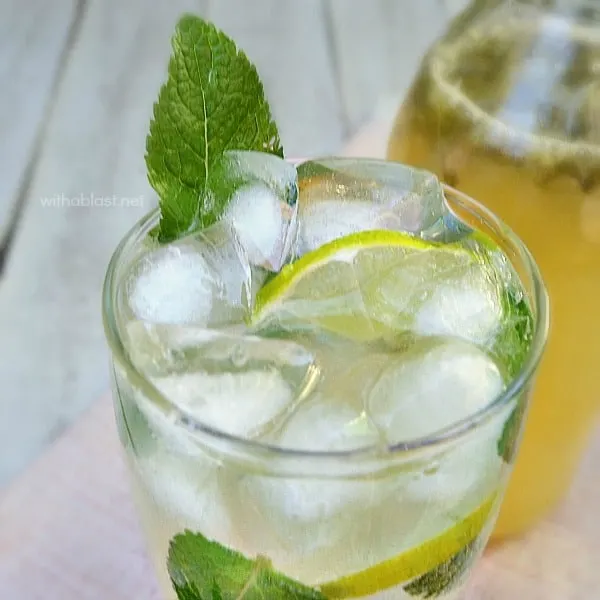 By healthier, I mean no added strange ingredients, no chemicals. The syrup is made with Sugar though, therefore I am not throwing this in the health department.
You can mix the syrup with plain water or use Soda Water. Water would work out much cheaper than a bottle of Soda Water (that is of course if you do not need to use bottled water, as is the case in some countries, or maybe your own preference).
Getting back to prices – why is it that Soda Water is either the same price, or more likely much more expensive, than a bottle of Coca-Cola and most other good brand soft drinks ?
I am always baffled with silly stuff like this. Soda Water is basically, to me anyhow, gassed-up-water, whereas other soft drinks contain a whole list of ingredients and that's not even counting the bad stuff. I understand purified water which goes through a whole purifying system, but Soda Water ??? Oh, well, let's leave that question hanging, unless you have an explanation ..
But you are here for the Mint Lemonade and I started rambling on again ! The syrup is so quick to make and when I see we are running low on one bottle, I whip up another batch.
At first I thought it would be only me enjoying this drink, but soon found that the whole family not only likes it, but actually loves it !
I add the Mint when the syrup is luke warm, and not completely cooled, as I have found after the second batch the Mint releases a bit more flavor this way.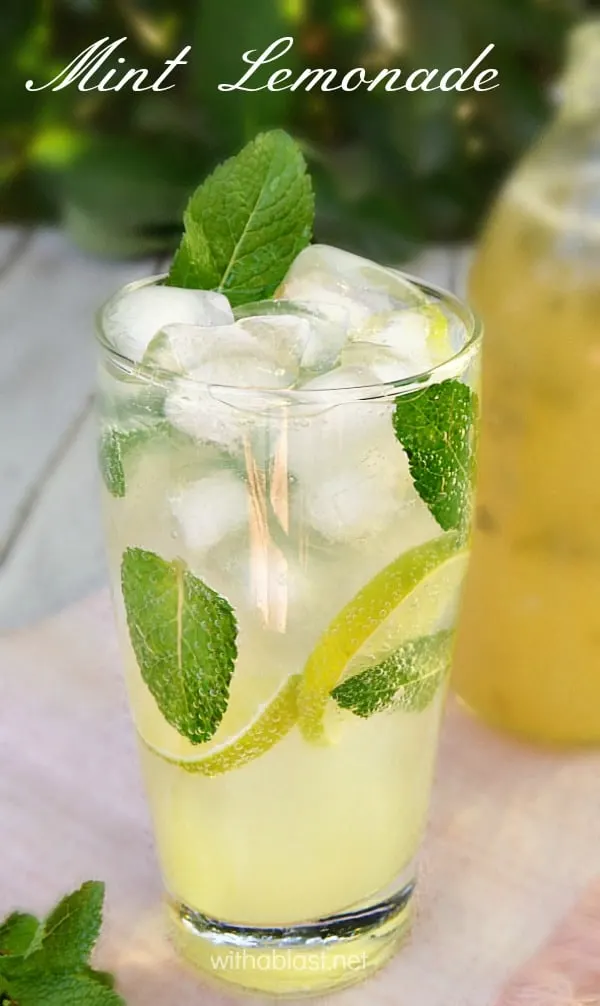 You have two options, after adding the Mint and cooled completely you can let the syrup stand for a little while, then pour through a sieve and bottle.
Or, and this is what I prefer, bottle the syrup with the Zest and Mint leaves and only pour through a sieve when serving. This you could do with a whole bottle if you have guests or little kids.
Or like we do, put an old-fashioned tea sieve over the serving glass and pour the syrup through that way – just enough for a single serving and fill up with ice and Water or Soda Water.
Mint Lemonade (Syrup)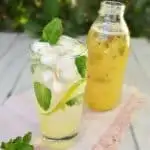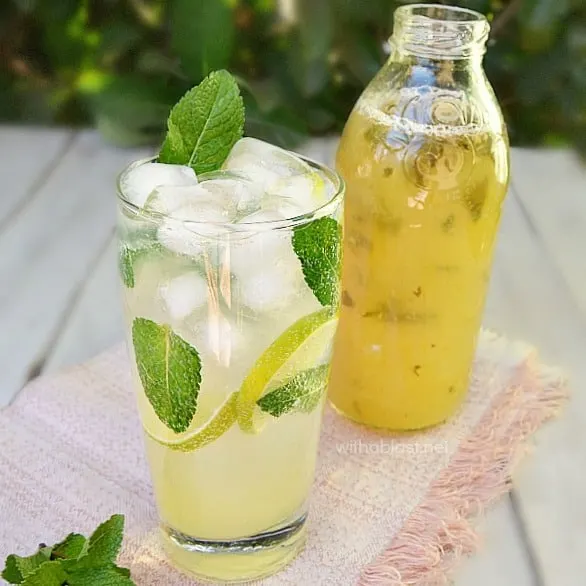 Mint Lemonade (Syrup)
Mint Lemonade (Syrup) - Only a few minutes of boiling, some cooling and you have a concentrated Syrup for the most delicious, refreshing Mint Lemonade !
Ingredients
3

cups

Sugar

2

cups

Water

1/3

cup

Lemon Zest

grated

2

cups

Fresh Lemon Juice

about 10 Lemons

1

cup

Fresh Mint Leaves

chopped
Instructions
Bring the Sugar, Water and Lemon Zest to the boil – boil (not simmer) 3 minutes

Add the Lemon Juice and bring back to the boil – remove and let cool

When cooled to just warm, add the Fresh Mint – let cool completely, stirring now and then

Pour into a suitable jar or bottle
TO SERVE:
Dilute one part of Syrup (pour through a small sieve) with 5 parts Water or Soda Water – Vodka can also be added
Recipe Notes
TO SERVE:
Ice Cubes
Water or Soda Water
Fresh Mint Leaves
Thinly Sliced Lemons
Store in a sealed jar or bottle at room temperature.
LINDA
You Might Also Like: