Cheese Stuffed Meatloaf – Easy stuffed Meatloaf with gooey Cheese and a delicious BBQ topping – perfect any day dinner
I do not think any cheese lover could say no to this gooey Cheese Stuffed Meatloaf. The Cheese just oozes out with every slice.

Fortunately it is very easy to scoop up the Cheese and push back into the sliced meat, making serving these slices so convenient.
I use a very mature Cheddar, to bring out the best taste Cheddar has to offer, but you can use any Cheddar variant you prefer.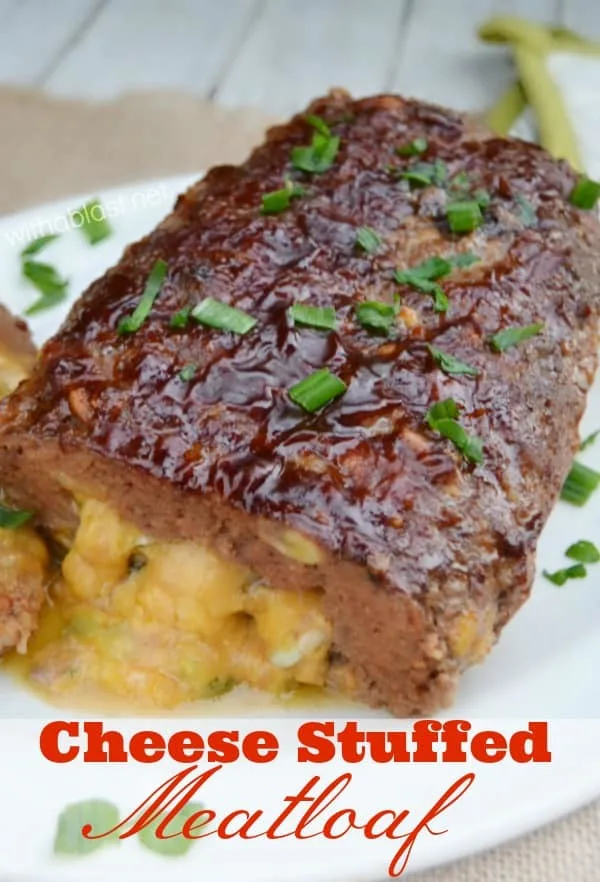 Each bite is like a little taste of cheesy heaven – if there is such a thing! And we enjoy this cheese stuffed Meatloaf all year round.
Delicious with some salads and a crusty dinner roll during Summer, and with mashed potatoes and vegetables during the colder weeks.
I say "weeks" because that is really the only cold, Winter weather we have in SA.
Serving the Meatloaf with salads during Winter would not be strange in our house though, as I have mentioned many times before, we are a salad loving family.
I tend to keep the rich casseroles and soups for the really chilly evenings when a salad just would not cut it.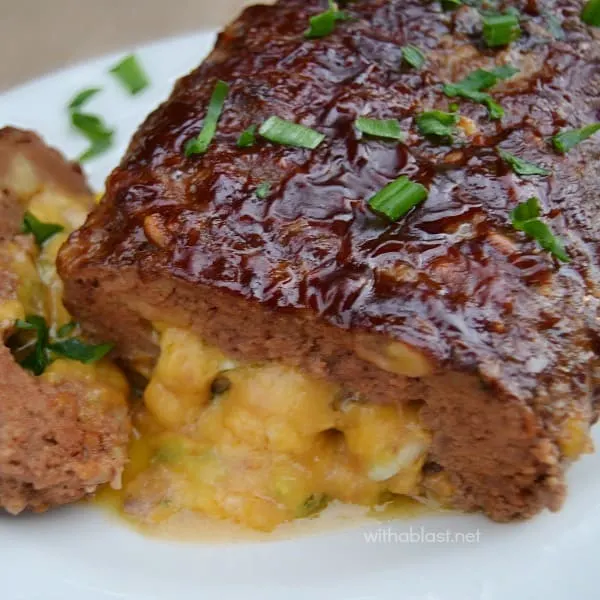 Depending on who is home for dinner, I might have a piece leftover, which my son says make the best sandwich ever, sliced fairly thin.
The Meatloaf and Cheese are also set by the next morning and slices wonderfully – meat all round with a generous amount of Cheese in the center of each slice.
Cheese Stuffed Meatloaf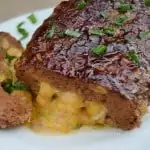 Cheese Stuffed Meatloaf
Cheese Stuffed Meatloaf - Easy stuffed Meatloaf with gooey Cheese and a delicious BBQ topping - perfect to serve any day, all seasons for dinner
Ingredients
900

g

Lean Ground Beef

( 2 pounds )

3

slices

White Bread

crusts removed, torn into small pieces

2

Eggs

1/4

cup

Yellow Mustard

1

t

Salt

1/4

t

Black Pepper

2

cups

Cheddar Cheese

grated

3

Spring Onions

chopped, white and green

1

cup

BBQ Sauce

divided
Instructions
Pre-heat the oven to 180 deg C (350 deg F) – spray a 15 x 30cm (little larger than a medium bread pan) oven dish with cooking oil

Combine the Beef, Bread, Eggs, Mustard, Salt and Pepper in a large bowl – mix well and place the meat mixture on an aluminum foil sheet 2 1/2 times the size of the oven dish

Form a rectangle twice the size of the oven dish

Mix the Cheese and Spring Onions and sprinkle in the center third of the meat rectangle – carefully fold over the two sides and pinch to close – flip over and place seam side on the bottom of the oven dish

Pour half the BBQ Sauce over the meatloaf – cover with aluminum foil and bake 45 minutes – remove the foil – pour over the remaining BBQ Sauce and continue to bake, uncovered another 15 minutes or until the meat is done

Remove from the oven and let stand at least 10 minutes before slicing
Serve hot with mashed potatoes, salads or side vegetables.
LINDA