Milk Tart Cookie Cups are traditional South-African Milk Tart filling filled in a crunchy sugar Cookie Cup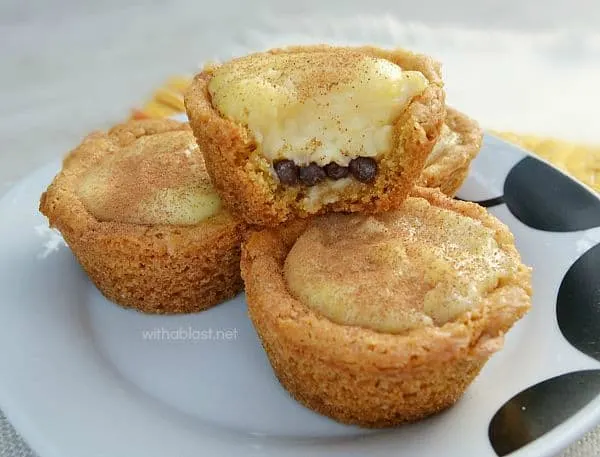 A Packet of Sugar Cookie mix is always useful to have in your pantry as you can do so much more with the mix than bake plain cookies.
Used in this Milk Tart Cookie Cups, I have once again realized that just about any pre-mix (whether store-bought or homemade) has so much more to offer than what is was initially intended to.

Milk Tart is of course a very traditional South-African delicacy and might remind most of you of a Custard Tart, which it really is, but, the strong Milk flavor combined with the Cinnamon makes this so special.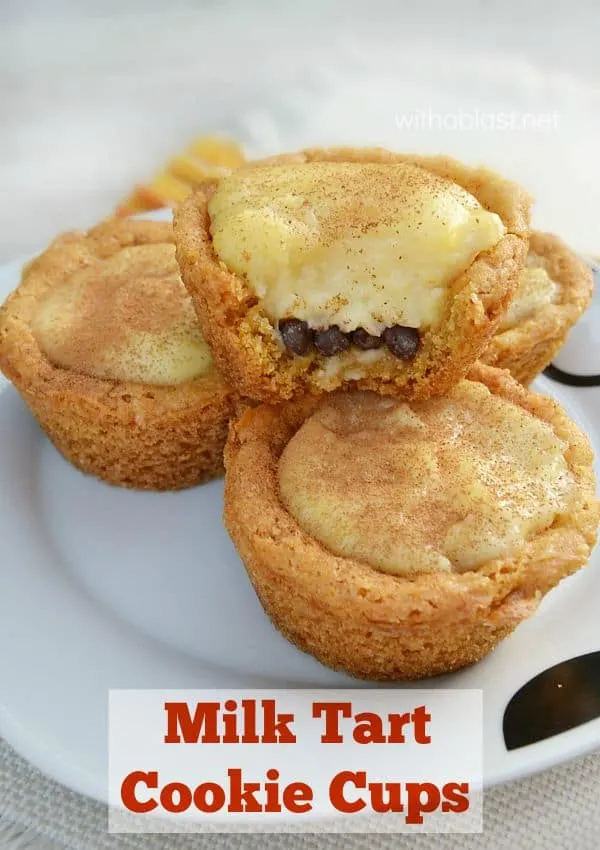 You can make the Cookie Cups a couple of days in advance, keep in a sealed container in a dry place, and use when needed.
I use the Cups for various fillings, from this Milk Tart right down to a rich Chocolate Mousse and I am sure you will find many uses for them as well – maybe a scoop of ice-cream and a drizzle of thick ice-cream syrup ?
I like the idea of adding a bit of Chocolate Chips to the bottom of the Cups, but it is not necessary.
As long as you taste more of the Milk Tart filling than chocolate, you will have a winner for either a dessert or to add to a sweet party platter.
The filling only takes a few minutes to cook and you can fill the Cups immediately or wait a couple of minutes for the mixture to cool down a bit.
The longer you wait, the less the Chocolate Chips will melt, which is a personal choice, I like the Chocolate Chips to go a little softer, but not melt entirely.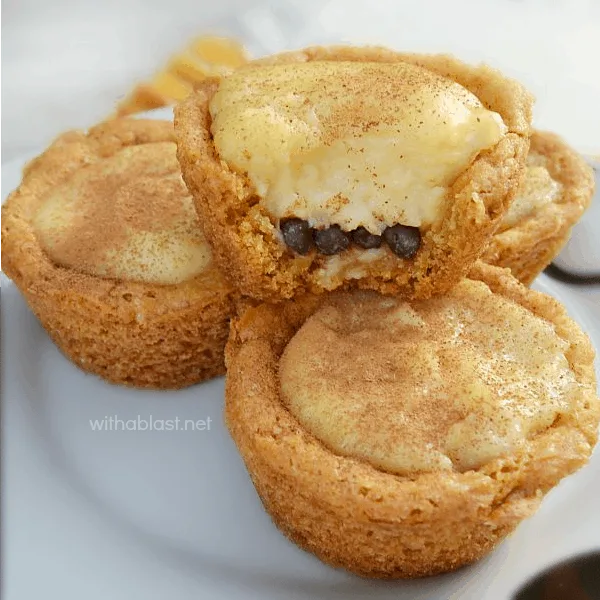 Now, do not forget to dust with the Cinnamon, otherwise it would not be a true version of a Milk Tart, and if you are a fan of Cinnamon as I am, you might even sprinkle over more than is shown on the photos !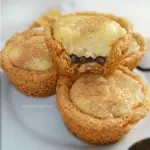 Milk Tart Cookie Cups
Milk Tart Cookie Cups are traditional South-African Milk Tart filling filled in a crunchy sugar Cookie Cup
Ingredients
1

packet (500g)

Sugar Cookie Mix

( 16 oz )

1 1/2

cups

Unsalted Butter

1

Egg

lightly beaten

1/3

cup

Chocolate Chips
FILLING:
2

Eggs

1/2

cup

Sugar

3

TB

Cornflour

( Cornstarch )

2

cups

Milk

1

t

Vanilla Essence

2

TB

Unsalted Butter

cubed
Instructions
Pre-heat the oven to 180 deg C (350 deg F) – spray two muffin pans with cooking oil

Empty the packet of Cookie Mix into a medium mixing bowl – add the Butter and rub in with your fingers until it resembles coarse sand – stir in the Egg until well mixed – divide the mixture in 16 equal pieces, rolling each into a ball

Place each ball in a muffin hole and press down and up the sides of the muffin holes to form a cup – bake 15 – 18 minutes or until the edges are golden

The centers will puff up – use a teaspoon to gently push the baked cookie cups back into a cup shape – sprinkle the Chocolate Chips onto the bottom of each cookie cup – cool completely
FILLING:
Whisk together the Eggs, Sugar and Cornflour until creamy – set aside

Heat the Milk in a medium saucepan to boiling point – remove from heat – add a few tablespoonfuls (one at a time) of the warm Milk to the Egg mixture, stirring well after each addition – pour the Egg mixture in a thin stream into the warm Milk in the saucepan, stirring continuously – bring back to boiling point and keep stirring until a thick, smooth custard has formed (about 3 minutes) – remove from the stove

Stir in the Vanilla and Butter – stir until the Butter has melted and the custard is smooth – fill each cookie cup, leave to set and cool completely
Recipe Notes
Dust with Cinnamon just before serving
Dust with Cinnamon just before serving.
LINDA
You Might Also Like: