Chicken Cakes have a Chicken filling in a scrumptious Potato and Carrot mixture – (any cooked Chicken can be used) – so perfect for dinner !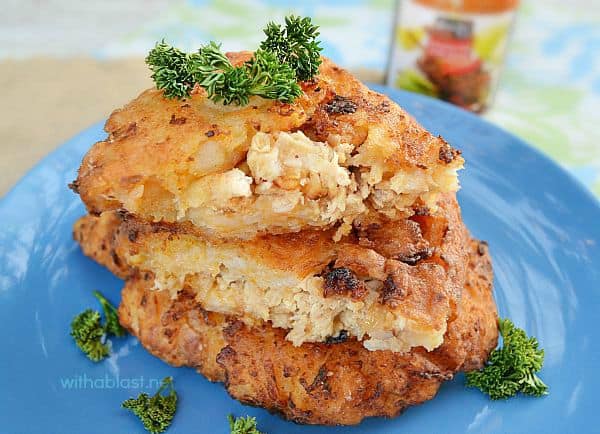 We all know Fish Cakes, which I love by the way, but ever had some Chicken Cakes ? This is such a treat and ever so easy to make.
I use Rotisserie Chicken from the supermarket. But any cooked Chicken – the meat only – will do.
One Chicken yields about 3 cups of shredded meat which is more than enough. And if you have any filling left afterwards you can always use it on sandwiches or with a crunchy salad for lunch the next day.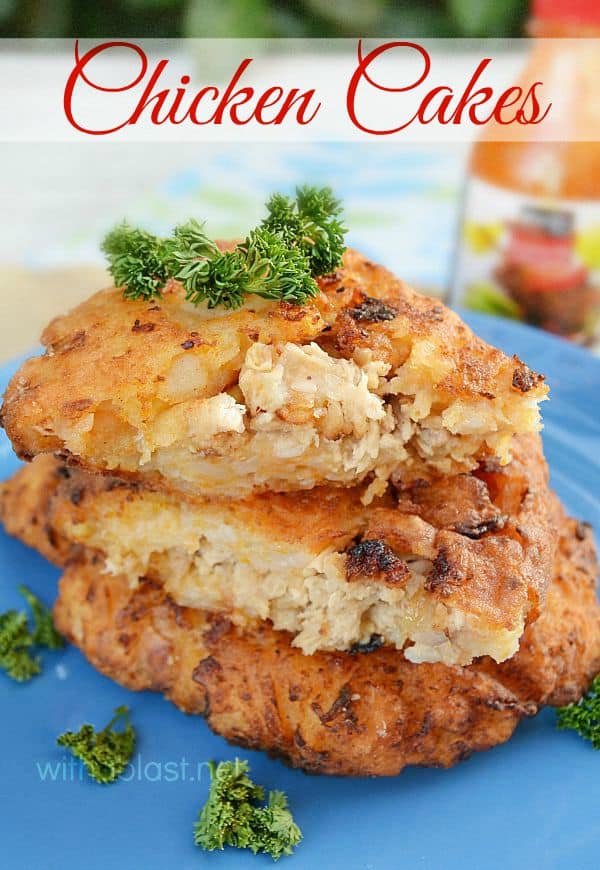 I make my Chicken Cakes fairly big, about an adult hand size when folded over and ready to be fried. You can make them smaller and serve with a dip as an appetizer as well.
One of these Cakes, made in the size I have below, is more than enough for an adult.
The first time I made them, I served two of them to my hubby and son, who are both huge meat lovers, but even they could not finish both.
My son took one to work for lunch and re-heated his in the microwave. It was not as crispy as when I first fried the Chicken Cakes, but he still enjoyed his for lunch.
The mashed Potato and Carrot mixture tends to be a little soft, therefore the longer you can chill the Cakes in the freezer (not refrigerator) the better, as long as you do not let them freeze.
If your freezer is close to the stove, remove two Cakes at a time and fry them, leaving the rest in the freezer. Repeat until done.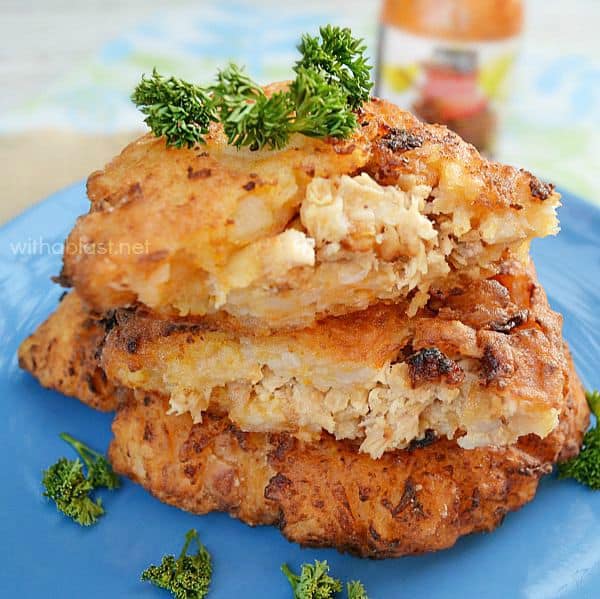 More Chicken recipes you might like:
Chicken Cakes
Yield: 8 Servings
Chicken Cakes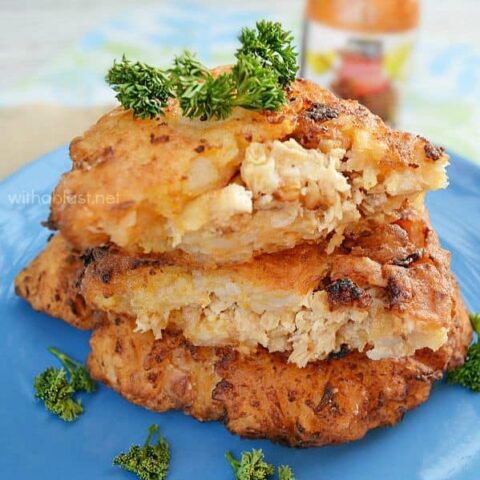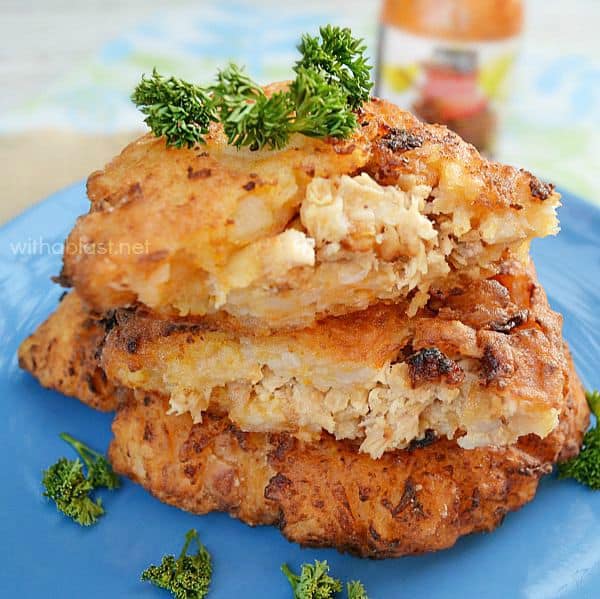 Chicken Cakes have a Chicken filling in a scrumptious Potato and Carrot mixture - (any cooked Chicken can be used) - so perfect for dinner !
Additional Time
20 minutes
Ingredients
8 Potatoes, peeled and quartered
10 Carrots, peeled and sliced
2 cups Flour
1 t Salt
1/2 cup Milk
Filling:
1/2 cup Vegetable Oil
2 Onions, chopped
4 t Garlic ,fresh, crushed
1 Rotisserie Chicken, white meat shredded
1/4 cup Flour
1/2 cup Milk
Salt and Black Pepper, to taste
Sriracha Sauce, to taste
Instructions
1.) Cook the Potatoes and Carrots in a large saucepan until soft – drain well and mash together – add the Flour, Salt and Milk, mix through thoroughly – set aside and let cool.
2.) Heat 2 teaspoonfuls Oil in a large skillet – saute the Onion and Garlic until soft – add the Chicken and heat through – stir in the Flour and Milk – heat another minute and remove from heat – season to taste with Salt, Pepper and Sriracha Sauce – let cool completely.
3.) Divide the mashed Potato and Carrot mixture into 8 equal pieces – form into an oval patty (about the size of a large hand and around 1.5cm thick – 1/2 inch).
4.) Scoop 3 – 4 tablespoonfuls of the Chicken mixture on the one half of the patty – flip over the other half and pinch close – the mash (dough) is fairly soft, work gently – repeat until all is done – place on 2 aluminum foil lined baking sheets and place in the freezer for 20 – 25 minutes to firm up.
5.) Heat the remaining Oil in a skillet over medium heat and gently fry the Chicken Cakes until golden on both sides – drain on paper towel.
Nutrition Information
Yield
8
Amount Per Serving
Calories

559.9
Total Fat

22.9g
Saturated Fat

12.7g
Unsaturated Fat

0.2g
Cholesterol

41.3mg
Sodium

929.4mg
Carbohydrates

69.7g
Fiber

8.7g
Sugar

7.6g
Protein

21.8g
Serve with extra Sriracha Sauce, a crusty dinner roll and a crunchy salad.
LINDA